Getty Images/iStockphoto
How to reduce customer service costs
As organizations adjust to today's economy, CX managers should implement new technologies and strategies to reduce customer service costs without sacrificing quality.
Contact centers have been operating in survival mode for the past few years as they try to figure out how to continue providing service to their customers in a remote work environment.
Now that contact centers have settled into a more stable operating environment -- whether remote, in-office or hybrid -- there is a renewed focus on better cost management. The key to a successful cost-reduction program is implementing practices that reduce customer service costs without negatively impacting customers or employees.
The following nine initiatives -- some technology-based and others focused on improving basic operational practices -- work toward this balance of reducing customer service costs without harming the customer experience.
1. Unify customer communications
Unifying customer communications can provide a smoother journey for the customer while driving inefficiencies out of the service process.
A customer might reach out to a contact center using an initial communication channel, like a webchat, and during that interaction, might decide to pivot to a different channel, like a phone call. In many cases, the phone agent will not know the customer's actions during the initial interaction and must ask the customer to repeat the steps they have already performed.
By unifying communications across channels, agents will know the steps the customer has already taken to try to resolve their issue. This will eliminate the need for the customer to repeat themselves, saving time and creating a better customer experience.
2. Improve self-service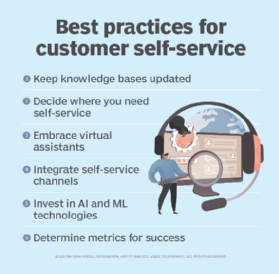 Organizations that improve their self-service offerings can enable their customers to resolve issues without the assistance of a customer service agent.
Initially, one of the major opportunities for providing self-service was through an interactive voice response (IVR) system where a caller would press numbers on a phone keypad to get an answer to their question. Since the initial implementation of IVR, there have been significant improvements in the technology -- such as speech recognition and natural language processing -- and the design of the user interface.
3. Focus on agent retention
Agent retention is critical to building and maintaining a stable workforce. Direct labor expenses constitute the largest percentage of contact center costs. Agent turnover, which can range from 20% to 100% annually, drives additional expenses on top of the basic labor expense.
The major components of turnover costs include recruiting and hiring, training, overtime to backfill staffing needs and productivity loss. In many cases, it can take up to six months before an agent is fully productive.
Avoiding agent attrition cuts expenses by lowering turnover costs and having more productive agents interact with customers.
4. Provide effective training
Providing effective training to customer service agents is critical to ensure that agents have the tools and knowledge to resolve customer issues effectively and efficiently.
The goal of training should be to ensure agents have a strong knowledge of a company's products and services, the ability to utilize the tools needed to resolve customer inquiries, and effective communication skills to understand customer issues and explain their resolution. Training cannot stop at new hire training; training must continue throughout an agent's tenure.
Having well-trained agents ensures streamlined interactions along with higher levels of customer satisfaction.
5. Automate low-value tasks
Many low-value tasks performed in a customer service organization are redundant. So, the proper technology can eliminate them. Examples of automating low-value tasks include using templates for outbound letters, having customers fill out forms online and using a dialer to make outbound calls.
6. Offer a customer portal
A customer portal enables customers to communicate with an organization securely without the involvement of a customer service agent.
Using a portal, a customer can provide information that can either be passed automatically into a system for a fully automated resolution or shared with an individual to respond to a specific inquiry.
7. Gather and analyze data
Gathering and analyzing data can help an organization understand customer pain points, including why customers are reaching out and how satisfied they are with specific interactions.
Information sources can focus on customer service interactions by using speech analytics tools, capturing customer feedback at various listening posts and soliciting employee feedback from individuals who interact with customers regularly.
A specific goal can be reducing the number of customer inquiries in the contact center. As a result of gathering and analyzing specific data, customer service teams can implement changes to improve product and service functionality and reduce customers' need to reach out to an organization for support.
8. Improve tools
Improving tools used by agents in resolving customer issues is a major opportunity to reduce the amount of time and effort an agent requires to resolve customer issues. In many organizations, agents must access multiple systems through individual sessions to attain all the information they need to resolve a customer inquiry.
Using a knowledge management system with a single source of truth would eliminate the need for agents to search multiple places for information.
9. Use chatbots
Chatbots provide a great opportunity to drive inefficiencies out of customer service, particularly with the advent of generative AI chatbots. Chat has become a critical communication channel from a customer perspective but can be inefficient for the contact center because of long delays within the communication process.
Chatbots automate the chat process and eliminate the need for an agent to interact with a customer. Chatbots, also, enable a customer service organization to meet the customer in the channel of their choice while serving the customer efficiently.
Now that contact centers are operating in the new normal, there has been a revised focus on reducing customer service costs and implementing practices that will drive expenses out while continuing to improve the customer experience.
Dig Deeper on Customer service and contact center