tiero - Fotolia
Add a host to a VMware cluster by following these tips
Grouping physical hosts together on a cluster improves resource distribution and increases availability. It's easy to add a host to a cluster, but be sure to follow these rules.
The process of adding a new host to an existing cluster is relatively simple, though there are some guidelines...
Continue Reading This Article
Enjoy this article as well as all of our content, including E-Guides, news, tips and more.
to follow.
But first, a bit of review: A VMware cluster is a group of host servers that share common resources -- usually memory, CPU and storage. VMware virtual workloads run in memory, but use real servers that run underneath. If you group physical hosts together in a VMware cluster, they can distribute their resources equally, provide high availability and restart VMs if any of the hosts within the cluster fail to distribute the load equally with the Distributed Resource Scheduler.
Before you add an ESXi host to a VMware cluster, first make sure you have a proper domain name system (DNS) infrastructure in place. You need at least one DNS server on which you can create static DNS records for name resolution. The DNS should be redundant -- in other words, make sure you have both primary and secondary DNS servers -- so that DNS service is never offline. Create forward and reverse DNS records for any and all ESXi hosts you use in your organization.
VMware recommends that you use fully qualified domain name (FQDN) to add a host to vCenter or to a cluster. First, check the DNS configuration on the ESXi host. If the host isn't managed through vCenter, you can check the configuration either on the server console in the server room or via Secure Shell.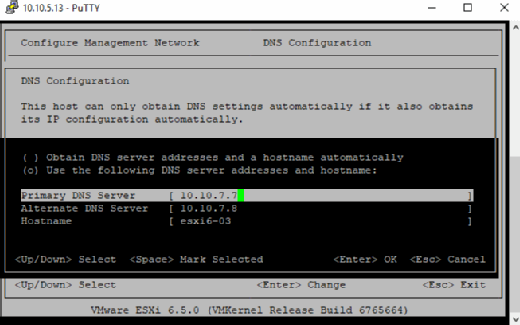 DNS is usually configured when you install the host.
Two different types of hosts
There are two types of hosts you can add to a VMware cluster: hosts not yet managed by vCenter Server, and hosts already managed by vCenter Server. How you add a host to a cluster depends on which type of host you're using.
If the host isn't managed by vCenter Server, it's unknown to vCenter Server, and not visible within the vCenter Server console. Use the vSphere HTML5 client to add a new host to vCenter rather than a new cluster. Once you connect to the vSphere client, right-click your data center object and select Add Host > Next.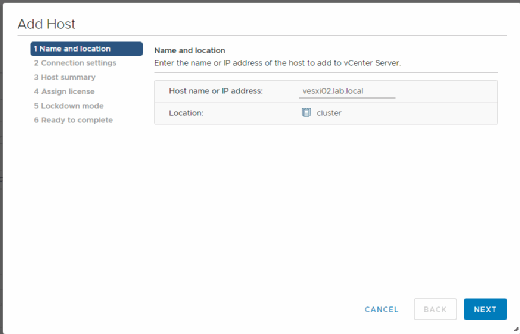 The next screen asks you for a root password, which is assigned to the host during the installation process. Once you've finished the network and storage configuration for the host, put the host into maintenance mode and drag and drop it onto your cluster object, as illustrated in Figure C.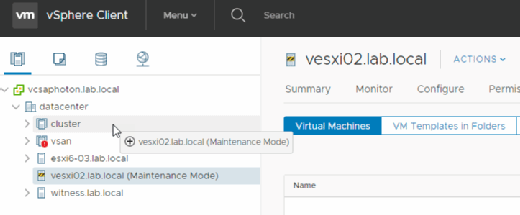 If the host is already managed by vCenter Server -- that is, if it's already visible within the data center -- but isn't part of a cluster, you might want to keep it that way. In some situations, especially in organizations that run a VMware vSAN stretched cluster configuration, you need to have a host that isn't part of a cluster. This host runs a virtual ESXi -- also known as a nested ESXi -- host, which stores vSAN metadata.
You might also want to avoid putting hosts that are out of warranty or that run an older version of vSphere on a VMware cluster, though these hosts are still valuable for test and development or to monitor workloads.
Not only is it more convenient to add a host to a cluster via FQDN than an IP address, it also comes highly recommended by VMware. Administrators in some environments might not like DNS dependency, but that's usually because core networking services are either unreliable or poorly designed.
Next Steps
The benefits and challenges of VMware vSphere clusters
Upgrade ESXi hosts to the latest version of vCenter
VSAN 6.6 stretched clusters extend flexibility
Dig Deeper on VMware ESXi, vSphere and vCenter