Choose the right VMware certification path: Data center, cloud or EUC
Reading the new VMware certification map can get confusing, but most paths start out at VCP-DV. The next step could lead to cloud or EUC titles.
VMware is rapidly expanding its certification lineup from a fairly straightforward three-tiered pyramid of options to a large matrix of existing and future certification options. The VMware certification path that you choose depends on where you want to end up.
VMware's certification pyramid was a recognizable structure, with the entry-level VMware Certified Professional (VCP) certifications at the wide base, with the higher-level VMware Certified Advanced Professional (VCAP) and VMware Certified Design Expert (VCDX) creating the point. Most every certification program in the world works very similarly; look to Cisco Systems for an example.
In the past, VMware just offered certifications that covered VMware vSphere. Later, they included VMware View and then added advanced certifications in each of these areas.
This large, more complex certification matrix breaks down into difficulty levels of professional (VCP), advanced professional (VCAP) and expert (VCDX); professional is the entry-level certification. VMware now offers four certification specialization areas (Figure 1): Cloud, Datacenter Virtualization, End User Computing (EUC) and Cloud Application Platform. Each specialization area has subspecialties, such as engineer/administrator, architect, and governance and operations.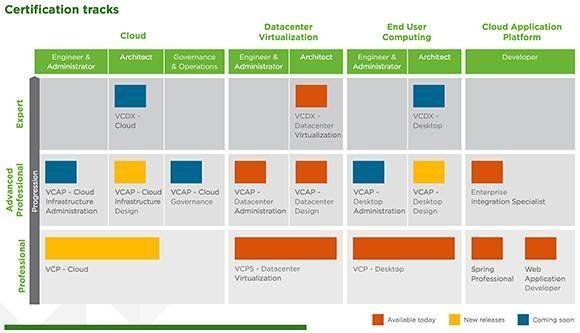 Figure 1. VMware's complex matrix of certifications. Note: Not all certifications on VMware's matrix are available today.
Data center virtualization certifications
With VMware's new matrix of certifications comes a name change for the VCP. Before VMware had all these certification specializations, they offered a single certification in vSphere-based virtualization. Today, that original VCP is called the "VCP in datacenter virtualization" (VCP-DV), and it is joined by multiple types of VCP certifications.
There are two subspecializations in data center virtualization -- engineer/administrator and architect -- but the VCP-DV is required to pursue the higher-level VCAP in Datacenter Administration (VCAP-DCA) or VCAP in Datacenter Design (VCAP-DCD). Picking up where the VCP-DV leaves off, the VCAP-DCA is an advanced, three-hour, hands-on vSphere administration and troubleshooting exam on real vSphere servers. The DCD focuses on the correct design of a vSphere infrastructure. The computerized test is more theoretical (not hands-on) and it tackles real-world design decisions and problems.
After VCAP-DCD, you can pursue the VMware Certified Design Expert in Datacenter Virtualization (VCDX-DV). This is the original VCDX certification, and only about 100 people in the world have achieved it. Besides having extensive design knowledge, you must travel to one of just a few global locations to take the exam and defend your project design for a panel of judges.
VMware cloud certification choices
Before these certification changes and VMware's vCloud product expansion, I would have said that the cloud specialty only covered VMware vCloud Director. With VMware consolidating its traditional data center virtualization products alongside vCloud Director and other vCloud products into the VMware vCloud Suite, however, the line becomes blurred. Cloud certification exams can pull from everything in the vCloud Suite, which is nearly every cloud and virtualization product that VMware makes. It makes sense to learn vSphere first, since vCloud Director is built on a solid vSphere infrastructure.
The entry-level VMware cloud certification is VCP-Cloud. If you are a VCP-DV or attend a vCloud Director Deployment class, you can take the VCP-Cloud IaaS Exam for this certification.
Once you hold a VCP-Cloud, you could move on to one of three VCAP certifications: Cloud Infrastructure Administration, Cloud Infrastructure Design or Cloud Governance. Only one is available today -- VCAP Cloud Infrastructure Design (VCAP-CID) -- and it does not require a course. Any VCP-Cloud or similar certification level can attempt the VCAP-CID exam, though VMware recommends the vCloud Best Practice course.
End-user computing certifications
VMware's original View-based desktop virtualization certifications were renamed to "End User Computing" because the area has grown beyond virtual desktops.
As with data center virtualization, EUC also has three difficulty levels and two subareas of specialty for engineers/administrators and architects.
The EUC specialization is based on the VCP-Desktop (VCP-DT) certification, which requires a VCP-DV to take the exam. It will cover VMware View and ThinApp. VMware recommends but does not require courses in View and ThinApp. In the future, this exam will likely include other EUC tools, such as Horizon Application Manager.
VCP-DT holders can advance to VCAP Desktop Administration (VCAP-DTA) or VCAP Desktop Design (VCAP-DTD). A VCDX in desktop design is in the works.
Cloud applications
VMware's certifications around its cloud application platform deviate greatly from the other areas, focusing on Java development using the VMware Spring platform.
The Spring Professional and Web Application Developer certifications are a foundation for the midlevel Enterprise Integration Specialist certification. There aren't expert-level certifications in the cloud application platform specialization currently.
Choose and ace your VMware certification
With so many specializations, it's tough to know which certification to pursue and how to prepare for the exam. Learn about what you do or products you use in the real world. For example, if you are a VMware administrator, start with the VCP-DV and then move up to the VCAP-DCA.
Out of all the VMware certifications I discussed, only the VCP-DV requires you take a VMware education course. That course is the key to a VCP-DV foundation upon which you can add so many other VMware certifications. It can be tough to get your company to pay for even just one VMware education course. Supplement courses with as many third-party training resources as possible: video training courses, free hands-on labs and books.
Certifications challenge you to learn within a proven structure and show others that you have this knowledge. A VMware certification is a personal achievement, but also can justify a pay raise from your employer, or even a new job.
Graphic thanks to VMware's certification website.
Dig Deeper on VMware updates, certifications and training