marrakeshh - Fotolia
Manage Windows Server 2016 licensing cost with VMware DRS rules
VMware DRS offers a strategy to mitigate and delay the costs of Windows Server 2016. Use DRS rules to manage groups of hosts with different licenses and to limit licensing costs.
IT administrators searching for ways to lighten the burden of the increased Windows Server 2016 licensing cost...
Continue Reading This Article
Enjoy this article as well as all of our content, including E-Guides, news, tips and more.
might already have an option with VMware's Distributed Resource Scheduler. VMware DRS rules can manage groups of servers with different licenses and assist in the transition between licensing models.
VMware's Distributed Resource Scheduler (DRS) balances and manages resources between hosts. It's so effective that IT administrators often put it on autopilot. After creating a few VMware DRS rules to separate or keep VMs together, administrators can often establish a setup and forget about it.
VMware has mentioned DRS' ability to help with licensing, but it has remained a background function. The feature might become more prominent as administrators attempt to manage the rising costs of licensing.
In the past, most software that included Windows Datacenter licenses was affordable and fairly simple to implement. This changed with the introduction of Windows Server 2016 and its new per-core licensing model.
Review Windows Server 2016 licensing cost
Microsoft now licenses Windows 2016 Datacenter per CPU socket with a maximum of eight cores per socket. If there are more than eight cores, organizations must buy additional core pack license kits, each of which offers an additional two cores.
The base cost per Microsoft server, excluding discounts, can be just over $6,000 per server. This includes 2 CPUs and 16 sockets of licensing. The 2-core packs come in at about an eighth of the cost of the full server or about $770 per 2 cores. On a server with a larger number of cores per CPU, such as 32 cores per CPU socket, the price tag goes from $6,000 for an ESXi host for Windows 2016 Datacenter to $24,000 per host.
This jump is enough to encourage organizations to consider alternatives. Fortunately, DRS can help, and many admins already use it.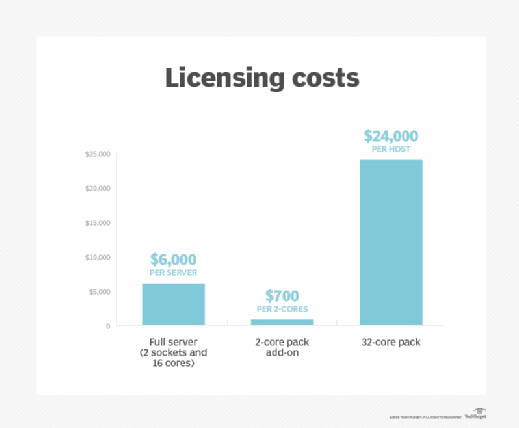 Apply DRS rules to licensing groups
DRS can create groups of hosts within a cluster and designate VMs to only run on hosts in those software-created groups. Administrators traditionally use this approach to support blades and ensure some VMs run or don't run on the same chassis backplanes.
The must rule is fixed and unbreakable; the should rule is a breakable guideline.
The same logic and rules can apply to licensing. DRS enables the creation of groups in the same cluster that are licensed differently. This can add stress to cluster management, but given Microsoft's new price tag, it might be worth the effort.
There are a few options for creating these DRS groups. The most important two are the VMware DRS rules that dictate whether a VM should run on specific hosts or must run on specific hosts. The must rule is fixed and unbreakable; the should rule is a breakable guideline.
VMware DRS rules versus Windows Server 2016 licensing cost
Consider, for example, a cluster of eight hosts that has Windows Server 2012 Datacenter licenses for five hosts and Windows Server 2016 Datacenter licenses for the remaining three hosts. Administrators can create two DRS groups within that cluster: one for the 2012 installs and one for the 2016 installs.
Apply a should run VMware DRS rule on the Windows 2012 Server group to encourage them to run on the ESXi hosts in the Windows Server 2012 Datacenter group of five hosts.
Apply a must run VMware DRS rule on the Windows Server 2016 Datacenter DRS group. The Windows 2016 virtual server must run on the three hosts in the Windows Server 2016 DRS group, but the Windows 2012 virtual servers can also run on the Windows Server 2016 DRS group.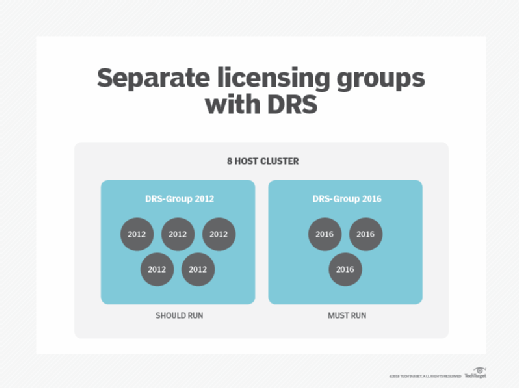 In theory, the 2012 servers could run on any hosts in the cluster, but the 2016 VMs are limited to the three hosts in the 2016 DRS cluster. This effectively splits a cluster for 2016 VMs, but not for the 2012 VMs. This enables more flexibility than having two clusters and splitting resources. This can help control the Windows Server 2016 licensing cost, but the consequence is increased management efforts.
DRS tries to keep resources balanced; if a high availability event occurs, it should be able to move things around. This works especially well for non-Microsoft workloads that administrators can shift between the two DRS groups depending on which host fails.
This all works because it's possible to downgrade licenses without the Windows Server 2016 licensing cost. This isn't an ideal solution, but it can help spread out the effects of the license costs per host until it becomes practical to purchase everything.
The challenge with this is that, as more virtual servers require updated licenses from Microsoft or Oracle, the ability to handle outages, performance balancing and unexpected issues goes down. Using VMware DRS rules for license management isn't easy, but DRS enables renewed flexibility from a technology many administrators already use.
Dig Deeper on VMware ESXi, vSphere and vCenter