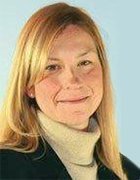 Amy Larsen DeCarlo has worked in the IT industry for over 17 years and is a principal analyst at GlobalData for their security and data center services. Amy assesses the managed IT services sector, with an emphasis on security and data center solutions delivered through the cloud, including on-demand application, unified communications and collaboration, and managed storage offerings.

Amy previously helped launch Current Analysis' public sector IT solutions coverage. She has written numerous analytical reports identifying competitive opportunities and threats to system integrators, cloud providers and vendors pursuing the U.S. government business to help clients increase their contract win rate. Prior to that, Amy covered vendor-driven professional services solutions.

Amy has also served as a writer and editor at well-known industry publications, including tele.com, InformationWeek, InternetWeek, and Data Communications, and has been a technology industry analyst covering network and applications management at Enterprise Management Associates. Amy also was the editor of CMP's InternetWeek site, as well as regular contributor to newsletters written for ShoreTel's IP telephony and McAfee's security customers.
Amy DeCarlo's Most Recent Content