michelangelus - Fotolia
Salesforce databases remain Oracle, for now
Oracle and Salesforce executives deny reports of Salesforce moving on from Oracle infrastructure.
Speculation has grown around whether or not Salesforce plans to move off of Oracle databases. This may, or may not, be the case, according to two analysts.
In 2013, Salesforce CEO Marc Benioff and Oracle CEO Larry Ellison held a joint phone call lauding the nine-year licensing agreement in which Salesforce would use Oracle's database to host its core products. Many analysts were on the call, but no questions were allowed, according to John Rymer, a Forrester Research vice president and principal analyst who was on the call. Instead, the analysts were instant messaging among themselves, prophesizing what this partnership may mean for the coming years.
"A bunch of us were chatting in the background, saying Benioff hung up the phone, walked down the hall and said to his tech people, 'You have nine years to get me off Oracle,'" Rymer recalled.
Salesforce has consistently needed to outsource its databases and infrastructure, providing its competitors -- namely, Oracle -- with a substantial licensing fee and a brand-name customer. In early January, CNBC reported that Salesforce and Amazon had made "significant progress" moving away from Oracle technology. While the report was poorly sourced and "mixes up things," according to Rymer, he did agree with the sentiment that Salesforce is certainly working to rid itself of its reliance on one of its main competitors.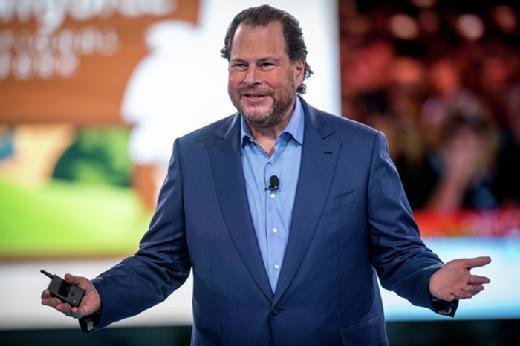 "[Salesforce] wants control of their own tech stack and to the extent they can get what they need from a lower-cost option or an open source option," Rymer said. "I'm quite confident they're working on that."
Whether or not Salesforce is working on a proprietary relational database depends on who you ask. Founders of both Oracle and Salesforce have scoffed at the notion that Salesforce is leaving its database.
"Salesforce isn't moving off of Oracle," Ellison said during Oracle's December earnings call. "Our competitors, who they have no reason to like us very much, continue to invest in and run their entire business on Oracle ... Salesforce runs entirely on Oracle. I mean, go ahead. You tell me who's moving off of Oracle."
That earnings call was a little more than two weeks before the public reports trickled out about Salesforce and Amazon working to move off of Oracle. The reports stated that Amazon has been building its own infrastructure, called Redshift, since 2000, and Salesforce is building out infrastructure with the code name Sayonara -- Japanese for "goodbye."
Denis Pombriant, founder and managing principal at Beagle Research, said he believes it would be a waste of resources to build Salesforce databases and go against the current direction Salesforce is moving.
"The best investment is in a disruptive innovation, and building a database is not that," Pombriant said. "A disruptive innovation is adding analytics, or building out a better mobile product or innovating around Trailhead -- all things Salesforce has done and poured decent money into -- and those will provide returns. But building a database to use internally and maybe try to sell in the marketplace does the opposite. It's a drain of resources."
Salesforce's new partnerships
About speculation that Salesforce is working toward leaving Oracle, the company said only that "Salesforce does not comment on rumors."
Regardless of Salesforce's stance on Oracle, the San Francisco-based company has partnered with several other infrastructure leaders over the past year, with an Amazon Web Services (AWS) partnership stemming from 2017 and a newer partnership with Google Cloud announced at Dreamforce in November. That, combined with Salesforce's influx of startup technology through its string of purchases in recent years, signals that Salesforce is hoping to modernize its infrastructure, according to Rymer.
"Startups tend to not base their technology on Oracle databases," Rymer said. "Since 2013, Salesforce has made a bunch of acquisitions, launched a lot of products, and a lot of those newer products are running on AWS."
Considerations with or without Oracle
Whether a potential switch to Salesforce databases affects its customers depends on how seamless the data migration is.
"If [building out Salesforce databases] impacts customers, then Salesforce has failed," Rymer said. "Salesforce customers don't see the Oracle database. So, any movement has to be seamless."
Pombriant, however, who asked Salesforce co-founder Parker Harris if Salesforce is moving on from Oracle, said it is more likely Salesforce is building capabilities to work with Oracle's database.
If [building out Salesforce databases] impacts customers, then Salesforce has failed.

John Rymervice president and principal analyst, Forrester
"Parker Harris told me directly that won't be [Salesforce's] direction," Pombriant said. He added that Harris said Salesforce is working on technologies that add capabilities around the edges -- and it's those projects that could be the Sayonara products to which the public reports refer. "It's quite possible -- I know that Oracle and Salesforce admit they have a relationship, and Oracle developers work with Salesforce to better understand what each is doing."
Building out proprietary Salesforce databases -- while possible -- just doesn't seem like a feasible option to Pombriant.
"I'm not skeptical that [Salesforce] can pull it off; I'm skeptical they intend to," Pombriant said. "There's the old joke that if you give a million monkeys typewriters, in a million years, someone will write a Shakespearian play -- great. You can say the same thing about building databases. It's a bad business move and doesn't produce tangible, bankable results."