Sergey Nivens - Fotolia
Cohesive AI in CRM strategies requires a singular 360 view
Implementing and upgrading AI CRM marketing and sales capabilities requires a holistic, multipronged strategy that encompasses all departments and customer engagement channels.
AI in CRM today is like mobile in the 1990s and social media channels in the 2000s, according to Jeff Nicholson,...
Continue Reading This Article
Enjoy this article as well as all of our content, including E-Guides, news, tips and more.
vice president of CRM product marketing at Pegasystems: It seems everyone wants a piece of the pie.
"Companies are anxious to deploy AI, so they try a little over here, maybe a little over there, just to keep up," Nicholson said. "Before you know it, you've created another stack of silos across the enterprise."
To succeed with AI in CRM, he explained, organizations need a holistic strategy that ties AI across all departments and customer-facing channels. Using a channel-less approach, companies can avoid a disjointed user experience and very frustrated customers and instead take advantage of the full power of their data.
At the center of an experience platform where the AI brain lives, businesses should react in real time with chatbots, mobile apps, webpages, on the phone or in person at the store, Nicholson said. "This singular AI brain approach," he noted, "allows [companies] to extend predictive intelligence to all other channels, without having to start from scratch for each new interface that comes along."
Pega is ahead of the curve, he claimed, with the Customer Decision Hub, which serves as the central AI brain across all its CRM applications -- from marketing to sales to customer service. "We've seen our clients leverage it to redefine how they engage with customers to turn their businesses around," he reported, citing two examples: Royal Bank of Scotland raised its Net Promoter Score by 18 points across its 17 million customers, while Sprint overcame industry-high turnover rates and realized a 14% increase in customer retention.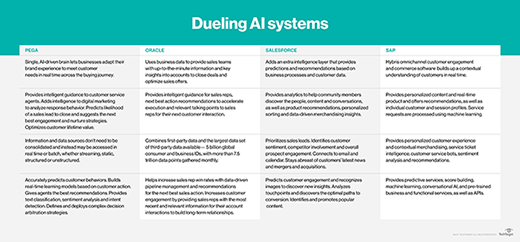 SAP's Leonardo AI and machine learning tool can help companies with their digital transformation and customer engagement strategies. It also helps organizations address key technologies, including machine learning, internet of things, blockchain, big data and analytics. SAP Hybris follows an organic development approach to AI in CRM, using data scientists and development teams across all areas of the business. Find out more about Pega, Oracle, Salesforce and SAP AI systems in the following chart: