tiero - Fotolia
How do you upgrade VM hardware, and what are the benefits?
You can set up your infrastructure to better take advantage of new technology in just a few steps. Perform a VM version upgrade to get the most out of what you have.
After you upgrade your VMware virtual infrastructure to vSphere 6.5, it's time to upgrade your VM hardware. This...
Continue Reading This Article
Enjoy this article as well as all of our content, including E-Guides, news, tips and more.
operation is irreversible, so you need to plan wisely and examine older hosts within your environment that might eventually run VMs.
Virtualization administrators need to consider a VM version upgrade because it can improve compatibility and performance, as well as cut costs.
Optimize VMs with a VM version upgrade
Upgrades offer compatibility improvements with other protocols, as well as VMware technology improvements, such as VMware changed block tracking. Upgrades can also increase the number of supported devices per VM.
In general, an upgrade provides more options for hardware and more support for paravirtualized SCSI storage drivers -- or for virtual nonvolatile memory express support -- which improves performance through optimized protocols to access data.
While performance comes down to the individual VM, the hypervisor can't do much to help beyond the small improvements to virtual hardware that upgrades offer. If you consistently upgrade VM hardware to the latest ESXi version, your VMs will be more efficient and will free up resources for other VMs, which improves consolidation ratios.
Make sure you're ready to upgrade
If you upgrade your VM hardware to the latest version, you won't be able to power on VMs on a host running an older ESXi version.
It's a one-way, simple configuration to upgrade VM hardware, but there's no easy way back. There are some ways to downgrade VM hardware, but not directly within the VMware vSphere Client. Instead, you'd have to use an external utility called VMware converter standalone.
The latest VM virtual hardware is hardware version 13; you can't downgrade if you've already upgraded all of your VMs to this hardware version. Older hosts, such as ESXi 6.0 or 5.5, cannot start or run VMs with hardware version 13.
Upgrade VM hardware on multiple VMs
Before you upgrade your VM hardware on multiple VMs, make sure that all of the VMs run on the latest version of VMware Tools. If you don't have the latest version of VMware Tools, be sure to upgrade.
Start the vSphere Client and log in to the vCenter Server. Select the host or cluster that contains the VMs you intend to upgrade. Using the vSphere Client, select the VMs tab and click Virtual Machines. A list of available VMs in your environment should appear. Select the powered off VM -- or VMs -- you wish to upgrade. Right-click your selection(s) and click Compatibility > Upgrade VM Compatibility.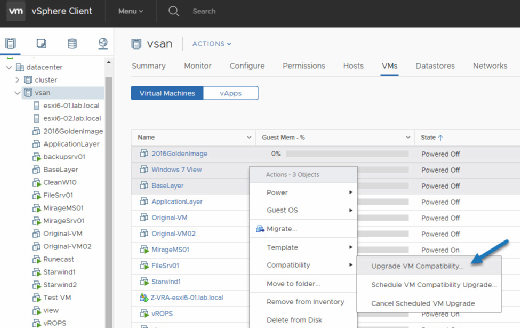 After you click Yes to complete, you can power on the VMs.
Microsoft Windows guest OSes might detect a new device, configure the device and prompt you to reboot. If you receive that prompt, perform an additional reboot of the guest OS to make the changes.
Keep VMs upgraded to take advantage of new technology
Two of the biggest selling points for virtualization are high consolidation ratios and better server utilization. The consolidation of physical workloads into virtual ones cuts the costs associated with resource usage and storage space.
VM density refers to how many VMs your virtual infrastructure host servers can run while maintaining performance levels and providing sufficient compute resources: the more VMs per host, the greater the savings.
Keep your VM hardware up to date with the most recent ESXi version to take advantage of the latest VMware technology. You can use newer drivers to optimize your environment with VMs that use less CPU and memory, which can, in turn, improve consolidation ratios.
Dig Deeper on VMware ESXi, vSphere and vCenter
A vSphere administrator can use VMware Remote Console to remotely access a VM's peripherals, configuration and desktop remotely through the vSphere ... Continue Reading
With access to logs, you can troubleshoot your ESXi host and track issues as they crop up. You can access your logs via the console or a web browser ... Continue Reading
FTT dictates how many failures can occur in a vSAN cluster without sacrificing availability. How can you use a VM storage policy to define the amount... Continue Reading