Rymden - stock.adobe.com
Box integration with Slack, Teams enables secure file sharing
Box expands Slack integration to become Slack's content layer for Box users and add security for sharing documents; Dropbox joins AWS Partner Network.
A new Slack integration for Box file sharing deepens the connection between the two cloud platforms. Users can upload files to Box directly from Slack -- and maintain Box security policies for sharing content inside and outside their organizations.
Salesforce, which closed its $27.7 billion Slack acquisition last year, has been a longtime Box partner and an early investor in Box. While there was connectivity between Slack and Box previously, the new integration more deeply embeds Box functions in the Slack interface.
"We've only increased the level of interoperability and partnership while Slack has been under Salesforce," said Box Inc. founder and CEO Aaron Levie. "Salesforce obviously has a massive footprint in the enterprise, and Slack creates another set of use cases [for Box]."
Slack Connect, which allows Slack users to chat and share content with others outside their organizations, could be the killer feature for Salesforce Sales Cloud users. It enables digital selling for sales teams that interact digitally with their customer. However, sales reps or other employees can theoretically share intellectual property or contracts with the wrong parties both inside and outside their companies.
The Box-Slack integration can help prevent that, as user-defined security policies and access controls set in Box remain in place as files pass through Slack.
"You can share files with your Slack colleagues, but keep the security and compliance levels that you have from your Box environment," said Deep Analysis founder Alan Pelz-Sharpe. "It takes the power of the content cloud and brings it into the collaborative environment of Slack, which is super powerful."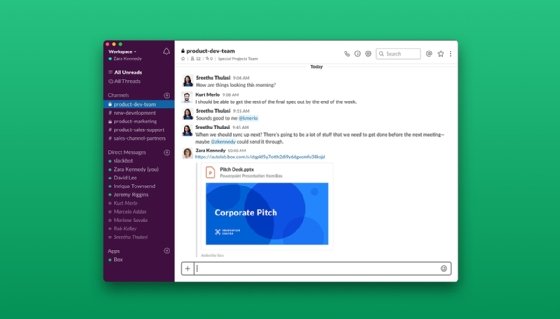 Box also added a similar integration with Microsoft Teams, in which Box users can designate Box as the default content cloud. This represents a new openness for Microsoft, which in the past typically pushed users of many of its applications to SharePoint or OneDrive.
"It's just a recognition by Microsoft that Box is here, it's here to stay, it's a viable alternative, so let's get on with it," Pelz-Sharpe said.
Dropbox, HelloSign hit AWS Partner Network
In other cloud content management news, DropBox and its electronic signature subsidiary HelloSign are available on the AWS Marketplace for U.S. customers. The company plans to expand availability of its cloud services to more AWS users in other regions later this year and next.
Dropbox acquired HelloSign in 2019 for $230 million and integrated it natively into its platform with a freemium model that allows three free e-signatures per month. Box bought SignRequest last year and includes unlimited e-signatures with business and enterprise subscriptions.
While digital signatures have been available since the mid-2000s, the technology had "a moment" during 2020, Pelz-Sharpe said. When remote work became the norm, contracts and other documents could not be signed in person. New cloud integrations such as those in Dropbox and Box will help users overcome the main complaints they had before -- mainly the clunky inconvenience of too many clicks.
"Digital signatures always had such promise," Pelz-Sharpe said. "But anybody who's had to use them will tell you the same story: They're a pain in the neck. I think, in time, the signature functionality will be just like search functionality. You want to add a digital signature? Go ahead, it's free."
Don Fluckinger covers enterprise content management, CRM, marketing automation, e-commerce, customer service and enabling technologies for TechTarget.
Dig Deeper on Content management software and services