Getty Images/iStockphoto
More marketing personalization from AWS, Pegasystems
AWS and Pegasystems add AI tools to their cloud offerings that enable deeper personalization and journey orchestration for marketers and e-commerce sellers.
AWS and Pegasystems added AI-powered capabilities for marketing personalization to their respective customer experience clouds.
AWS this week released intelligent user segmentation for Amazon Personalize, its managed machine learning service for marketing personalization that has its roots in Amazon's own product recommendation engine.
The tool uses machine learning to analyze a user's offerings and customers and segments them for marketing campaigns based on parameters such as preferences for different products, categories and brands. This work, for many marketers, often involves manual processes connecting disparate software tools; Amazon Personalize automates some of it and makes the interface marketer-friendly through simple-to-set-up "recipes."
With these new tools, launched during the re:Invent conference, AWS can begin to catch up to the competition, said Liz Miller, a Constellation Research analyst. But the company has a ways to go before it challenges the marketing personalization leaders such as Adobe.
"This basically summarizes personalization as baking cookies from Pillsbury pop-open dough instead of having to go make Nestle Toll House cookies from scratch," Miller said. "Nothing wrong with the Pillsbury chocolate chip cookie dough roll. For some organizations, that's the exactly what they need."
AWS also released 10 Amazon Personalize recommenders, or templates, for users in the media and entertainment vertical as well as in retail. These tools can quickly view the user's data, products and business contexts and build home-screen sections such as "recommended for you" and "because you watched X, here's Y," as well as most-popular and bestseller lists.
Pegasystems adds journey orchestration
In other marketing personalization news, Pegasystems made customer journey orchestration available in its Pega Infinity platform's Customer Decision Hub. While the capabilities had theoretically been available before, the Pega Customer Decision Hub Next-Best-Action Customer Journeys assemble them in one interface, said Shoel Perelman, Pegasystems vice president of product marketing for 1:1 Customer Engagement.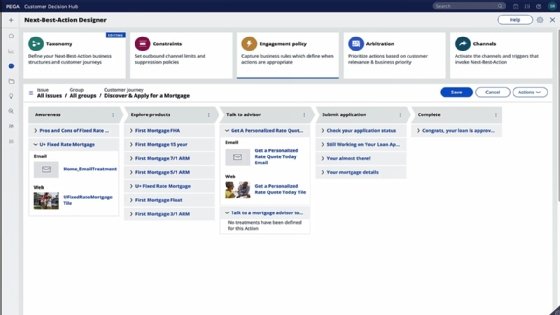 Users can embed AI tools that crawl a company's customer data and apply insights to customer journeys. The tools can also serve customers with content and offers appropriate to their activity.
"We [are] marrying customer journeys and machine learning to figure out what is the next best action, making sure we serve the next best action in context of the journey that a customer might be in," Perelman said. "Here's where you take all the actions that the AI should consider when the customers is in that journey and put them on the screen so a marketer can actually see them."
AI can identify and create permutations of an infinite number of journeys based on data that comes in from an infinite number of sources.

Liz MillerAnalyst, Constellation Research
Customer journey orchestration capabilities have been around for several years from the likes of Adobe and Microsoft. Through acquisitions, Salesforce, Qualtrics and Genesys plan to add them as well. Customer journey orchestration has become more sophisticated, Miller said, as customer data platform tools have become a "center of gravity" for marketing automation to supplant multiple, disparate applications in the martech stack.
Technology vendors now are updating what used to look like drag-and-drop timelines that marketers imagined and programmed themselves. The latest wave of customer journey orchestration tools include autonomous capabilities that can identify and recommend more detailed actions -- and create new journey paths -- based on data insights.
"Before, what marketers would say is: 'I'm super sophisticated; I've got five possible paths that I can shove my customer down, and that is their journey.' Very simplistic if-then permutations," Miller said. "AI can identify and create permutations of an infinite number of journeys based on data that comes in from an infinite number of sources, if that AI is trained to do so."
Don Fluckinger covers enterprise content management, CRM, marketing automation, e-commerce, customer service and enabling technologies for TechTarget.