Definition
patient engagement
Patient engagement is an ideal healthcare situation in which people are well-informed about -- and motivated to be involved -- in their own medical care.
By doing so, patients know of all the possible treatment, medication and recuperation options as well as other aspects of the healthcare system that support these choices. Healthcare providers use a number of ways to inform and engage their patients, including technologies such as wearables, mobile devices, mobile applications, Patient portals and more.
This approach is different from the traditional paternalistic model of medicine in which the patient has little say in healthcare decisions and simply listens to and does what their doctor recommends. With the push for patient engagement in healthcare this is changing, and studies have shown there are benefits.
It is important to note that while patient engagement and patient experience are linked, they are not the same. However, patient engagement is an important component to creating a positive patient experience. Engaged patients tend to have a stronger attachment to the healthcare organization from which they receive care and experience greater value, trust and quality of care, which then leads to greater satisfaction and an improved patient experience.
Patient engagement benefits
Patient engagement tools offer many benefits to patients, providers and healthcare organizations, including the following:
Improved patient health outcomes
According to the Healthcare Information and Management Systems Society (HIMSS), patients who are engaged and act as decision-makers in their own medical care tend to be healthier and to have better outcomes.
A patient engagement platform
An explanation of care coordination and patient engagement in action.
Research has shown that patient engagement initiatives have resulted in reduced hospital visits, decreased morbidity, improved adherence to treatment as well as improved quality of life for patients living with chronic diseases.
Improved patient satisfaction
Patient engagement technologies help improve and increase communication between physicians and patients, organizations such as the National Institutes of Health and the Office of the National Coordinator for Health IT have said. This enables the patients to receive updates about their conditions and any potential changes in their care plans. Increased communication also builds up the patients' confidence regarding their condition and diagnosis, ultimately resulting in improved patient satisfaction.
Improved quality and safety
According to the Agency for Healthcare Research and Quality, studies in the inpatient setting have found that traditional hospital processes, such as chart reviews, have missed errors that patients have detected and reported. Studies have shown that patients' active engagement in their healthcare and in safety practices have improved adherence of those safety practices.
Furthermore, electronic health records (EHR) are also being used to engage patients in safety efforts, and some studies have used information technology in an effort to include patients in medication reconciliation as well as identifying adverse drug events in the outpatient settings.
Improved financial and operations efficiency
Patient engagement tools can help healthcare organizations cut costs and improve operations in several ways.
One way is to allow patients to better monitor their own health outside the hospital or doctor's office. For example, patient portals enable patients and providers to communicate through technologies such as secure direct messaging. This setup helps providers keep an eye on how patients care for themselves at home and allows them to tweak treatment plans remotely through the portal.
For providers, better patient engagement also boosts the retention of patients, similar to customer loyalty helping retailers, which in turn has positive effects on provider on revenue cycle management.
Population health and value-based care
Patient engagement plays an important role in population health management -- in other words, managing the care for an entire patient population -- as well. Population health, in turn, is crucial to efforts to achieve value-based care.
An important part of achieving population health and value-based care is the ability to keep patients healthy outside the hospital or doctor's office as well as monitoring patient health.
Patient engagement strategies
There are a range of patient engagement strategies that use various technologies and their features, including the following:
Patient portals, which are secure online sites that allow patients to access their health data, communicate with their healthcare provider and more.
Scheduling software, which lets patients request and book appointments on their own, often through portals
Appointment reminders, which can be sent via text, email or recorded message.
Secure messaging, which allows patients to communicate with their provider through the patient portal or using secure, HIPAA-compliant applications.
Patient education that includes materials pertaining to a specific patient and his or her illnesses, such as continuing care information.
View, download, and transmit options, which allow patients to access health data -- such as lab results and discharge summaries -- and send other personal health information back to providers.
Prescription refills, which can be ordered through some patient engagement tools without having to make an appointment.
Online payments and billing statements, which can be viewed and paid electronically.
The technologies that support and enable the above features can differ. For example, patient engagement programs can either reside in the cloud or on-premises. This arrangement depends on whether the healthcare organization is comfortable allowing a third-party company host and manage the cloud that sensitive patient data resides on.
Furthermore, some patient engagement programs use mobile devices to aid in delivering these features to patients.
Major vendors and tools
According to a survey done by the New England Journal of Medicine, the top five patient engagement tools are patient portals, secure email, online and mobile scheduling and reminders, patient-generated data and social networks.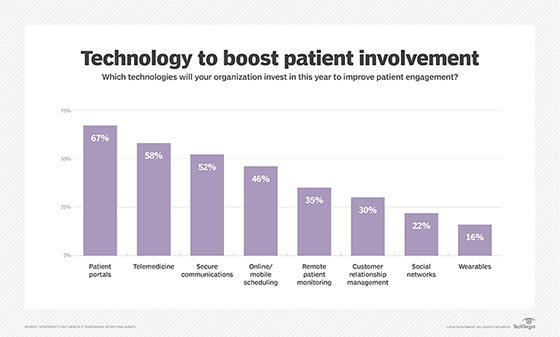 Meanwhile, a survey conducted by Healthcare Tech Outlook of healthcare CEOs, CIOs, venture capitalists and industry experts listed the following leading patient engagement vendors:
Behavior Imaging Solutions: An imaging platform that helps determine early diagnosis and better treatment options for behavioral and mental health patients.
Intelichart LLC: Provides patient portal technology as well as an integration engine that simplifies connectivity and interfacing between healthcare organizations.
Kiio: Offers individualized health engagement via a mobile application to help optimize patient outcomes, improve the patient experience and reduce costs.
NextGen Healthcare: With a focus on ambulatory healthcare, this company offers tools such as a patient portal.
Obesity PPM: Through patient engagement and care coordination technologies, such as mobile apps and patient portals, this disease management company help patients with chronic diseases.
Reflexion Health: Provides a virtual therapy platform for pre and post-surgery rehabilitation.
Royal Solutions: Offers technologies such as a patient portal, secure messaging, kiosks, payment processing and patient access to appointments and results.
SwiftPath: Provides patient education and technology tools for outpatient and early discharge joint replacement care.
Spark Compass: Offers a communication platform that can integrate and lie on top of existing platforms and devices.
Additionally, major EHR vendors such as Epic Systems and Cerner Corp. offer patient engagement tools as well.
Social media and patient engagement
Social media can add value to patient engagement initiatives in several ways, including improving communication.
However, in this case, social media isn't improving direct communication between patient and provider, but instead between patients and their healthcare organization.
HIMSS has said that social media is a great way to direct patients to the various services or tools the organization offers as well as build a sense of community.
This was last updated in
December 2017
Continue Reading About patient engagement
Dig Deeper on Healthcare IT systems and applications