itestro - Fotolia
Salesforce Interaction Studio unveiled at Connections 2018
At Salesforce Connections, Salesforce builds off its Google partnership announced at Dreamforce by releasing new integrations between Marketing Cloud and Google Analytics 360.
Salesforce Interaction Studio appears to be the latest major launch in the vendor's push to enable users to capture...
Continue Reading This Article
Enjoy this article as well as all of our content, including E-Guides, news, tips and more.
a more complete picture of their customers -- where they choose to spend their time online, how they like vendors to market to them and which ways they prefer to communicate.
Salesforce has spent billions of dollars on acquisitions, integrations and marketing to achieve that goal. And while it's not there yet -- the targets tend to move in the rapidly changing technology landscape -- Salesforce is hoping its latest integrations and new products help its customers find a more complete customer journey.
Toward that end of more smoothly guiding customers through the stages of interacting with an organization, Salesforce unveiled several new product integrations, partner integrations and new applications, including Salesforce Interaction Studio. The CRM giant made the product announcements on June 13 at its Connections 2018 conference in Chicago.
Ray Wang, a Salesforce watcher and principal analyst and founder of Constellation Research Inc., said Salesforce Interaction Studio is an effective response to the fast-increasing importance of customer experience in CRM.
"CRM is actually dead. It's about how can you craft mass personalization at scale," Wang said. "It's about building that experience and journey, which has become a lot more important than CRM."
CRM vendors such as Salesforce are moving beyond customer management and working toward improving the customer experience and journey -- the process of customers interacting with a company. That progression is where Salesforce Interaction Studio comes into play.
Built out of an OEM partnership with software company Thunderhead, Salesforce Interaction Studio enables companies to analyze and manage consumer experiences. Additionally, it can recommend the next-best action for customers, depending on how they interact with that brand.
"It allows you to look at cross-channel consumer insight and see next-best action and optimize customer journey," Wang said.
Marketing Cloud and Google Analytics 360
Salesforce Interaction Studio was just one of the products unveiled at Connections, a conference focusing on marketing, commerce and service.
Building off a partnership announced at Dreamforce last year, Salesforce Marketing Cloud and Google Analytics 360 are generally available for integration for Marketing Cloud customers. According to Wang, the alliance is a blow to one of Salesforce's chief competitors, Adobe.
"The battle of analytics has been Adobe Omniture versus Google Analytics," Wang said. "As Microsoft and Adobe have come close together, it's natural for Salesforce and Google to become allies."
The partnership will enable customers to merge insight from Marketing Cloud and Google Analytics 360 into a single dashboard within Marketing Cloud, while campaign data will be available within Google Analytics 360 to provide tailored web content.
Another feature, which won't be available in beta until July, will allow users to create an audience in Google Analytics 360, activate it outside the Google platform and allow users to continue building that audience within Marketing Cloud.
While nothing prevented Marketing Cloud customers from using Google Analytics 360 to track web analytics, the lack of a deep integration with Marketing Cloud made it difficult for users of both to tie that information back to campaigns. By combining Google Analytics 360 with Salesforce's inward-facing Einstein Analytics, a company can see a more holistic view of a customer's data.
It's not personalization -- we haven't gotten to that point yet. But it allows you to think about the type of journeys you're creating for customers.

Ray Wangprincipal analyst and founder, Constellation Research
"Einstein takes the data inside the Salesforce platform and helps users find insights, while Google Analytics 360 component is based on web analytics," Bobby Jania, vice president of product marketing for Marketing Cloud, said in a release. "It looks at how consumers are behaving, pages they visit [and] how long they are on there for."
Combining those analytics insights to the insights from Salesforce Interaction Studio can go a long way in helping customers track consumers' campaigns, according to Wang.
"It's a huge void in Marketing Cloud and most other clouds," Wang said. "It's about crafting the right experience and understanding where a customer is -- it takes context into account."
While personalization is the ultimate goal for Salesforce and similar companies focused on customer journeys, that pie-in-the-sky objective is still off on the horizon.
"It's not personalization -- we haven't gotten to that point yet," Wang said. "But it allows you to think about the type of journeys you're creating for customers."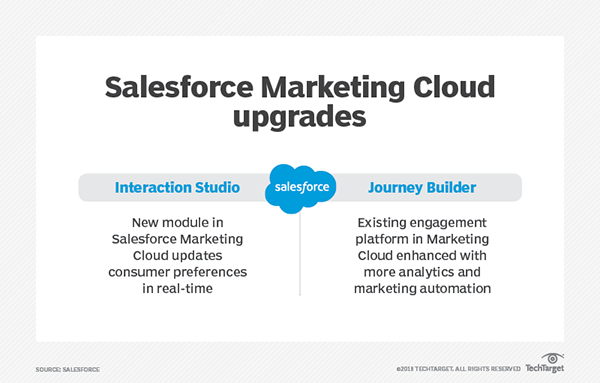 B2B Commerce Cloud
Beyond Marketing Cloud and Salesforce Interaction Studio, Salesforce officially released its B2B Commerce Cloud product, formerly known as CloudCraze. Salesforce acquired the B2B e-commerce product earlier this year, having been originally built on top of Salesforce software using Force.com.
"It will make it easier to see what a user is doing on a commerce site and connect it to Marketing Cloud," Jania said. "B2B commerce for Salesforce will make that complex order have the same UI as B2C commerce."
The Salesforce Interaction Studio release continues Salesforce's long-term campaign to unify sales and marketing departments within organizations.
"You have a stack at Salesforce where marketing and commerce are a lot tighter than they were before," Wang said.
Salesforce also unveiled Integrations between Commerce Cloud and Service Cloud, allowing service reps to see customers' buying histories during service calls, opening up the opportunities to up-sell or cross-sell other products.
Pricing information for Salesforce Interaction Studio, B2B Commerce Cloud and the Marketing Cloud-Google Analytics 360 integration wasn't immediately available.