kentoh - Fotolia
CX product changes on tap at Salesforce, LogMeIn, Adobe
CX products to watch for the rest of 2019: Adobe's planned CDP offering, Salesforce features from the Tableau acquisition and LogMeIn's AI-powered agent-assist tools.
Adobe, Salesforce and LogMeIn made the most important news so far this year in the customer experience technology market, and each of their newsworthy events will have a meaningful impact on the product portfolios that the vendors offer to customers.
Salesforce planned to bolster its data visualization and business intelligence services with the $15.7 billion Aug. 1 acquisition of Tableau.
Two months earlier, customer-service platform vendor LogMeIn introduced agent-assist chatbots that tapped AI to help call center workers provide better customer service.
In March, Adobe introduced customer data platform (CDP) features in its customer experience (CX) product suite, adding a foundational data-handling component.
Salesforce-Tableau acquisition
Salesforce's acquisition of Tableau will likely lead to significant feature additions to the company's analytics capabilities, which could benefit from Tableau's BI and data visualization technology. In announcing the deal, Salesforce Co-CEO Keith Block said Tableau would make the company's analytics "stronger than ever."
Salesforce often previews product changes coming from acquisitions during its Dreamforce user conference, which is scheduled for November. In 2018, Salesforce unveiled features in its Customer 360 integration hub that stemmed from the MuleSoft acquisition earlier in the year.
How much Tableau's technology will help Salesforce's offering is debatable. Forrester analyst Boris Evelson said Salesforce's Einstein Analytics has most of Tableau's features already. Therefore, he believes Salesforce bought the company to eventually migrate the many companies using Tableau's on-premises software to its cloud-based applications.
"Salesforce hasn't really acquired new tech with Tableau," Evelson said. "In my opinion, it's an on-premise client grab, less of a technology grab."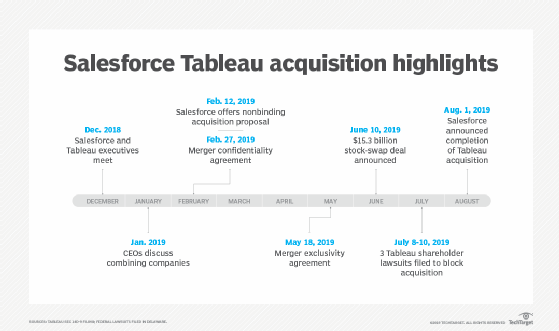 Adobe, Salesforce CDPs take on the market
Adobe's first-half CX features announcement didn't involve an acquisition, but it added a foundational data-handling piece to its CX product suite. In March, Adobe introduced features it calls Unified Profile to its Experience Manager Platform.
Unified Profile is similar to what many other vendors call a customer data platform (CDP). These golden-record databases harmonize customer data among martech, sales, e-commerce and other CX-oriented systems.
Adobe is joining rivals with its CDP offering. Oracle already has the technology, and Salesforce and SAP have said their products are coming soon.
The vendors are playing catch-up with at least a dozen smaller companies with a two-year lead.
David Raab, the founder of the CDP Institute, said he wouldn't be surprised if it takes SAP, Salesforce and Adobe several years to catch up with the smaller and nimbler CDP players already in the market. Customers of the incumbent vendors may hold off using their new CDPs until they reach feature parity with the CDP startups.
LogMeIn updates agent-assist tools
In June, LogMeIn debuted Bold360 Advise, a contact center agent-assist tool built to help customer service agents quickly solve customer issues on voice and chat channels.
Along with introducing Advise, LogMeIn said it planned to release an AI tool called Bold360 Acquire, currently in beta. The technology uses chatbots to personalize the customer experience as buyers at e-commerce sites research and select products before checking out. Such self-service tools are becoming a crucial component of CX teams, analysts have said.
LogMeIn's full AI-driven CX suite will include Advise, Acquire and Bold360 Service, which lets organizations support customers through a conversational chatbot, live chat, messaging, email, text or social media.
Dig Deeper on Customer service and contact center