Sergej Khackimullin - Fotolia
SAP users tell why they are building an intelligent enterprise
Four SAP customers from a variety of industries explained why their companies are building intelligent enterprise systems. Reasons include responding to business and data growth.
The intelligent enterprise can take many forms depending on the requirements of different businesses -- and it is sometimes referred to as digital transformation, although there is a range of opinions on what that means.
For the most part, however, businesses making the transformation to an intelligent enterprise are becoming more customer-focused, more flexible and more responsive to demand. Companies are also shifting their business models from making products to delivering services.
Every company has its own reasons for building an intelligent enterprise, but they share common themes, as explained by several SAP customers. Although the landscape of SAP technologies varies, the intelligent enterprise is essentially helping these customers manage growth and respond to future technology advancements and business model changes.
Growth challenges
For Beyond Technologies, a Montreal-based firm that provides SAP consulting services, the move to the intelligent enterprise centered on growth.
The company started in 2005 with three employees in one location, but it has grown to four global locations and has had up to 350 employees and independent contractors working on projects. The company needed a system that could handle this growing complexity, according to Alain Dubois, Beyond Technologies' chief marketing and business development officer.
Beyond Technologies uses SAP S/4HANA Cloud and SAP Cloud Platform, as well as SAP SuccessFactors and SAP Concur, to improve business processes and manage a workforce that includes hundreds of consultants and independent contractors.
"By growing, our processes became more and more complex -- we run projects with resources from all over the world, and one project can have resources coming from three countries at the same time. So we have transfers between the different companies with different transfer rates," DuBois said during a panel session with other SAP users at the recent SAP Sapphire Now 2018 conference.
"We also have multiple delivery models with different billing scenarios and billing schemes and we needed to start revenue -- as a professional services firm becomes bigger, you need to start revenue, differentiating between the actual billing of your services versus the actual revenue that you're in financial statements. So we needed to put that in place."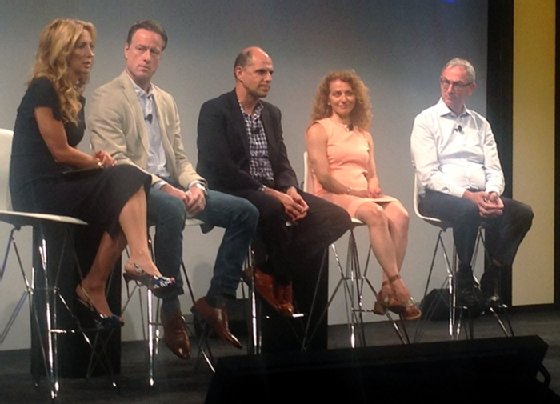 Data driven
Growth was also a key factor that led Moderna Therapeutics to embrace the intelligent enterprise, but it was the growth of data, not the organization. Moderna Therapeutics is a Cambridge, Mass.-based pharmaceutical development company that relies on data for both research and running the business, according to Marcello Damiani, the company's chief digital officer.
Moderna Therapeutics implemented SAP S/4HANA as the digital core of a system for drug research and development, as well as to improve business processes. The company's intelligent enterprise environment also includes SAP Fiori UX, SAP Concur and SAP SuccessFactors.
"Our medicine -- it's information-driven because we're instructing the cells to produce protein, and those instructions are really big. So from day one, data is a big focus," Damiani said during the same panel discussion.
"The second element is around the scale. And from the get-go, we wanted to build a solution that would help us take advantage of the data that we provided and will help us build efficiencies -- not for the sake of the efficiencies, but to improve the quality."
Moderna is also using the intelligent enterprise as a system to process huge amounts of data to facilitate vaccine discovery.
"The more structured this data is and the more integrated this data is, the better we can use it," Damiani said.
Understanding consumers
Data is also key for Pladis Food Ltd., a global confectionary company whose brands include Godiva chocolates. The data from the intelligent enterprise is helping the company transform from being product-centric to being consumer-centric.
"Consumers are digital, so we needed to be digital, which means that we need to take that data in real time to understand consumers on an individual basis to personalize and then engage with them in a way that's relevant, personalized and makes sense for them," said Anthoula Madden, chief digital officer at Pladis. "That means we have to be able to process a huge amount of data at real-time speeds and be able to tell our brands' story in terms of engagement."
Consumers are digital, so we needed to be digital.

Anthoula Maddenchief digital officer, Pladis
Pladis needed to understand what its customers really wanted to connect their experiences to the brands, Madden said during the panel. To better understand its customers, the company developed a system built on SAP S/4HANA Cloud.
"It's a fundamental change in our operating model from product to experience -- from driving a manufacturing cycle to starting with the consumer and working backward," she said.
Pladis also needed a partner ecosystem enabled by the intelligent enterprise digital core to understand the customers and deliver products.
"Now we have the capabilities to be able to engage in a plug-and-play architecture of cross-channels to engage with consumers and to be able to take that data in real time and personalize that experience culturally in the moment," Madden said. "It's a real mind shift in what you're about as a business and what your brand is about."
Business evolution
The evolution of the business environment led energy giant Shell to begin preparing for the intelligent enterprise.
"The change in the energy mix -- batteries, Tesla -- is a big driver for change. But also we have to be prepared for technological changes like automation, so we need to respond to those two big changes," said Frank Westerhof, Shell enterprise platform manager.
As a large company, one of Shell's biggest challenges in building an intelligent enterprise is determining how much to rely on standard platforms and how much to develop on its own. Shell uses SAP S/4HANA Cloud as the digital core of its intelligent enterprise system, which includes applications that have automated and transformed a number of business and research processes. The Shell landscape has integrated a range of next-generation technologies like AI, advanced analytics and machine learning.
"That's the heart of our strategy, and we think that we can do 85% with market standard platforms and 15% on our own," Westerhof said at Sapphire. "Given the intimacy that SAP has built up with the energy industry over the last 25 years, it was obvious that we ended up with SAP. From there, we started working together with SAP intensively to [determine] what this digital core of the future looks like."
Shell has already done much of the work to implement the intelligent enterprise, and Westerhof explained that the next steps will bring next-generation technology into the systems.
"We already consolidated our systems to a very great extent and moved to infrastructure as a service a long time ago, so the obvious value interest that people had available to move to the next-generation ERP have been exhausted in Shell already," he said.
"So now things like AI, things like structurally simplifying your data model, things like really exploiting business process architecture and re-architecting on the basis of real-time machine learning -- those things were fundamental for us to build a value case for moving to this digital core."
Dig Deeper on SAP selection and implementation