Blockchain solutions -- and disruption -- pondered at EmTech 2018
The gathering at EmTech 2018 explored whether blockchain solutions could give the world a new model of trust. What seemed certain: Blockchain disruption is happening now.
CAMBRIDGE -- The World Bank, one of the most powerful financial institutions on the planet, is experimenting with blockchain as a tool to track agricultural goods and raise capital.
Gideon Lichfield, the editor in chief of the MIT Technology Review, found some irony in that.
"This technology that was invented by somebody whose true identity we still don't know -- Satoshi Nakamoto -- specifically to take power away from financial institutions and put currency in the hands of the people is now being used by the ultimate, central, financial institution," Lichfield told an audience at EmTech 2018, a conference focused on big data, artificial intelligence and technology.
The crowd gathered at MIT's Media Lab had just heard from two thinkers in the increasingly mainstream field of blockchain, a method of distributed ledgers that can dramatically alter how transactions are made and verified.
Ledgers themselves date back to cuneiform records etched into tablets 7,000 years ago at the dawn of civilization, said Michael Casey, an author and senior advisor to the Digital Currency Initiative at Media Lab. If blockchain solutions decentralize financial ledgers in the future, that change could disrupt the flow of money into the world's financial hubs. Using the 21st century version of the ledger, governments and other institutions could invest the money they save on financing in other causes.
The lack of trust in the record-keeping function has a huge impact on the world.

Michael Caseysenior advisor to the Digital Currency Initiative, MIT Media Lab
"If they could raise money more cheaply, you'd have a lot more funds to put into education, to put into health," Casey said. "Why should [the cost of financing] go into the hands of a large investment bank when it could be going back to the poor?"
Blockchain solutions could also help the so-called underbanked and unbanked gain access to financial services. Distributed ledgers accrue credibility by replicating transaction records across a network of computers. Casey said that credibility could benefit people in places like Nairobi, Kenya, who have difficulty leveraging value from their real estate because banks distrust their property records.
"The lack of trust in the record-keeping function has a huge impact on the world," he said.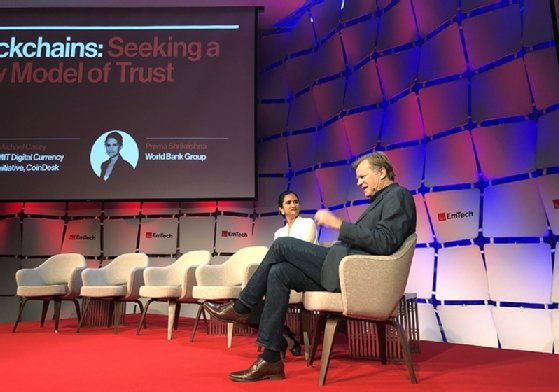 World Bank experiments with blockchain solutions
The altruistic applications of blockchain were a focus of Casey's EmTech talk with Prema Shrikrishna, who works on blockchain projects at World Bank Group.
Teaming up with the International Finance Corporation, the World Bank is currently designing a blockchain architecture to track oil palm from the farm to mills, where it becomes palm oil -- an agricultural staple in everything from chocolate to candles. By tracking the origin of the raw material, most of which is produced in Indonesia, blockchain could reward farmers for sustainable practices, according to Shrikrishna.
Among other World Bank experiments with blockchain:
Education. The World Bank is developing a system for rewarding students playing an educational game called Evoke, which is designed to teach skills for success in modern society, Shrikrishna said.
Vaccine management. In December, Oleg Kucheryavenko, a public health professional who works with the World Bank, wrote on the institution's blog that blockchain could provide a "cost-effective solution" for vaccine distribution. Vaccines have a shelf-life, Kucheryavenko wrote, and the supply chain is "too complex to be taken for granted, with vaccines changing ownership from manufacturers to distributors, re-packagers and wholesalers before reaching its destination."
Financing. In August, the World Bank sold blockchain-enabled bonds through the Commonwealth Bank of Australia, which raised about $80.5 million, according to Reuters.
Blockchain's best use cases
Members of the audience at the talk had varying aspirations for blockchain's use.
Rahul Panicker, chief innovation officer at Wadhwani Institute for Artificial Intelligence, which focuses on technological solutions to large-scale societal problems, believes blockchain can be harnessed for humanitarian causes.
"It was very encouraging to see an organization like the World Bank being willing to look at these frontier technologies, and especially a technology like blockchain that has the ability to reduce friction in the financial system," said Panicker, after attending the talk. "The whole purpose of blockchain is actually to minimize the burden of trust. The cost of trust is especially high in the developing world, so the fact that organizations like the World Bank are willing to look at this can mean big things for the disempowered."
Tom Hennessey, an attendee, posited that financial settlement was the most readily available application.
Tomas Jansen, of Belgium's Federal Agency for the Reception of Asylum Seekers, said a lot of refugees arrive in Europe without identification papers because they belong to a marginalized group or lost their documents. Jansen wanted to hear ideas from the blockchain experts on how to address those problems.
Shrikrishna sidestepped the political ramifications, but she noted that World Bank has a program called Identification for Development that is working on integrating ID databases and creating an identity that would be "portable across borders."
She said the World Bank is "technology agnostic" in seeking to solve problems around the globe, and stressed that the financial institution's approach with blockchain has been both "very cautious" and "very experimental."
Blockchain disruption
World Bank is hardly alone in its exploration of blockchain solutions to solve problems and change how business is done. Analysts expect blockchain to have a major impact on businesses, which are eyeing its potential to manage supply chains, verify documents, and trade securities. The firm Gartner estimates blockchain will add $3.1 trillion to the world economy by 2030. Some industry sectors have been quicker than others to start experimenting.
Describing blockchain as at an "inflection point," a recent report by the consultancy Deloitte found that financial services executives are "leading the way in using blockchain to reexamine processes and functions that have remained static for decades," and emerging players are using blockchain to challenge traditional business models.
Meanwhile, blockchain's most developed use case -- bitcoin -- is driving most of the interest in the technology, while taking those invested in the cryptocurrency on a roller coaster ride.
So far development of a "stable coin" has been a "difficult nut to crack," according to Casey, who used to cover currencies for The Wall Street Journal.
To stabilize the tender, a coin could be pegged to other metrics, or it could be backed by a reserve of funds to try to create more stability, Casey said. One way or another, he predicted, developers will find success.
"Something's going to work. Something's going to break as well," Casey said.
Dig Deeper on Digital transformation