What is Bitcoin?
Bitcoin is a digital currency -- also called cryptocurrency -- that can be traded for goods or services with vendors that accept Bitcoin as payment. With Bitcoin, holders can buy, sell and exchange goods or services without a central authority or bank as an intermediary.
Bitcoin is one of the most well-known virtual currencies today, with its value rising dramatically since its launch in 2009. Satoshi Nakamoto, the pseudonym of Bitcoin's creator, stated the purpose of Bitcoin is as an electronic payment system that is based on cryptographic proof, instead of trust. Some holders buy bitcoin as an investment, wanting it to increase in value, while individuals and businesses use or accept payments as currency. PayPal, for example, currently supports Bitcoin transactions, and the country of El Salvador has accepted Bitcoin as a currency.
Bitcoin-to-bitcoin transactions are made by digitally exchanging anonymous, heavily encrypted hash codes across a peer-to-peer (P2P) network. The P2P network monitors and verifies the transfer of bitcoin between users. Each user's bitcoin are stored in a program called a digital wallet, which also holds each address the user sends and receives bitcoin from, as well as a private key known only to the user.
In the U.S., bitcoin are controversial because they can be used to anonymously transfer illicit funds or hide unreported income from the Internal Revenue Service. Bitcoin policy now requires transactions that involve traditional, government-backed currencies to be attached to an identity.
By design, bitcoin supply is limited to 21 million coins of which 18.77 million have already been mined. This makes bitcoin scarce and controls the inflation that might occur if there was an unlimited supply of the cryptocurrency. According to the Gadgets 360 article titled "Bitcoin mining: How Many Coins Can Be Mined in Total and How Does It Impact Pricing?" 83% of all the bitcoin that will ever exist has already been circulated.
How does Bitcoin work?
Bitcoin was built with a distributed digital record in mind called a blockchain. Blockchain is a type of public ledger -- a digital system for recording transactions and related data in multiple places at one time. Blocks in a blockchain are units that contain data about every transaction, including the date, time, value, buyer and seller, and an identifying code for each exchange.
Blockchain is designed to make it extremely difficult to hack the system or forge the data stored on it, thereby making it secure and immutable. Each computer in a blockchain network has a copy of the ledger to prevent single points of failure. If one block is changed, then all the other blocks in the distributed ledger must be changed. Blockchain is a decentralized technology, meaning it is not controlled by any one organization. In addition, identifying codes make it difficult to fraudulently produce blocks.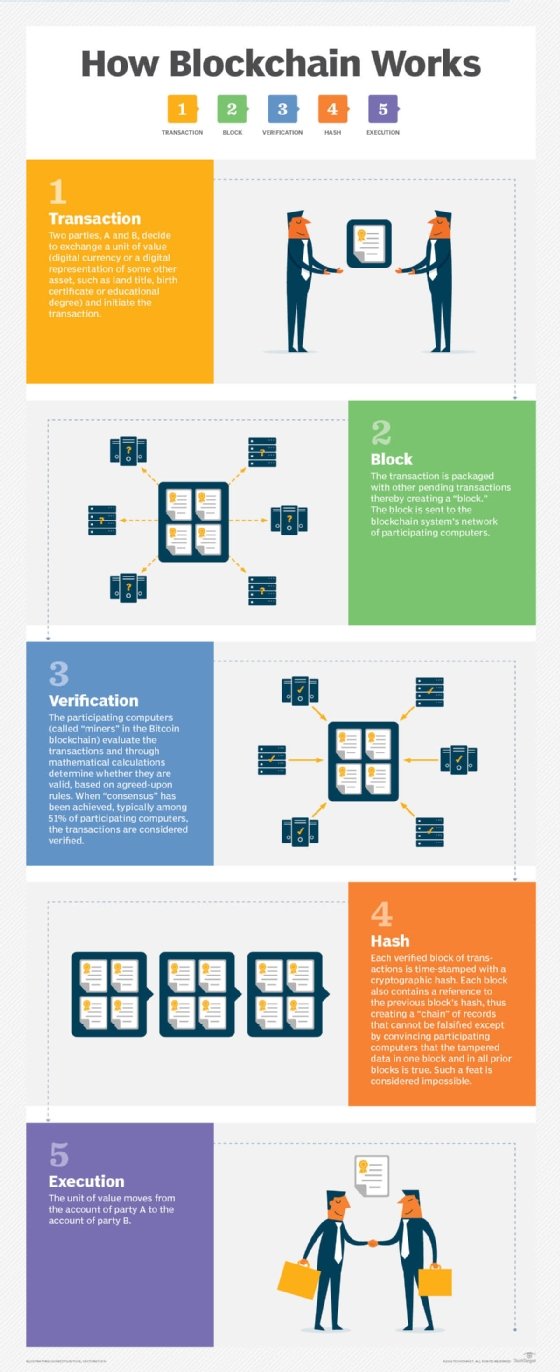 Bitcoin is stored in a digital wallet application on a computer or smartphone. Cryptocurrency wallets are among one of the best ways to keep bitcoin secure. There are also multiple types of wallets. Software wallets enable users to keep only a small amount of bitcoin on a computer or mobile phone for everyday use, with the balance kept in a separate offline wallet. This safeguards the majority of a user's bitcoin from malware trying to intercept the password used to access a wallet.
Offline wallets are wallet software that is installed on a USB or a live CD rather than on the internet, so it can be kept physically secure. Hardware wallets, another form of offline wallet, are physical devices such as a flash drive that store a user's private keys. Even when connected to another device, the private keys are never exposed, as signed transactions are completed on the device. Multisignature wallets require two or more private keys to authorize transactions. This greatly decreases the chances of a wallet being accessed if lost or stolen. One key is stored in a secure location as a backup, another is stored on the user's mobile device and a third key can be stored with a multisignature provider.
People can send bitcoin to others via bitcoin wallet-to-wallet transfer. Bitcoin can be sent by initiating a transfer request from a bitcoin address in the customer's wallet to a bitcoin address, or alphanumeric string, in the vendor's wallet. Senders can select the amount to transfer either as bitcoin or in their local currency. Each bitcoin transaction is charged a small fee, which is paid to a bitcoin miner. This fee can vary, depending on factors including how quickly the bitcoin transaction needs to be confirmed.
What is bitcoin mining?
Bitcoin mining is the process of adding new transactions into circulation. Bitcoin miners use software that accesses their processing capacity to solve transaction-related algorithms. In return, they are awarded a certain number of bitcoin per block. This entices cryptominers to keep solving the transaction-related algorithms, supporting the overall system. The process is called proof of work.
Originally, bitcoin mining was conducted on the processors, or CPUs, of individual computers, with more cores and greater speed resulting in more profit. After this, most bitcoin miners began using multi-graphics card systems, then field-programmable gate arrays and application-specific integrated circuits. These moves were made in an attempt to find more hash codes below a given target and use less electrical power.
It once was possible for anyone to mine bitcoin, but not anymore. Bitcoin code is written to make solving its transaction-related algorithms, or puzzles, more challenging over time. This means that solving these puzzles requires more computing resources. Access to powerful computers and large amounts of electricity is now a must. In the malware world, one of the more prevalent current threats is mining botnet infections, where user systems mine for bitcoin without the owners' knowledge and the funds are channeled to the botnet owner.
Business Insider India estimates that 100% of all bitcoin will have entered circulation by 2140.
Why is bitcoin valuable?
Bitcoin has value similar to other currencies because others are willing to exchange them for goods, services and existing currencies. However, bitcoin's price has risen, fallen and risen exponentially again multiple times since its introduction in 2009. Many consider the swings to be volatile. The prices have risen and fallen in the stock market due to a number of factors, including companies adopting or dropping support for the currency, and even what celebrities are saying about it.
However, bitcoin's value is also derived from other sources. For example, for a currency to be accepted, it should have some form of scarcity, divisibility, transportability, durability and should not be easily counterfeited. Bitcoin has the following traits:
It is limited to 21 million.
It is divisible up to eight decimal points. The smallest unit, a satoshi, is equivalent to 0.00000001 bitcoin.
It is stored in digital wallets, making it easily transportable.
It is not physical, so it cannot be destroyed. However, it can be compromised if the hardware, software or cryptographic key to the corresponding wallet is lost.
It is also protected against possible counterfeits by means of blockchain and cryptographic keys.
How is bitcoin used?
Bitcoin is often used as a payment option or as an alternative investment. As a payment method, bitcoin can be used to buy goods and services. Although the number of vendors that accept the cryptocurrency is still limited, vendors like PayPal and AT&T are starting to accept bitcoin payments. Electric car company Tesla has also gone back and forth in deciding to accept bitcoin payments. As a form of investment, individuals can invest in Bitcoin to help diversify a portfolio of stocks and bonds.
What are the risks of bitcoin?
The risks involved with bitcoin include the following:
Volatility in investments. Bitcoin does not have a long-term track record or history of credibility behind it. Prices rise and fall quickly, and well-known individuals such as Elon Musk have brought the value up almost 10% and caused it to decline by 5%, just by sending out tweets. In 2014, in one day, the price dropped by 80%.
No insurance. Bitcoin exchanges and wallets are not insured by federal or government programs. Unlike bank accounts, if something happens, it is unlikely that individuals will get their bitcoin back.
Suspect to ransomware. Because transactions are made digitally and anonymously, bitcoin is the currency of choice when hackers hold an unsuspecting victim's data ransom.
Regulatory restrictions. Bitcoin has also been used for black market transactions, which may invite government regulation to restrict it.
How do you buy or invest in bitcoin?
People can buy bitcoin through a cryptocurrency exchange, with traditional currencies or through Bitcoin automated teller machines. Exchanges are one of the most popular methods for buying bitcoin, as they are companies that enable individuals to buy and sell through setting up an account. Examples of Exchange software include Binance and Coinbase. Accounts also need to provide a funding source, such as a bank account or debit card. In addition, Bitcoin ATMs are internet-connected kiosks that enable individuals to purchase bitcoin with cash. Bitcoin ATMs work by making a blockchain-based transaction that sends Bitcoin to the user's digital wallet. Transaction fees may be charged when used, however.
Individuals can also buy and hold bitcoin like a stock. Some individuals will buy and hold bitcoin for a longer period of time, others may buy and sell quickly after the price goes up and still others may sell and bet on its price decreasing. There are also bitcoin Individual Retirement Arrangements (IRAs) that act as special retirement accounts.
History of bitcoin
Bitcoin has dramatically risen in value since its inception, but its history is filled with much volatility.
Bitcoin was introduced in 2009 by a person under the pseudonym Satoshi Nakamoto. The identity of Satoshi Nakamoto still has not been verified to this day. Nakamoto did, however, post a whitepaper called "Bitcoin: A Peer-to-Peer Electronic Cash System." The whitepaper laid out the concept of Bitcoin.
In 2009, blockchain was launched. Bitcoin still had no monetary value. The first block in the blockchain was nicknamed the Genesis block.
On May 22, 2010, the first economic transaction of bitcoin took place. Two Papa John's pizzas, valued at $25, were bought with 10,000 bitcoin. As of late 2021, 10,000 bitcoin is worth over $600 million. Thanks to this purchase and later purchases, bitcoin could start to be compared to the U.S. dollar.
In 2011, other networks like Ethereum began to improve the code behind bitcoin's blockchain.
That same year, bitcoin was valued at $1 in April and rose to $32 by June 2011.
In 2013, bitcoin traded at $13.40, which rose to $220 by April, but by mid-April, the value dropped to $70.
From March 25 to Dec. 17, 2017, the price of bitcoin rose from $975.70 to $20,089.
In June 2019, the value passed $10,000 before falling to $7,112.73 by December.
In November 2020, bitcoin was trading at $18,353.
In March 2021, bitcoin was valued at over $61,000.
Learn more about bitcoin security and how to secure bitcoin wallets in this article.
This was last updated in
November 2021
Continue Reading About Bitcoin