Chat channels are technologies enabling companies to engage with customers in live conversations. While email and webforms are still well-trafficked customer communication channels, they are not always convenient or the most efficient channels.
Web chat applications can incorporate humans, chatbots or a combination of both. Likewise, virtual assistants such as Amazon's Alexa, Apple's Siri and Microsoft's Cortana are increasingly popular methods of communication for marketing, voice commerce and followup support calls to purchases. Brands also use social media messaging apps to chat directly with customers. All of these avenues allow retailers to more quickly solve problems and build customer loyalty.
Types of chat channels
Phone: The most basic of chat channels is reaching out to businesses via telephone, where customers speak with live call center agents, an integrated voice response (IVR) system or a combination of the two. However, most call centers have set business hours, making it difficult for some customers to connect convenient time. While the prerecorded responses of IVR systems can solve some issues outside business hours -- such as paying a bill -- they are limited in the types of questions to which they can provide answers.
Website chat applications: Many business websites feature a "click-to-chat" button that customers can hit when assistance is needed. This is known as reactive chat. A chat window will pop up where consumers can enter a description of the trouble they are having, and they will be directly connected with a live call center agent. A chat window may also open automatically when user behaviors trigger business rules, such as staying on a checkout page for an extended period of time. The message window may ask if the customer has any questions, prompting them to continue checking out. This is known as proactive chat.
Other businesses have moved away from the live chat option, instead opting for chatbots and virtual assistants to interact with customers. Both are both built on AI technologies, including deep learning and natural language processing. For example, the Alaska Airlines website features a virtual assistant called Ask Jenn. Users type in a question, and Ask Jenn answers. A response pops up in the chat box, and the AI also automatically redirects you to another page for a more detailed answer. Using the virtual assistant saves time and prevents the need to call during business hours to speak with a representative. However, if the AI does not understand a question, it will provide a link to call customer support to speak with a live agent. The Bank of America mobile app also uses an AI agent called Erica to answer common questions.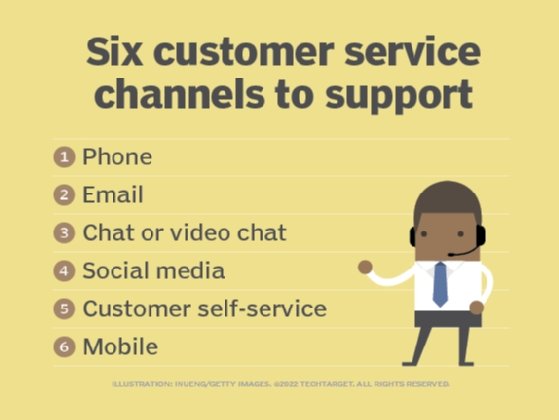 Social media messaging apps: Many businesses also have social media pages, such as Facebook, allowing customers to interact with them. In addition to messages that can be posted on their walls, some businesses allow customers to contact them directly via messaging apps, where either a human or chatbot may respond to inquiries. According to their social media sites, some enterprises, such as Sears and Macy's, can take up to an hour to respond. Others -- such as Xfinity -- will respond within minutes, with the use of AI; however, there is also an option to speak with a live agent.
SMS messaging: Also known as text messaging, industries that use this channel include health care, banking, retail, and travel and tourism. In health care, patients may receive appointment and refill reminders; whereas in travel and tourism, the traveler may receive gate change and flight status updates, and check-in reminders. In retail, many businesses send coupons and promo codes to shoppers, cutting down on wasted paper that used to be sent through the mail.
Voice commerce: Alexa, Siri and Cortana are all examples of virtual assistants using voice recognition – the ability to interpret and understand spoken commands. Some companies offer voice-activated devices, such as the Amazon Echo, that allow interaction with websites to make a purchase -- all handsfree, without speaking with a live agent.
Where chat channels are used
Chat channels are used all over the business world -- including company help desks, customer service departments, retail and e-commerce. A combination of phone, email and chat applications are usually employed to address helpdesk, retail and customer service inquiries. In e-commerce, email and chat applications are more widely used.
Organizations employing chatbots typically start training them on frequently asked questions and tasks that can be answered quickly by database queries or running simple scripts, programmed to their specific industries and customized to questions their particular customer bases ask. Examples include account balances, business hours, password resets, locating documents such as warranties or instructions matched to an item the customer bought or paying invoices. Perhaps the most crucial task, speak with an agent, hands off the conversation to a human when the chatbot reaches the end of its training.
This was last updated in
November 2018
Continue Reading About chat channels