peshkov - stock.adobe.com
Adobe releases AI tools for sales, marketing and e-commerce
Adobe beefs up its AI tools for Experience Platform, including a customer intelligence tool and ones for leads, content matching, channel monitoring and customer journeys.
Marketers have two Adobe AI tools they can now use, Customer AI and Attribution AI. Three more -- Journey AI, Content & Commerce AI and Leads AI -- are available in beta.
Together, Adobe calls the five AI tools Intelligent Services, which run on the Adobe Experience Platform. Customer AI plugs into the Adobe customer data platform and predicts a customer's propensity for leaving the Adobe user's company or converting into a paying customer based on website data.
Attribution AI connects conversion data to specific areas of ad spending and marketing outreach, a difficult process that Adobe AI automates and makes more accurate, said Monica Lay, product marketing manager for Adobe Experience Platform Group. The Adobe AI tool aims to paint a more accurate picture of what marketing investments turn into actual revenue.
Three other Adobe AI tools were released in beta. Content & Commerce AI helps tag and optimize content, then deliver personalized content to Adobe's marketing and e-commerce cloud users, both for text and images. One example of this would be recognizing a customer might be buying or looking at red dresses, and so Content & Commerce AI might spot this trend and pick similar items it had tagged from a content repository to recommend to that customer for additional purchase.
"It will identify keywords and help tailor future messaging in terms of content I am more likely to consume," Lay said.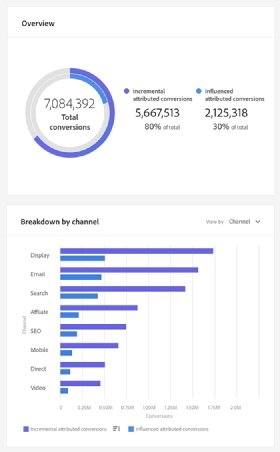 The functionality of some of the tools might be available to users on other platforms they're already using, such as Salesforce -- one example being Leads AI, a lead-scoring tool most likely to be used by B2B sales teams. Marketers are not looking for one standard AI tool, however, but instead see AI as making the individual tools they use a little better, said Benjamin Bloom, a Gartner analyst.
It also brings together a standardized Adobe AI toolbox for the different applications the company has acquired for its Experience Cloud, he added, such as e-commerce platform Magento and marketing automation engine Marketo. That simplifies integration.
When they were separate entities, "from a technical standpoint, that often inhibited both the user experience -- because the tools worked differently -- and the data was different," Bloom said. "With the Adobe Experience Platform, the idea is that you're going down to a common data layer that every one of the single applications can access."
The Adobe AI Intelligent Services tool Journey AI assigns a "fatigue score," identifying a potential threshold of annoyance a customer might have after too many marketing messages. Plugged into the Adobe Experience Platform, the feature can monitor what a customer has seen over all the digital channels an Adobe user might employ for outreach, and predict the best time, channel and frequency of messaging to drive potential sales.