Are the promised benefits of 5G wireless technology justified?
The evolution of 5G wireless technology is expected to bring benefits ranging from high broadband speeds to shared wired and wireless infrastructure uses, but cost and business use cases must align.
Technology evolution in wireless is orderly in one main respect: Each major step is considered a generation and numbered sequentially, so you always know where you are in the progression. The latest generation, 5G, is enough to make operators happy for any small simplification, because 5G is arguably the biggest shift since wireless data services emerged at the end of the last century. The fifth generation extends wireless networking for use in wireline, wireless and satellite networks, as well.
Rather than broadband speeds and increased capacity, the 5G wireless evolution's biggest contribution will be that it explicitly unites wireless, wireline and satellite services under a common structure. For example, operators are primarily interested in adding 5G as a fiber-to-the-node (FTTN) option to deliver wireline services instead of using DSL. Verizon, for example, announced in late November that it would launch 5G-based residential broadband services in as many as five markets in 2018.
For decades, the general model of wireless networks has been a combination of a radio access network (RAN), which connects individual devices to other parts of a network through over-the-air connections; an Evolved Packet Core (EPC) that accommodates the mobility of wireless users and sustains their traffic sessions; and a subscriber management framework that's part of the IP Multimedia Subsystem. The latter two pieces were effectively overlays on the metro infrastructure of operators.
Functionally, 5G wireless technology promises to eliminate the separate EPC model in favor of a single architecture for metro networking that supports fixed and mobile services without special equipment. It also presumes a service isn't defined by its delivery technology -- like wireless cells -- but rather is orchestrated to program automated network behaviors explicitly from any combination of wireless, wireline and satellite elements, and from a set of virtual functions.
The 5G network architecture is divided into five layers, with the first three required in the network operator's network. At the bottom is the physical infrastructure that includes the towers, RAN, and access and metro facilities. Next is a network functions layer that consists of service pieces exposed by the infrastructure layer. These and additional virtual functions are assembled in the final orchestration layer.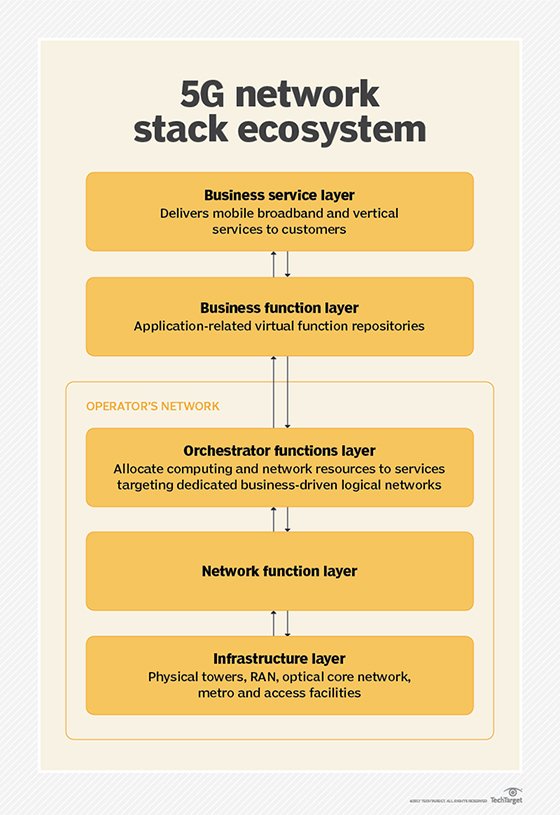 The top two 5G layers are pan-provider service layers that define the end services for business or residential customers. The bottom pan-provider layer hosts any kind of add-on features that combine operator services from any operator involved into a single common service model, along with specific vertical business features. The top layer then assembles the services offered for sale to customers. The goal of the 5G structure is to create a complete picture of all services, not just wireless services.
Forklift upgrades rare for 5G wireless evolution
To make 5G more generally useful, which makes it more complicated to deploy, 5G architecture can be divided conceptually into slices that represent virtual segments of infrastructure, features and services. A slice is an allocated piece of the whole 5G infrastructure that serves a single service, application or tenant. An network operator could slice the RAN to create virtual mobile services or slice its wireline access network for the same reason. Network management for 5G is also sliced to ensure no other tenants see something they shouldn't.
Because of the scope of 5G's goals, the implementation of 5G specifications will affect every aspect of networking.
Nobody promised implementing 5G would be easy, and it hasn't been so far. One operator said 5G steps on everyone's toes, and that's surely true in many ways. Because of the scope of 5G's goals, the implementation of 5G specifications will affect every aspect of networking, which means a forklift upgrade to 5G is probably not only impractical, but impossible. The 5G wireless evolution will happen instead at an easy pace. And while that's easier than going in with the forklift, it's not simple, either.
Like all generations before it, the 5G wireless technology evolution will involve new radio access network concepts, which for 5G are simply called New Radio, or NR. Some of those concepts include the virtualization of aspects of the NR, but 5G wireless technology also promises 10 to 20 times the speed of 4G networks and much higher per-cell capacity, as well. This means many operators will opt to support 5G NR concepts first and evolve from 4G LTE to 5G in mobile network services before creating any of the layers of 5G orchestration that the full specification includes. The orchestration piece will take time because of the cost of a full-fledged 5G NR deployment.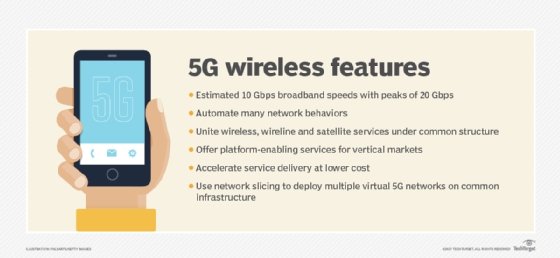 Using 5G wireless with fiber to the node
New Radios for 5G might not appear first on mobile phones, either. Because 5G is so fast, it is of great interest to wireline providers for use as an adjunct to FTTN technology. FTTN traditionally relied on copper -- in the form of some DSL technology standard -- to deliver broadband to homes and businesses from a fiber node. It's possible that 5G could jump into the radio network space to replace that terminal connection, eliminating the need to rely on a copper loop plant that could be in various states of evolution and repair. Some operators are making the hybrid FTTN-5G option their highest priority.
Network slicing that separates services and operators that share infrastructure is another feature that might see early adoption. We already have the mobile virtual network operator (MVNO) model, where wireless providers resell capacity to other providers, who then offer lower-cost, prepaid services. Google's Wi-Fi and Comcast's mobile services use MVNO capability integrated with public Wi-Fi to provide mobile services without deploying their own RAN. Some enterprises are interested in offering their own MVNO services to reduce cost and improve performance and security in mobile worker communications.
The priority features of 5G infrastructure appear to be network slicing, RAN and NR improvements, and FTTN and 5G hybrids. The 5G model also incorporates network functions virtualization and software-defined networking concepts, but it's less certain how much 5G will drive either NFV or SDN, particularly in the near term. None of 5G's three priority features would really demand either technology, and as 5G moves beyond those priority applications, the justification for further progress becomes more difficult.
Does the business case justify 5G wireless technology?
Because 5G is a radical change, the question is whether it's too radical for its business case to justify. There is no question we'll get pieces of 5G within a couple of years. But the full, breathtaking scope of 5G will have to wait for the orderly evolution of infrastructure to phase out older components and make the transition financially feasible. Cost by itself is never prohibitive, but it demands a bigger benefit case to offset it. In the case of 5G, no one knows if the business case will be big enough to justify all the features.
This was last published in
December 2017
Dig Deeper on Telecommunication networking