Get started
Bring yourself up to speed with our introductory content.
How to unify wired and wireless network management now
Unifying the wired and wireless network -- that is, creating unified networking management -- doesn't just happen. Learn what tools and tactics can make it a reality.
Management of the wired and wireless network is often barely understood, or even misunderstood, and most certainly underappreciated outside of the operations staff that depends upon it. After all, network management deals in complex concepts and services -- involving highly specialized capabilities -- and enables those who monitor, plan and grow the network over time to do so efficiently and accurately. And just as the network itself is key to the productivity of the end users who depend upon it, network management is key to the productivity of those who keep the network running.
Wired and wireless network IT pros are often thought of as techno-geeks who love the low-level intricacies of routers, switches and command-line interfaces. But most network managers today seek quite the opposite: easy-to-understand, reliable, efficient and secure tools that do the job of unified networking.
Nowhere is that more true than in today's interdependent networks -- encompassing both wired and wireless network components. It's time for organizations to unify the management of these networks under a single strategy and console. It really doesn't make sense to do otherwise, given the essential requirement for operational productivity.
While unified networking management has historically been difficult to achieve, vendors -- both equipment and third-party management software and services suppliers -- have made great progress in integrating their wired and wireless management capabilities. This is crucial: Ethernet switches provide interconnect and electrical power for Wi-Fi access points. At the same time, traffic management spanning both domains must be applied consistently, regardless of the physical layer. Finally, security must be uniform across both the wired and wireless domains.
Ops plans for a unified wired and wireless network
Unified networking management may not be so easy in organizations that have relied heavily on the mix-and-match, plug-and-play interoperability.
Strategically, unified management needs to be part of any operations plan. Achieving this goal is relatively easy with networks based on the products of a single vendor. If you fall into this category of user, make sure you have a conversation with your vendor. And you may be surprised with how well -- although not yet perfectly, in most cases -- the major vendors have accomplished this integration.
Unified networking management may not be so easy, though, in organizations that have relied heavily on the mix-and-match, plug-and-play interoperability that has essentially defined networking for decades. Unfortunately, such interoperability typically only extends to network traffic and only rarely to management. Equipment vendors have historically taken a proprietary approach to the oversight of their specific products, making integration within the management domain often very difficult. Some third-party management tools -- and, to be fair, even some management consoles from major vendors -- can support certain products that other vendors manufacture, at least in a limited fashion. Some exploration and investigation is required, but unification of much, if not always all, of an organization's network infrastructure under a single management umbrella is increasingly possible. And, to be completely fair, sometimes it can be accomplished with less work than expected.
Strategy for managing a unified wired and wireless network
Unified management is such an important goal that a few general strategies should be in any network manager's toolbag.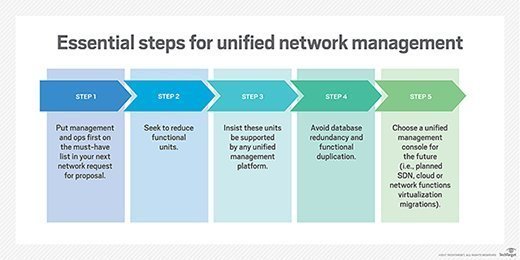 To start, we recommend putting management and operations requirements at the top of any list of specs for the next iteration of the network: in other words, at the front of the request for proposal, not as an afterthought at the back. Minimize the number of distinct functional units, and insist that these be supported under whatever unified management platform is selected. Minimize management database redundancy and functional duplication, including accounting, directory and security (identity management) to avoid difficult-to-resolve conflicts that can have unpredictable and even disastrous results. Make sure that any forward planning, such as migrating to software-defined networking or cloud-based network functions virtualization, be supported in the unified management console as well.
As an industry, we still have a way to go before unified networking for both wired and wireless becomes common and transparent. After all, the esoteric nature of network management works against the otherwise desirable goal of a simple and straightforward evolution. Regardless, the benefits of unified network management are undeniable.
Next Steps
In the year 2025: Peer into enterprise networking's future
What tools and techniques aid unified network management?
How SDN can unify wired and wireless networks
This was last published in
September 2017
Dig Deeper on Network management and monitoring