zhu difeng - Fotolia
Evaluate
Weigh the pros and cons of technologies, products and projects you are considering.
Next-generation data centers need new ADC features
In next-generation data centers, more ADC features and capabilities are needed. Scalability and integration with orchestration frameworks are still lacking, a study shows.
The next-generation data center will require a approach to Layer 4-7 networking.
Continue Reading This Article
Enjoy this article as well as all of our content, including E-Guides, news, tips and more.
Load balancing is a commodity now, with a variety of open source technologies readily adopted in software-defined architectures today. Instead, enterprises need application delivery controllers (ADCs) with advanced cloud and security services and APIs and plug-ins that can integrate into a variety of architectures. Furthermore, software is ascendant over hardware in Layer 4-7 networking -- a critical component of an ADC features set.
Enterprise Management Associates (EMA) recently published "Enterprise Data Center Network Transformation," a 65-page report on how leading-edge IT organizations are reinventing data center networking for a cloud-centric future. The report is based upon a survey of 200 enterprise IT professionals who are actively involved in data center network transformation projects. It identified the requirements and challenges enterprises have with ADCs in their next-generation data centers.
Virtual ADCs are essential
ADC virtualization is mainstream in these organizations. Seventy percent of the projects captured in EMA's research are using virtual ADCs, and the average adopter of virtual ADCs will serve 58% of application workloads with them. This latter percentage suggests most enterprises will adopt a hybrid approach to Layer 4-7 networking, with a mix of ADC appliances and virtual ADCs.
ADC virtualization comes with some challenges, although perhaps not those one might expect. For instance, very few IT professionals said they were struggling with a lack of deterministic hardware performance with virtual ADCs, and even less complained of a lack of feature parity between virtual ADCs and ADC appliances. Instead, the biggest issue is incompatibility with cloud or network orchestration systems. Some ADC vendors have some work to do here, whether it's integration with Cisco Application Centric Infrastructure, VMware NSX, OpenStack Neutron or a commercial cloud software system. The other two leading challenges with ADC virtualization are license complexity and service-chaining complexity.
The ideal ADC features wish list
The biggest issue is incompatibility with cloud or network orchestration systems.
EMA also asked research participants to identify ADC platform characteristics most important to their data center network transformation projects, irrespective of whether they are using virtual ADCs or appliances.
Scalability was the most important aspect of the ADC features they are using, whether that scalability is achieved in hardware or software. Secondly, they want ADCs that are resource-efficient, meaning they are able to deploy ADCs with narrow feature sets that are tuned to specific application requirements. The days of a monolithic platform serving multiple applications are over.
Other important platform characteristics include integration with orchestration frameworks, like OpenStack; platform programmability; and integration or capability within a public cloud environment, like Amazon Web Services or Microsoft Azure. This latter requirement signals that enterprises are looking for a common operating environment for Layer 4-7 networking across their on-premises data centers and public cloud deployments.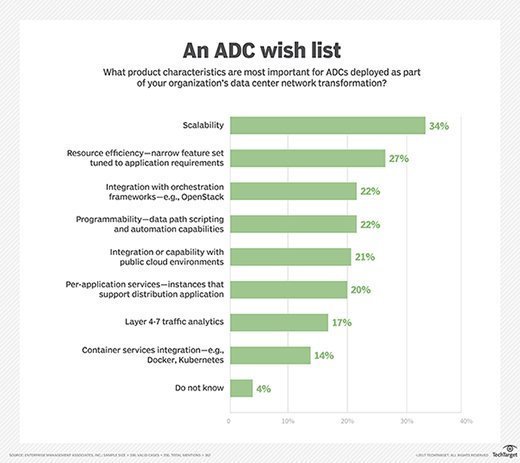 Essential ADC features: Security and identity
Finally, research participants identified the features that are most important to ADCs in their transformed data center networks. Integrated security -- web application firewalls or distributed denial-of-service protection -- topped the list, followed closely by identity and access management. The other top features were data compression, Secure Sockets Layer acceleration and global load balancing.
Traditional local load balancing technologies -- Layer 7 load balancing, Layer 4 load balancing and round robin -- were the three least important features, according to these enterprises. These capabilities have been commoditized by the emergence of DevOps-friendly open source alternatives, like HAProxy.
ADC virtualization is headed toward mainstream adoption, but there will be some struggles along the way. Scalability in software and hardware will be essential, as will capability with public cloud environments and orchestration systems. And advanced services like security and identity management will be essential ADC features.
If you'd like to learn more about EMA's research into next-generation data center networks, EMA has posted a free webinar that highlights its recent research on the topic.
Next Steps
ahead for software-defined data centers
Looking ahead to data center transformation
Next-generation data storage offers benefits to IT managers
This was last published in
November 2017