Fotolia
Get started
Bring yourself up to speed with our introductory content.
Wi-Fi heat map: Secret weapon for wireless network admins
Using heat map technology to pinpoint network activity saves time instead of sending a senior admin to do a site test survey across the entire campus.
I have a new electric standing desk. Supposedly it will help me live longer, feel better, look hot and maybe turn...
Continue Reading This Article
Enjoy this article as well as all of our content, including E-Guides, news, tips and more.
vegan -- something worthwhile. I'm also trying to regard its unexpected installation as a less than subtle hint from HR. What I do know is that it's powerful, silent, lifts the entire desk -- including all my monitors -- and suddenly the cool kids think I must be kind of a big deal. I'm going to ride that as long as it lasts. But really, everyone in IT needs one of these -- if for no other reason than to keep the circulation running since we're all chained to our desks. Well, almost everyone. Historically, there's one person on the team who's never at her desk -- your wireless network admin.
A wireless misconception and how a Wi-Fi heat map can help
Many outside your team only know your wireless guru from seeing her either on a ladder swapping out an access point (AP) or in an email thread as level-3 support for a particularly troublesome radio NIC. (Or because she's been dispatched to the top floor to get an executive's iPhone connected.) This is actually a gross mischaracterization of WLAN admins, though.
WLAN admins actually spend most of their time fiddling with controllers back in the distribution racks and trying to solve an electromagnetic field's Rubik's Cube of coverage issues. Controller issues are solved with the most essential IT tools­ -- persistence and caffeine. Throw enough effort and resources at anything in a rack and you will eventually cure it, but that's not always the case with the air gap. Wetnodes (in other words, people) work between radio-opaque floors, move around unpredictably and worst of all, have a tendency to flash mob for important meetings in low coverage areas. And to support that, your wireless admins are going to get some clicks on their pedometer app.
Virtual sneakers
WLAN admins actually spend most of their time fiddling with controllers back in the distribution racks and trying to solve an electromagnetic field's Rubik's Cube of coverage issues.
If you're a fortunate, funded and forward-looking shop, you have a Wi-Fi heat map of your campus/es that show the real-time coverage quality of your wireless infrastructure. Not only can you see where the APs are, but also where the signal is good versus attenuated and where layers of service set identifiers are deployed. If you're really lucky, you may even see metrics reflecting client location and historical client signal quality and bandwidth. But to populate those, you usually need to regularly dispatch someone with a test laptop to do site surveys. Here's a tip: Telling a senior admin to go walk the campus is not generally the best approach. A better option? "Hey [intern's name], would you like to help out with our security infrastructure stress test?" Or beer. That always works.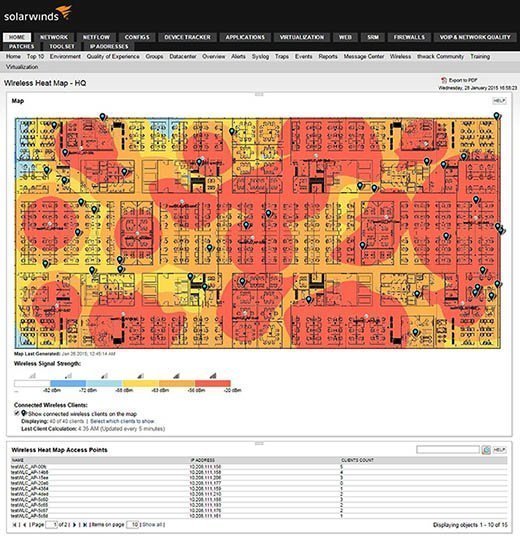 Chances are, however, that the network monitor you already have has features you're not using. Modern thin-client controllers from all the major vendors are fairly accomplished, with CleanAir, Auto RF and ZoneFlex -- among others -- all making easier work of balancing services at each AP for optimal service. Your network monitor is also probably aware of client performance and you're reporting on inventory, density and client protocol. Double-check your admin guide and you very well may discover --buried under 50 pages on alert options -- a tool to map APs mixed in with other gear. Generally, these extensions also give you a way to relate a smattering of clients to their APs, saving you -- or your intern -- a periodic half-day hike.
Eventually, when your manager begins circulating sexy, contour gradient-filled charts of the office, he might thank you for improved visibility and the help desk might thank you for easier troubleshooting when they're on the phone with a customer who can't spell 802.11ac. But the person who will thank you most is your wireless admin. Not because she finally has justification to get a fancy adjustable workstation, too -- she'll be happy because she can finally get back to closing VoIP tickets. But that's another WLAN story.
About the author:
Patrick Hubbard is a head geek and senior technical product marketing manager at SolarWinds. With 20 years of technical expertise and IT customer perspective, his networking management experience includes work with campus, data center, storage networks, VoIP and virtualization, with a focus on application and service delivery in both Fortune 500 companies and startups in high tech, transportation, financial services and telecom industries. He can be reached at [email protected].
Next Steps
See if your enterprise is ready for WLAN.
This was last published in
March 2015
Dig Deeper on Mobile and wireless network technology