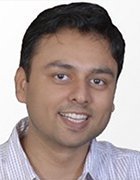 Anubhav Dwivedi
CEO and Founder -
Saviant Consulting -
Anubhav Dwivedi is a passionate entrepreneur and seasoned technology advisor for growth-hungry enterprises. Before starting Saviant Consulting, he spent a number of years in management roles at two of the world's largest IT consulting firms, Wipro and Infosys.
He is known for his acumen of harnessing technology to achieve rapid and transformational business results.
This was instrumental in his strategy and product consulting engagements with some of the world's largest Enterprises (like ADP, TUI, Pitney Bowes, United, Delta and Qantas) as well as with numerous entrepreneurs in e-commerce space who are his clients now.
Anubhav Dwivedi's Most Recent Content