How to improve application performance with advanced APM tools
Learning how to improve application performance has never been more important, or difficult. Developing a monitoring framework and choosing the right APM tools are key first steps.
As more users, more applications and more services are added to today's networks, gauging application performance...
Continue Reading This Article
Enjoy this article as well as all of our content, including E-Guides, news, tips and more.
has become more critical. In its most basic form, application performance management refers to the monitoring and management of the performance, uptime and availability of software applications, particularly those made available as a service through the cloud.
The primary charter of APM is to detect and diagnose complex application performance issues to ensure compliance with service-level delivery guarantees or requirements. In other words, APM is all about translating an IT metric -- application performance -- into a strategic objective: the value the business receives. When discovering how to improve application performance, the critical elements in any analysis must include the end user's experience in consuming the application, as well as the computational resources the application consumes.
How can you improve application performance?
The constant demand for companies to improve application performance has made APM an important sector of the IT management services marketplace, so important that technology research firm Gartner has been tracking it since 2011. The company has defined a five-element conceptual framework that it uses to describe and discuss a wide range of vendor offerings in this space. These annual "Magic Quadrant" analyses provide an interesting view of the players and their positions in this active and growing segment of the IT management services market.
Larry Dragich, director of customer experience management and application performance management at the Auto Club Group, offered a compelling visualization of the Gartner model in a 2012 presentation.
While Dragich's study is five years old, a review of current Gartner material and other sources shows it's still one of the best explanations of APM's function and purpose.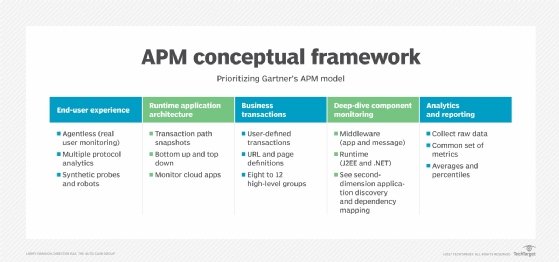 This framework also holds the keys to understanding how to improve application performance; employ APM; and help organizations make sure they get what they're paying for and what they need from the applications they use themselves, or extend to customers -- particularly as a service. Thus, each of the five components in the model is worth further consideration and analysis:
End-user experience: This metric gets a primary designation from Gartner, which means it's one of three elements in this framework one should pay closest attention to; the other two are business transactions and analytics and reporting. The key here is round-trip time for user application requests and corresponding application responses or replies. Such monitoring may either be active or passive. Active monitoring relies on an agent in software that simulates user activity and checks availability from multiple locations. Passive monitoring typically requires network port mirroring to drive an agentless appliance of some kind. An important consideration in choosing APM products is support for multiple protocol analytics -- such as SQL, extensible markup language, PHP, JavaScript Object Notation, jQuery and so forth -- because organizations may wish to go beyond HTTP/HTTPS and purely web-based applications in their monitoring.
Runtime application architecture: This secondary component relies on application discovery and dependency mapping tools to automate the mapping of transactions and applications to their supporting infrastructure components. Implementing a stable, reliable application architecture means providing up and down monitoring for all nodes and servers involved in that architecture -- known as bottom-up monitoring. This provides the basis for event correlation and provides insight into the interactions between network topologies and application architectures.
Business transactions: This primary component zeroes in on URL page definitions or user-defined transactions with business meaning or significance. Given a large number of unique page definitions for some application, it makes sense to group them into a smaller number of high-level categories. This supports useful service-level agreement (SLA) reports and helps elicit business-oriented trending application performance data.
Deep-dive component monitoring: This secondary component is used to provide details about elements of middleware that support as-a-service applications, including the web, application, and queueing and messaging servers that make them work. They can even provide insight into Java 2 Platform, Enterprise Edition or .NET software stacks and tie them into user-defined business transactions measured in the preceding component. The idea is to elicit and measure the path from code execution to URL delivery and then on to user request solicitation and handling. This provides the veritable deep dive into components and is mostly used to establish baselines for normal or desirable performance, but also for troubleshooting when problems or issues manifest.
Analytics and reporting: This primary component presents a set of metrics that are collected and monitored for each application. It also leads to an overall view of application performance within this component model. Of course, this is a logical or synthetic view based on data collected from the tool sets that support other components of the APM model. The keys in creating useful reports are to limit the dashboard to the most important and valuable metrics and to keep reports simple enough to provide ready insight and information.
The latest from Gartner on APM
Gartner's December 2016 "Magic Quadrant" report on APM focuses on three primary functional dimensions that are obvious offshoots or outgrowths of its original five-element framework. These include digital experience monitoring, which corresponds to user experience monitoring in the original; application discovery; tracing and diagnostics, which combine aspects of business transactions, application architecture and deep dive monitoring; and application analytics, which corresponds to analytics and reporting.
To that end, key elements of a successful APM implementation invariably include the following:
a dual focus on meeting technical challenges and achieving desired business outcomes;
sales engineering that assists with problem resolution, but also with development of customized or tailored reports and capabilities;
support for web and mobile user monitoring that includes in-depth metrics and an intuitive, compelling user interface; and,
strong instrumentation that encompasses all aspects and elements of application and network infrastructures, including rapid uptake of support for emerging technologies.
Companies and organizations that use APM to improve application performance need one that is up to the job and delivers timely, accurate information to help meet SLAs and optimize user experiences. If any IT pro wants to know how to improve application performance, then working with the best APM products -- like those Gartner identifies -- can help to meet this need.
Next Steps
Mobile apps working well? Learn how to secure them, too.
Learn which factors matter when choosing APM software
Who's actually monitoring app performance? An IT insider view
This was last published in
June 2017