zagandesign - Fotolia
Salesforce CX, AI, integration tools are 2019 trends to watch
As the world pivots from CRM to customer experience management, Salesforce makes its own moves with research showing millennials value CX over the actual goods or services received.
For the company that popularized CRM -- and indeed uses that abbreviation as its stock symbol -- Salesforce faces a potential identity crisis in 2019 as competitors such as Oracle, SAP, Zendesk and others pivot from CRM to customer experience management.
Salesforce CX-enabling tools will likely be one focus of the San Francisco-based cloud software vendor in the coming year, as will Salesforce integrations that make customer data move more fluidly between its clouds.
Large companies, such as Nike and Mastercard, that sell both to businesses and consumers -- or B2B2C in marketing parlance -- expect their platforms to support CX improvement initiatives that focus on customer retention and buttressing retail store experiences with online alternatives.
Salesforce CX-facing features ripe for upgrading include AI-based personalization tools, as well as those that can measure campaign effectiveness against advanced segments and metrics, said Chris Jacob, director of product marketing for Salesforce Marketing Cloud.
These tools must become more sophisticated by design, because Salesforce customers pour more data into their marketing and sales efforts every year. "In 2018, marketers were using an average of 12 data sources for their campaigns and operations. They expect it to go up to 15 in 2019, and it was 10 just a year ago in 2017," Jacob said.
Salesforce integrations a bigger priority
After Salesforce acquired MuleSoft for $6.5 billion in 2018 -- its priciest acquisition to date -- many industry observers wondered how MuleSoft would fit into the Salesforce CX technology ecosystem. It didn't take long to find out: At the Dreamforce 2018 conference, the vendor unveiled Salesforce Customer 360, an integration platform that will strive to unify customer data for Salesforce customers across all clouds and offer a full window into customer activity with sales, support and marketing teams.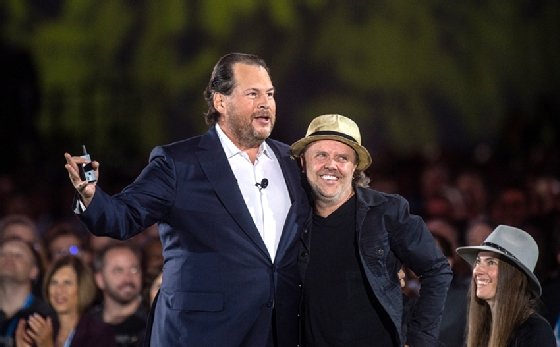 Salesforce AI will help map data, the company said, and create a single repository for a customer's data when previously there may have been competing or even conflicting entries.
Gartner analyst Penny Gillespie didn't hazard a guess at what acquisition targets Salesforce might be contemplating next, but she said she thinks that tools to help vertical markets more easily perform Salesforce integrations might be one category -- that and finding ways to keep customers in Salesforce and out of third-party platforms when possible.
In 2018, marketers were using an average of 12 data sources for their campaigns and operations. They expect it to go up to 15 in 2019, and it was 10 just a year ago in 2017.

Chris JacobSalesforce
"I think they're going to seal gaps in CRM, because that's what good companies do," Gillespie said.
Rob Maille, head of strategy and customer experience for CommerceCX, a digital strategy services vendor whose tools integrate with Salesforce, said the MuleSoft acquisition and the resulting product releases pulling the different clouds together were smart moves by Salesforce.
"It helps [Salesforce customers] reimagine their operations," Maille said.
Marketing teams charged with CX
One gap Salesforce might consider augmenting is contact center support, making cloud communications platform Twilio a possible acquisition target. Twilio's Flex platform integrates tightly with Salesforce, and it has another strong connection to Salesforce -- former longtime Salesforce marketing VP Sara Varni currently serves as Twilio's chief marketing officer.
Whatever Salesforce chooses to spend resources on building in 2019, it will most likely address a trend driven by millennials and younger generations, who are dragging Gen Xers and baby boomers grudgingly along with them, valuing CX as much or more than the actual goods or services purchased. Put a different way, cheaper isn't necessarily better if acquiring something is difficult, time-consuming or otherwise inconvenient.
Some 80% of customers agreed that CX is at least as important as what they're buying, according to Salesforce's fifth annual "State of Marketing" report, issued in mid-December 2018. Asked a different way, 84% indicated that being treated like a person -- not a number -- is essential to winning their business.
That means a majority (54%) of marketing teams are leading CX initiatives across the business. The 4,100-plus full-time marketing employees who responded to the Salesforce survey said engaging with customers in real time is both their top priority and their top challenge to overcome.
That creates a pretty clear mandate for old-guard CRM companies, like Salesforce and its competitors, to provide its customers with tools for continuous CX improvement. For Salesforce to hold onto its customers, Salesforce CX management will have to remain flexible and adaptable to size, market and needs of individual customers.
AI might end up being the technology to accomplish all that, Maille said, although right now AI is so oversold that it can mean countless things to different people.
"The tough thing about AI is that it's just as dirty of a word as big data," Maille said, adding that, for an AI tool to prove its worth, it must either reduce cognitive load for the humans using it or reduce barriers in the user experience.
"It comes down to two things: One, can I use data to provide guidance and insight? And two, can I use data to recognize patterns to eliminate friction and repetitive work?"