Eight must-have call center systems for customer service
It can be challenging to pick a call center technology, implement it and optimize it for the best results. Here are the top eight call center tools to deliver the best customer experience.
Having the correct call center systems in place is a critical first step in ensuring that an organization provides...
Continue Reading This Article
Enjoy this article as well as all of our content, including E-Guides, news, tips and more.
an outstanding customer experience.
There is a lot call center technology can do to improve operations. The first step is to assure that the critical technologies are in place to meet the basic needs of customers and to support call center systems.
The following tools focus on the functionality of call center systems. When exploring the acquisition of these tools, it may be most effective to select a platform that has already integrated many of these technologies.
Contact routing software is a significant upgrade to Automatic Call Distributor technology, enabling customers who contact organizations through a variety of channels -- voice, email, chat, etc. -- to be routed to customer service agents efficiently.
Two key benefits of this call center technology are:
Contacts are moved to agents rather than having agents move around systems to access contacts.
Metrics can be tracked and reported, including volumes, response times, average handle times, etc.
A key component of contact routing software is skills-based routing, which provides the ability to route contacts to agents that have the most appropriate skill sets to handle specific transactions.
Quality management software
Quality management software, including call recording and call monitoring tools, provide a way to manage, track and report quality metrics.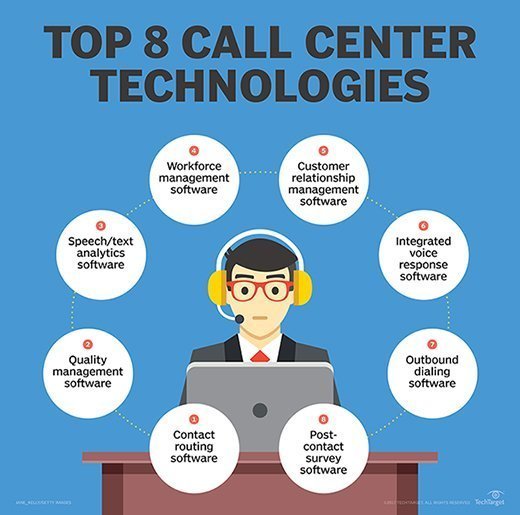 Call recording software provides the ability to record either a sample or 100% of customer interaction with a call center. These recordings provide an audit trail of all interactions between customers and agents that can be utilized as part of a quality monitoring/feedback program or as a call center tool to review historical customer interactions.
Call monitoring software provides the ability to review recorded calls, complete preloaded forms and provide performance feedback to agents, along with key reports and metrics. Analyzing recorded calls provides a much more efficient process than waiting for and listening to live calls.
Speech/text analytics software
Speech/text analytics software supports the ability to hear and analyze the actual voice of the customer.
Post-contact speech/text analytics provides you with the capability to select sample calls to find conversations relating to specific keywords or types of inquiries. For example, this tool enables you to select 100 calls where a customer is using the phrase "I want to cancel." Once these calls are identified, recordings of them can be forwarded to individuals in the organization who can analyze and hopefully address the root cause of the cancellation request.
Real-time speech/text analytics provides the ability to identify calls in which a customer's tone or voice inflection signifies that the contact may have to be escalated to a supervisor, all in real time.
Workforce management software
Workforce management software is the call center system that supports agent scheduling. This software analyzes historical information, along with appending data supplied by the contact center, to provide forecast volumes, projected staffing needs and optimized schedules.
Additionally, workforce management software provides real-time tools to support the adjustment of resources to variances in predefined activities.
CRM management software
CRM software provides the capability to track all interactions with a customer, including customer calls, customer purchases and more, in a single repository. Having this type of information provides insight into a customer's journey with an organization.
This type of information can be used to analyze the value of specific customers, which can then be used to present relevant service offerings when they contact a call center. At a macro level, analysis can be performed to help understand why customers are reaching out to the call center in the first place.
Integrated voice response software
Integrated voice response software enables customer self-service during a phone interaction. Touch-tone call center technology is the most common method, in which a caller presses specific keys on their phone to get an answer to their question.
Improvements in speech recognition software enable customers to speak their selections instead of pressing a key on their phone. Regardless of whether customers use touch-tone or speech to request information, the structure and number of menus must be limited to reduce customer effort and improve utilization.
Outbound dialing software
Another important call center system is outbound dialing software, which provides tremendous efficiency by better preparing agents prior to a contact and by eliminating non-value-added activities -- e.g. dialing phones, waiting for a customer to answer -- during the calling process.
Depending on the size of the organization and the types of calls being made, there are numerous types of dialers that could be effective -- power, preview, predictive.
Post-contact survey software
Post-contact survey software automatically surveys customers following an interaction with the call center. Technology is available where the post-contact survey system can ask the customer to stay on the phone following an interaction or can call a customer back following an interaction with the contact center.