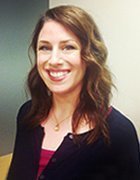 Jessica Scarpati
Senior Communications Specialist -
Brigham and Women's Hospital -
Jessica Scarpati is senior communications specialist at Brigham and Women's Hospital in Boston.
Prior to joining the hospital, Jessica was the features and e-zine editor for TechTarget's Networking Media Group.
Before joining TechTarget in 2009, she worked as a reporter for several community newspapers in the Greater Boston area. Jessica holds a bachelor's degree in print journalism from Boston University.
Jessica Scarpati's Most Recent Content