animind - Fotolia
Problem solve
Get help with specific problems with your technologies, process and projects.
Building resilient networks on a mountain, at sub-zero temps
Freezing temperatures and dirty conditions at this underground gold mine in interior Alaska are no match for its strategy for maintaining resilient networks.
The air plunges to 40 degrees below zero Fahrenheit. Deadly 15-foot icicles crystalize on rooftops. The days are shrouded mostly in darkness. These are just a few of the charms of interior Alaska's punishing winters, and yet they are, more often than not, the least of Dave Brown's problems at work.
Brown is an IT manager at the Pogo gold mine, a joint venture of Japanese companies Sumitomo Metal Mining Co. Ltd. and Sumitomo Corp., which is located 38 miles northeast of Delta Junction -- a city of about 1,000 residents and a region that's home to almost half as many bison. Situated in a river valley, the underground mine operates year-round, with drills burrowing as deep as 2,000 feet into the earth to search for gold deposits.
Located on a side of a mountain—inside of which the mining and exploration work occurs -- two campuses are separated by 500 feet of altitude. The lower camp functions primarily as a workspace and dormitory for contractors and the company's geologists. Upper camp, located at 1,900 feet above sea level, houses staff dormitories and dining areas, administrative offices, a maintenance complex, warehouses, a mill and other facilities.
Climate, operations threaten network performace
And while the climate certainly leads to challenges with deploying and maintaining resilient networks, the mining operations pose the biggest threat to network performance.
"It's a mine, so it's dirty, dusty and filthy," Brown explains. "You'll open something up and it's not just a little sheen of dust. It's like, 'I don't even want to breathe around this without a dust mask because there's so much dirt in this box.'"
You'll open something up and it's not just a little sheen of dust. It's like, 'I don't even want to breathe around this without a dust mask because there's so much dirt in this box.'

Dave BrownIT manager, SMM Pogo
Brown recently walked a new contractor through his IT environment. Upon opening an equipment cabinet, they found a switch blanketed in dust. Out of curiosity, Brown took out a tape measure and stuck it in the debris; the device was coated in eight millimeters of dirt. Yet somewhat miraculously, it was fully functional.
"My biggest concern with that one was: At what point is this going to overheat because it can't get air through the vents? Fortunately, it was a vertically mounted switch, so it's blowing air from the sides, and there's not a lot of dust collecting in those," Brown says. "It's amazing just how reliable and dependable gear is, but at the same time, you have to plan for this nasty environment and know stuff's going to fail."
Because the mine operates 24/7, reliability is Brown's biggest priority. With no way to stop the continuous onslaught of dust, he attempts to mitigate its damage by building more resilient networks. Brown purchases airtight cabinets to store his infrastructure, uses toner vacuums to clean the dust and keeps an ample stockpile of spare parts on hand. It can often take a week for replacement parts to arrive via FedEx, which passes the packages to a freight forwarder that delivers to the mine on Tuesdays and Fridays.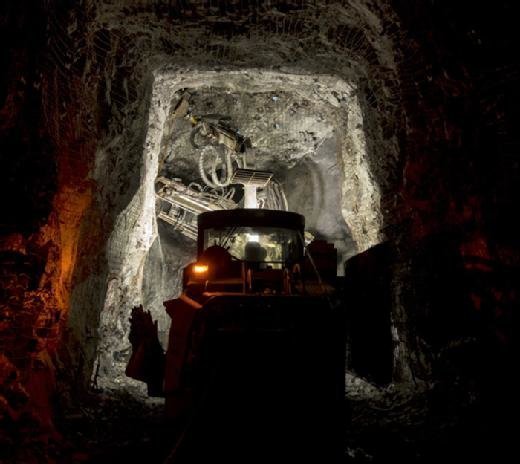 Pogo employees live at the camp for several weeks at a time. Most miners work shifts of four weeks on, two weeks off. As part of the IT department, Brown begins his two-weeks-on, one-week-off shift by leaving his home in Anchorage at 9 p.m. to catch an hour-long flight to Fairbanks at 11 p.m. He waits at the airport until 2:30 a.m. for a company-provided motor coach, which shuttles him to his desk by 6 a.m.
"Most people go, 'Oh, you've got a dorm network? Eh, whatever.' But that's important here," Brown says. "When you're here a month at a time, the little creature comforts like wireless and TV go from 'that's nice' to 'that's really important.'"
The company's wired network -- which spans the dorms, administrative offices and mining operations -- primarily consists of HP Enterprise (HPE) switches on a 1 Gbps backbone. Brown is also in the process of deploying 10 Gbps in his server room. His wireless network contains a mix of 802.11n and 802.11ac access points from Aerohive Networks. The sole connection to the outside world is a 40 Mbps microwave link.
Read more from this series: Networks in cool places
Table of contents: Four examples of networks in unexpected places
Williams Martini Racing: When reliability matters more than performance
U.S. Army PEO C3T: Boosting bandwidth amid the Ebola crisis
Chitale Dairy: Milk production doesn't stop, neither does network infrastructure
While not as problematic as the dust, the winter's bitter cold and relentless snow affect how Brown designs and builds out more resilient networks.
"I was on a phone call with Aerohive and asked them, 'Your outdoor access point says it can go to negative 40. How much colder can it go below that?' It gets real quiet for a second, and the engineer says, 'Just how cold do you get there, anyway?'" Brown says. "I had to tell him that last winter alone, we saw at least six days where it was negative 50 degrees here."
More often than not, however, Brown has found that network equipment is far sturdier than it is validated for. He once had to attach an outdoor AP to the exterior of a Conex cargo container used for cold storage. The AP and the cable running from it were insulated, but the 10-port switch they were connected to sat uninsulated inside the container, which reached minus 20 degrees. The switch was rated to operate at 32 degrees Fahrenheit.
Three years later, nothing in that setup has failed.
Next Steps
Roving worksites work best with outdoor WLAN equipment
Case study: Seattle Police upgrade outdoor wireless mesh network
How can you bridge outdoor wireless networks?
This was last published in
February 2016