Davidoff777 - Fotolia
Restaurant group implements VoIP telephone system and Mushroom VNF
The Keith McNally Restaurant Group found a recipe for success after implementing a VoIP telephone system designed around a VNF product from Mushroom Networks -- VoIP Armor.
Premium service and quality are high standards to achieve, but they are precisely what the Keith McNally Restaurant Group craves in each of its restaurants. The restaurant group -- named after the New York City restaurateur with 14 restaurants currently under his belt -- generally focuses on those standards in regard to the food it creates for its customers. In this case, however, the organization decided it was time for a review of its network and telephony systems.
When the Keith McNally Restaurant Group looked closer at its telephony systems and costs, the organization decided to make some changes. A consultancy proposed a VoIP telephone system, supported by VoIP Armor -- a virtual network functions (VNF) product from Mushroom Networks Inc. that creates a voice over IP (VoIP) bonded tunnel. So, the restaurant group sampled a new Mushroom-flavored ingredient. Mushroom Networks is a San Diego-based SD-WAN vendor that offers a range of SD-WAN and VNF products intended to help organizations maximize WAN usage.
The prepping stage
With restaurants that are in demand throughout New York, the Keith McNally Restaurant Group experiences high volumes of telephone traffic for all of its restaurants. The company uses a central reservation system, which moves the responsibility of handling reservations away from the individual restaurants. But with each new restaurant added to the group, the Verizon-provisioned Centrex phone system -- with Toshiba on-premises equipment -- also expanded. The annual cost for the telephony system, services, repairs and replacements reached six-digit figures, said Dennis Konen, the group's director of financial planning and analysis, in an email to SearchSDN.
Although the spending was high, reporting for tracking call volume and call issues wasn't available, and repair response times were slow, according to Konen. In the past, when the group issued requests for proposal about system upgrades and replacements, the responses came back with minimal potential gains. The restaurants couldn't afford errors, because an error could result in a dropped call from an A-list client.
After analyzing the group's profit-and-loss reports, Konen said the restaurant group realized the phone system was the opportune place for savings. The Keith McNally Restaurant Group reached out to three telecommunication consulting companies, presenting a 92-page specifications and design document that included items like an uptime service-level agreement, routing for 12 new auto attendants and VIP call handling. As for desired savings, Konen said the proposal called for "mid-five-digit savings in year one and six-digit savings per year thereafter."
The recipe for success
We could never be down, and no one had proposed VoIP that is never down.

Bob NevansCEO of Cloud Solutions Today
Of the three proposals, Konen said he was intrigued by the "never-fail" VoIP telephone system presentation from Bob Nevans, CEO of consulting company Cloud Solutions Today (CSToday). While the other consultants had suggested competitive bids from the phone companies, he said CSToday, based in Denver, offered a promising VoIP telephone system design around Mushroom Networks' VoIP Armor, which creates a VNF-bonded tunnel for VoIP traffic that merges and load-balances the traffic with failover.
"What we [CSToday] proposed was a wholesale replacement of all telephony throughout the entire organization, also addressing corporate, where the reservations system was," Nevans said. "Remember, [the Keith McNally Restaurant Group] is really a 24/7 operation, because about 15% of its reservations are made from Asia or Europe prior to arrival in New York. So, we could never be down, and no one had proposed VoIP that is never down."
Nevans said they tested Cradlepoint and Cisco gear, but they couldn't support the call traffic the restaurant group's system would be maintaining. After about 14 months of conversation and proposals, CSToday created a proof of concept and performed what Konen called a flawless demonstration of the VoIP telephone system with the VoIP Armor VNF.
"CSToday presented technology-based answers to our issues," he said. "Honestly, the idea sounded too good to be true. But after the proof of concept utilizing Mushroom VoIP Armor and the 8x8 platform, we were sold."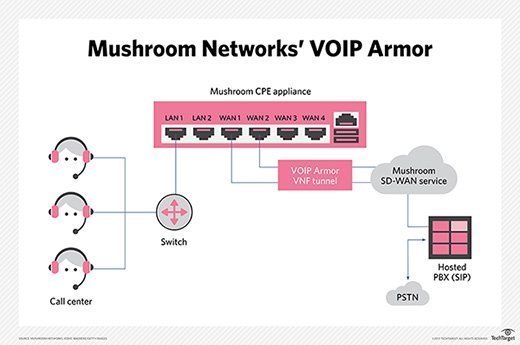 The ingredients for the new VoIP telephone system included VoIP Armor from Mushroom Networks, 8x8 equipment, one fiber circuit from B-Way, one consumer-grade Time Warner circuit and a new subnet for the phone network.
"What we did was deploy 8x8 on a subnet and route all the traffic, so normal traffic -- the workstation traffic -- goes through the B-Way circuit," Nevans said. "Then, we created a 10-dot subnet and created an assignment protocol for static IP, so there was an identity between each subnet's static IP and each phone. It's a one-time configuration change for the firmware on the Polycom VVX 500s, and you're up and running. All the heavy lifting was done by Mushroom."
While CSToday had proposed replacing the entire organization's telephony system with VoIP Armor, the Keith McNally Restaurant Group ultimately opted to apply it only to the reservation and corporate phones, Nevans said. This included 18 reservation agents and all of corporate, which manages all procurement and inventory.
The review
The restaurant group invested time and resources to ensure a smooth transition to the VoIP telephone system, Konen said. Staff members were trained, and things fell into place, with the system up and running in November 2015.
"We have accurate reporting for all issues. And thus far, with 120 documented network errors with either Time Warner or B-Way fiber, VoIP Armor and its cloud mirror have resulted in zero dropped calls, busy signals or downtime," Konen said.
Now, the Keith McNally Restaurant Group can generate reports detailing who answers the phone, how many times the phone rang before it was picked up and peak call times throughout the day. This information allows the group to schedule and manage accordingly, Konen said. For the two consumer-grade circuits linked to the WAN to connect to the internet, the total cost is $384 a month. Not only is this system more reliable, but the cost savings were game-changing, as well, he said.
"The process took time because we were skeptical, but the final results are incredible," Konen said. "This truly is cutting-edge technology that has helped reduce costs and made the organization more efficient."
Next Steps
Make sure you plan before VNF implementation
The potentials and risks of VNFs
How to prepare for SD-WAN deployment
This was last published in
May 2017