IT pros seek better methods to manage application performance
IT pros have to manage application performance across complex networks connecting more devices and locations, as mobility changes how granular performance needs to get.
About a decade ago, network managers' jobs were fairly predictable. They connected employee desktops via a wired Ethernet network. If employees worked from home, the managers would connect them to the office using a secure VPN tunnel that IT could control.
Those days are gone. Today, employees may have three or four devices they use for work, which they access from multiple locations. Increased use of mobile devices in the enterprise combined with more dependence companies have on their networks have made network management more complex -- and the need to manage application performance is now even more important.
Users care about access to applications, and they expect the network to be available, whether it's on home Wi-Fi, 3G or 4G wireless broadband, or an external mobile network at an airport or a customer site. Tools from vendors like Dynatrace, Riverbed, Nyansa, AppDynamics, NetScout, Hewlett Packard Enterprise and Aruba are making it possible for network leaders to manage application performance through a single console and accommodate the network's needs.
Zeus Kerravala, founder of ZK Research, said the ability to manage application performance has always been imperfect, but the emergence of mobile devices and access has changed the equation.
"In the past, every IT element -- the routers, switches and firewalls -- had its own management console," Kerravala said. In terms of wired and wireless network management, "network managers would roll up all the data and try to infer what it meant. They sat in the middle across all their consoles and had to figure out what was going on. There was no single pane of glass," he added.
That's changing as demand grows. The application performance management (APM) software market currently is about $3.4 billion. That is expected to grow to $5 billion by 2020, according to Global Industry Analysts Inc., a research firm in San Jose, Calif.
Visibility into user experience
John Green, CIO of Baker Donelson, a law firm in Memphis, Tenn., has been talking about the need for companies to focus on the user experience for close to a decade.
Baker Donelson, which operates 24 offices for about 1,700 employees, started working with Riverbed about nine years ago to manage application performance on its desktops. The law firm stuck with Riverbed when the vendor integrated application monitor Aternity into its offering a couple of years ago for mobile devices.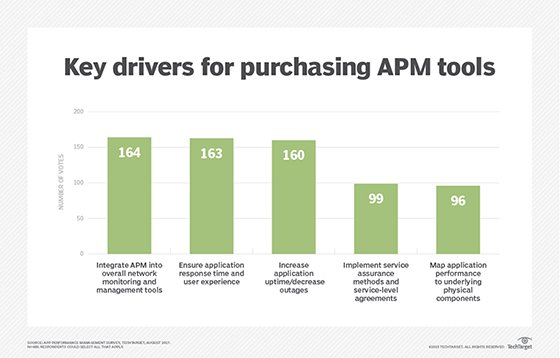 "The user experience is the most important piece," Green said. "A company can spend a billion dollars on infrastructure, but if the applications don't work properly, they are failing the users. What companies really need today is that visibility to the application level."
Green said his department searched for two years before finding a tool that provided rich statistics to manage application performance. Aternity offers that same tool for mobile device application visibility.
Ultimately, APM might have a role to play for code developers and how they can make organizations more efficient.
Whether it's for desktops or mobile devices, from the time the user hits the power button, Green said he knows when the user sends an email and how long it takes for the email app to reset.
"I also know how long it takes a print job to print, how our accounting system is responding and how all the applications are working on our mobile devices," he said, adding Aternity's advantage is the company puts a software agent on the device to monitor it. "There's no way Riverbed could deliver that level of granularity without the agent."
Managing for BYOD
Billy Smith, IT manager at Memphis University School in Memphis, Tenn., said over the past 13 years his staff has used five or six different network management tools, all of which were useful at the time.
"As we moved to a BYOD environment, we were always in a reactive mode. We didn't seem to keep up with what was happening," Smith said.
Recently the school began using Voyance, performance monitoring software from Nyansa Inc., which uses a combination of deep packet inspection and cloud-based analytics to manage application performance and provides network managers with real-time and historic performance data.
Smith said Nyansa gives the school -- a college-preparatory school for boys in grades seven through 12 -- real insight into what's happening on the network. For example, if staff members or students are only registered for four devices, but the Voyance software indicates they are using six, the IT staff can discover what the discrepancy is with those applications.
"All our access points are labeled," Smith said. "So if someone associates with an access point in the upper school but typically isn't in that location, we can find out why. We can also track by MAC address if someone has hacked an account. We took down a BitTorrent network that way."
Drilling down to that granular level is crucial for managing application performance, said Nyansa user Tom Klimek, network manager at the University of Notre Dame in South Bend, Ind. The tool gives him visibility into the number of people using each application and to what extent they are affecting network resources.
"We can then do a root cause analysis on the user that reported the problem," Klimek said. "It also lets us do an analysis that compares our network to a network of our peers."
To provide that, Nyansa uses data analytics to create baseline and trending data collected from its user base. That anonymous information is made available so each Nyansa customer can use it to measure its own network performance against peers.
Improve the code base with APM
Application performance management has power beyond monitoring network performance. Ultimately, APM might have a role to play for code developers and how they can make organizations more efficient.
For Jeff Brady, program manager at Allscripts Healthcare Solutions, using AppDynamics represents more than just a way to manage application performance using a single pane of glass management tool.
As the electronic health record vendor migrates to the cloud, it's looking for ways to manage its costs. If Allscripts can save money, it can then hold down costs to its healthcare customers. AppDynamics does that by helping the company optimize its code base, Brady said.
Here's how it works: AppDynamics can pinpoint the least-efficient SQL queries in a database. Allscripts can then direct its developers to make this section of the SQL code more efficient.
Allscripts can reduce the cost of compute resources by 25% with this method. This in turn leads to reductions in CPU usage, SQL licensing and disk access rates -- savings that Brady said can reach hundreds of thousands of dollars.
Clearly, managing and monitoring networked applications is increasingly complex for network managers, at least until network monitoring and management tools catch up and offer a single view of all networked data center, mobile and cloud-based applications. With the APM market growing, enterprises are waiting for the right tools, and the vendors that meet their demand will move to the top of the pack.
This was last published in
October 2017