alex_aldo - Fotolia
Evaluate
Weigh the pros and cons of technologies, products and projects you are considering.
In a hyper-converged system, networking is still a missing link
The hyper-converged system combines compute and storage, but without networking baked into vendors' HCI, many enterprises are using a switching workaround.
When the subject of networking around hyper-converged infrastructure comes up, it's easy to understand why people get their wires crossed.
In its strictest definition, HCI combines compute, storage, networking and virtualization resources in a single integrated software-based system, usually on commodity hardware supported by a single vendor. Gartner projected that hyper-converged systems will become mainstream, with a market for integrated systems worth about $5 billion by 2019, up from $2 billion in 2016. But it remains to be seen whether enterprises agree that a hyper-converged system bringing together networking, compute and storage technologies and managing them in-house proves a desirable option in the era of public cloud services from providers like Amazon Web Services (AWS) and Azure.
The networking piece is more complicated. Organizations have begun exploring hyper-convergence as a way to upgrade their networks and servers, as well as manage storage. But there is a general misconception that vendors will roll network switches into the hyper-converged system.
What existing HCI products really do is provide network orchestration tools that allow organizations to integrate compute and storage with networking using a standard top-of-rack switching architecture. This can include servers, appliances and other switches within the same or adjacent rack. Networking switches are used to connect HCI systems to each other and the rest of the enterprise, so they need to reside outside the HCI appliances at the top of the rack.
The basic benefit of a hyper-converged system is supposed to be faster, cloud-like provisioning of compute and storage, which is only realized if networks are configured with the same ease and speed as the rest of the HCI system, according to Dan Conde, an analyst with the Enterprise Strategy Group.
"Integrating network orchestration into the HCI workflow is critical," Conde said. "[Software-defined networking] is one way to provide network orchestration, but HCI vendors also provide orchestration tools that can help network managers handle the network integration without SDN. It would defeat the purpose of deploying HCI if network provisioning held back HCI."
Reality of HCI
Jim Malone, manager of IT at the Sunrock Group, a construction materials supplier in Raleigh, N.C., said he made the move to a Hewlett Packard Enterprise (HPE) SimpliVity HCI system because his company's storage area network (SAN) was running out of capacity. Plus, IT was having bandwidth and input-output issues.
"We were running backups the old-fashioned way, sector by sector late at night," Malone said. "We'd come into work in the morning and the backups would still be running."
Now with HPE SimpliVity, Malone said the hyper-converged system only backs up the data that changed on any given day, so backups get executed in minutes.
"The other thing it let us do was integrate with our existing switches," Malone said. "We use a mix of switches and swap them out every three to five years, so we'll refresh over time."
Another HCI user, Mark Breed, IT services manager at maintenance and cleaning products developer WD-40 Company, headquartered in San Diego, said his company's IT staff runs its Nutanix HCI system over its existing Cisco Meraki switches, which have a combined wired and wireless capability.
Much like Sunrock, WD-40 needed to upgrade from an antiquated storage area network and was looking for a more effective way to manage compute and storage. Breed is responsible for the Nutanix appliance that manages traffic across WD-40's two data centers in England and eight other office sites around Europe.
One of the main reasons WD-40 went with Nutanix is that it supports Microsoft's Hyper-V virtualization technology, Breed said. He said he also had a general sense that HCI systems were ready for prime time.
"Now we can spin up compute and storage as we need them," Breed said. "We've seen a 40% reduction in our power and cooling costs and now get three times the productivity."
Slow (and steady?) HCI adoption
Yet organizations are taking their time embracing HCI. While Gartner research suggested hyper-converged systems will eventually be adopted, advances to network hardware and software have to happen first.
Durham County government in Durham, N.C., deployed a Cisco HyperFlex HCI system in a development and test environment in 2016, according to senior network engineer Seth Price. For now, he foresees HyperFlex as a perfect fit in the county's secondary data center and disaster recovery site.
HyperFlex comes with both compute and storage and has specific networking features built into it. For example, HyperFlex manages four types of traffic with different quality of service guarantees for each: applications, storage and file systems, live migration of virtual machines or VMware's vMotion traffic, and management traffic between storage controllers.
Price said he can integrate HyperFlex into the county's existing Nexus 9000 switches that support Cisco's Application Centric Infrastructure (ACI), Cisco's SDN product.
"We have an existing Cisco [Unified Computing System] as well as UCS Director, which is our central point of automation and orchestration in the data center," Price said. "We use UCS Director to automate VMware policies, provision new storage and provision bare-metal servers. I'm also able to use UCS Director for all ACI policy."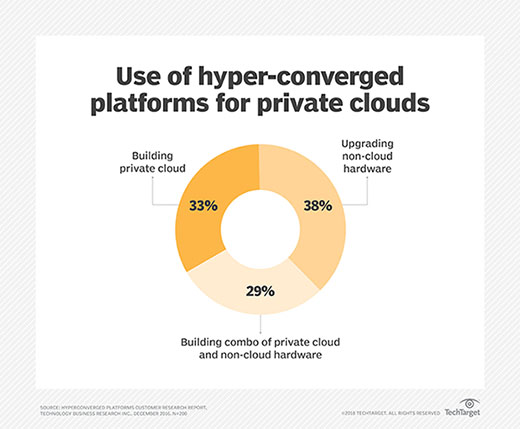 Using UCS, if an application development team wants to spin up virtual servers and storage in a test environment, it can go into UCS Director, specify what's needed and send the request via a prebuilt UCS Director workflow, Price explained. The data center team can either approve or slightly modify the request and then spin up the new environment in a matter of minutes. The data center group also offers templates for environments that can be spun up with no interaction that are automatically torn down after a designated period of time.
"Right now, we are only using HyperFlex in a test and development mode," Price said. "We currently don't have plans to use it for our primary production storage; however, that could change depending on how the hyper-converged market continues to develop. At least for the next couple of years, I foresee us running HyperFlex in our secondary data centers and disaster recovery facilities."
Hyper-converged system in the cloud
Vendors advocate HCI technology as the perfect platform for hybrid cloud environments, saying that virtual instances can be spun up and run across the network whether they are in-house over HCI or in the public cloud like AWS or Azure.
But when asked about plans to run apps or infrastructure in the public cloud, all three organizations interviewed for this story said they run SaaS applications, but run other applications, infrastructure and workloads in the public cloud sparingly.
For WD-40's Breed and Sunrock's Malone, HCI, in effect, gives them a cloud that lets them spin up compute and storage as easily as they would in the public cloud, but they can keep all of the infrastructure in-house.
"We run Office 365 and with SimpliVity basically have our own private cloud, so I don't see any move to the public cloud for our company," Malone said.
Durham County's Price said his organization has some workloads in the cloud, tasks like Active Directory Federation Services and some DNS servers, but it's a small footprint for the time being.
"Moving forward, the majority of our network will be on-premises over a private cloud," Price said. "The main advantage of HyperFlex is the ease of use, and we don't need separate teams to do virtual servers or storage; they can all work together in one environment."
HCI makes sense for organizations looking to replace antiquated SANs and servers. And since HCI could become mainstream, it makes sense to run it in a testbed the way Durham County does to learn about what makes these systems tick.
In many ways, simplified storage is what makes a hyper-converged system really desirable. 451 Research, based in New York City, reported that HCI's ability to deliver important storage functions like snapshots and cloning, replication and flash acceleration without the need for storage SAN expertise has been a game-changer, especially with IT professionals pushed to broaden their skill sets to handle increasing workloads in data centers.
The beauty of HCI for network managers is that, for the most part, they can run HCI over existing top-of-rack switches.
For many organizations, HCI could be the perfect transition technology that gives them the benefits of cloud-like provisioning in house, without having to move too quickly to the public cloud. Instead of spending too much time on the nuts and bolts of managing servers, storage and networking gear, they can now use their top IT people to sort out how best to transition the organization to a hybrid cloud environment. And for some, they'll be just as happy to keep it all running over a private cloud in-house.
This was last published in
December 2017