Maksim Samasiuk - Fotolia
News
Stay informed about the latest enterprise technology news and product updates.
White-box switches save green, but they aren't for everyone
While some networking pros say white-box switching is the 'next big thing,' others argue that's a myth that needs busting. As usual, enterprises must consider the business case.
A year after cloud service provider Packet launched, the New York-based startup has few complaints when it comes to its traditional network switching infrastructure.
Adam Rothschild, Packet's senior vice president of network and data center infrastructure, says the proprietary Juniper switches the company chose meet all its needs for software features and reliability.
Yet Packet cannot deny its interest in another network switching option that is increasingly permeating the enterprise space: white-box switches. Spreading from their origins in the data centers of the hyperscalers, white-box switches offer particular appeal for companies that fit Packet's profile: innovative, high-tech and staffed largely by engineers versed in automation and open source programming.
Unlike proprietary vendor switches, the white-box variety's disaggregation of hardware and software emphasizes flexibility, customizability, scalability, cost savings and freedom from vendor lock-in. But some skeptics caution that the case for white boxes has been overstated, with the costs potentially outweighing the benefits.
Rothschild says for him, the appeal is clear.
"I'm a really big fan of the concept," he says. "Just the whole white-box switching as an ideal seems to be keeping a lot of the commercial vendors honest and helping encourage innovation and drive down pricing."
Sky-high hype
White-box switches' recent arrival on the market and their promise of free choice gives them cachet in the tech startup space. However real the benefits of functionality and cost savings, a certain amount of hype goes with the territory.
Andrew Lerner, research vice president at Gartner, says the buzz around white-box switching may be outpacing the reality.
"There's been a good degree of hype and most of the adoption to date has been in a very small proportion of companies. It's far from being mainstream," he says. "And that always happens with networking, right? We always, as an industry, get hung up on the next big thing, whether it's SDN [software-defined networking] or SD-WAN [software-defined WAN] or white box."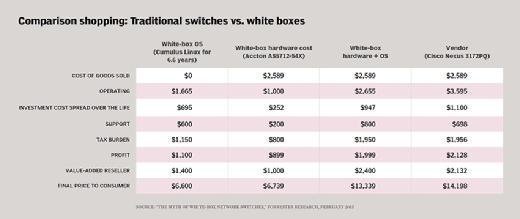 White-box switches will stay on the fringes in terms of down-market adoption, Lerner says, as long as mainstream vendors such as Dell and Hewlett Packard Enterprise (HPE) market them as secondary to their proprietary switches. Though virtually all the major vendors now offer white-box options, they do not present them as their flagship products. Some keep the white box out of their mainstream sales entirely.
"Juniper saves it only for a very, very small number of large, large network operators," Lerner notes.
Companies such as Cumulus Networks, Pica8 and Big Switch Networks have entered the white-box space with a focus on disaggregated switching. They promise increased control and decreased prices, and some customers say they deliver.
Desktop-as-a-service provider U2 Cloud, based in Jacksonville, Fla., uses Big Switch's controller-based Big Cloud Fabric on Dell hardware. Pete Valentine, U2 Cloud's executive vice president, says the white-box model has dramatically improved the speed and accuracy of provisioning. Crucially, it has also slashed costs.
U2 began looking at white-box switching partly due to the high price of Cisco's SMARTnet service, which guarantees technical support as well as OS updates. According to Valentine, five years of subscribing to SMARTnet cost the company more than its initial purchase of proprietary Cisco switches.
"I mean, that's just crazy," he says.
In contrast, Big Switch offers a pay-as-you-go, subscription-based pricing model that includes hardware, software, technical support and OS updates.
Foregoing traditional switches preloaded with a vendor's operating system also reduced U2 Cloud's capital expenditures by wide margins.
"One of the switches that we were looking at was roughly about $40,000 with the vendor OS on it," Valentine says. "And we were able to get those between roughly [$6,000 and $8,000], with no OS on them."
Finally, capacity for automation allowed U2 Cloud to reduce its staff of networking engineers by 50%.
Myth busters?
A self-proclaimed "truth-in-technology guy," Valentine points out that while he endorses this model for other cloud and managed service providers, white-box switching is not for everyone.
"I don't necessarily think that an enterprise with a hundred or less users really needs to jump in the white-box SDN bandwagon just because it's cool," he says. "There are a lot of advantages and benefits, but it depends on the business case."
It really has lived up to the hype. We can manage the network in the same way that we manage the servers, and that's been amazing.

Joshua Hashdirector of enterprise services at Yosemite Community College District
Analysts echo this theme, citing other variables that may make white-box switching fall short of the hype when deployed in certain enterprise environments. Brad Casemore, a research director at IDC, notes that the white-box switching pitch still has niche appeal.
"For enterprises to leverage it, I think really depends on their internal skill set and the resources they have at their disposal, because you need certain network integration skills, programming skills, Linux networking skills in order to really make use of this," he says.
For companies that do have these skill sets baked in, Casemore is bullish.
"If it's done right, there can be cost savings," he says. "We have seen some shops that are well-disposed to the technology and capable of harnessing it to derive some good benefits, good quantitative and qualitative benefits. Some are more soft, some are more hard quantitative benefits, but both on the Capex side and the Opex side."
Other experts dispute the extent to which white-boxes can cut costs. Forrester Research principal analyst Andre Kindness points to the expenses enterprises can assume when they move to generic hardware, including technical support and global shipping.
"If your refresh cycles are very quick and you want to do certain things, white box is a better path to go," Kindness says. "But if you're a typical enterprise, and you think about support, or if you're located all over the world and you need to bring them in different locations, you may want that [HPE] supply chain because Accton's not going to deliver to Brazil."
When Kindness came out with a report called "The Myth of White-Box Switches" in February 2015, his findings stirred controversy in the switching space. Tellingly, Cisco promoted the piece, while white-box switch vendor Cumulus published a point-by-point rebuttal on its blog.
White boxes save green
Joshua Hash, director of enterprise services at Yosemite Community College District (YCCD), based in Modesto, Calif., is apt to agree with the Cumulus perspective. The district replaced its data center with a new one capable of scaling to meet growing demand on the two community college campuses it services.
"When we went to go look at the networking stuff, our last data center, and a lot of our network, was running Cisco equipment, and the price point on all of that took up a huge chunk [of the budget]," Hash says. "We've been kind of keeping an eye on the white-box switches stuff and the software-defined network space and all of that for a while."
After some demos with Cumulus Linux and Penguin hardware, Hash and his colleagues rolled out the white-box switch configuration to YCCD's primary data center. They're now in the process of migrating their secondary data center as well.
"For us it really has lived up to the hype," Hash says. "We can manage the network in the same way that we manage the servers, and that's been amazing."
In addition to allowing more programmable control, the white-box setup also allowed YCCD to customize and implement new features, such as multicast.
Working in the public education sector as Hash does makes cost a key factor in his team's decision-making.
"It really could cost us less to hardware-refresh out all the hardware and retain the Cumulus licenses every year than it is to actually carry a SMARTnet contract," Hash says. "So for us, being a school and having limited budgets, it's been great."
Refresh rates for most enterprises are five to seven years, Kindness advises. In that light, enterprises should focus on pruning their operating costs.
"That might be using software tools in a much more efficient manner and doing things not as repetitious or not as manual," Kindness says. "Try to insert automation into a lot of repetitious activities."
Uncharted waters
Hash notes his bots do a lot of the work of configuration management, vastly reducing engineers' workloads. Valentine at U2 Cloud also praises the options for automation through the white-box switches.
Enterprises without experience in this arena might struggle to orchestrate this automation on their own -- and might have difficulties justifying the effort when some switches come with similar automation capabilities baked in. Analyst Dan Conde at Enterprise Strategy Group notes that a lot of the side benefits that come with white-box switches are now also available from proprietary switches.
"But I think the core thing does remain, which is the ability to get the freedom of choosing the hardware separately from the software, and, to a large extent, the ones you get from the traditional vendors are bundled together," Conde says.
For Rothschild, straddling the divide between the hype and the hitches, white-box switching offers promise, with a caveat. Despite his strong interest in the approach, given its "raw functionality" and specific skill set requirements, Rothschild notes that, "People don't realize it's kind of uncharted waters."
Next Steps
Why all network managers should consider white-box switching
How to tell white-box and bare-metal switches apart
White-box switch market evolves with eclectic mix of vendors
This was last published in
December 2016