Fotolia
IT Priorities 2017 survey: Virtualization gains in networking plans
TechTarget's ninth annual IT Priorities Survey reveals a growing number of network pros are focused on virtualization in their networking plans, while not forgetting legacy issues.
Networking professionals will be tackling a mix of legacy and evolving technologies over the next 12 months, fueled by networking plans that blend bread-and-butter initiatives like security and network management with forward-looking projects like network virtualization.
Our knowledge of what enterprise networking professionals will undertake this year comes from the ninth annual TechTarget IT Priorities Survey of 971 enterprise IT professionals employed by a wide variety of industries in North America. We zeroed in on responses from the 192 respondents who defined their jobs as working primarily on their organizations' networks.
The networking respondents also work in related areas, including general IT management, server management, data center operations and security. Our questions were about planned networking and security projects, IT budget increases and decreases, and staffing levels that will either help or prevent them from getting their networking projects done.
Network engineers said upgrading their existing networks was their top overall goal in 2017, with almost half (49%) of respondents saying their organizations would invest in new software and systems.
But respondents also wanted to improve their operations. Twenty-nine percent reported they would add IT automation that allows them to more efficiently configure, provision and manage their networks. A little more than 25% said their priority would be redesigning their networks for hybrid computing -- that is, stitching their on-premises networking to cloud-based providers.
Drilling down into networking-specific initiatives, managing virtual private networks, and managing and monitoring domain name systems and Dynamic Host Configuration Protocol tied as the top two networking priorities for 2017, each garnering 36% of the survey's respondents.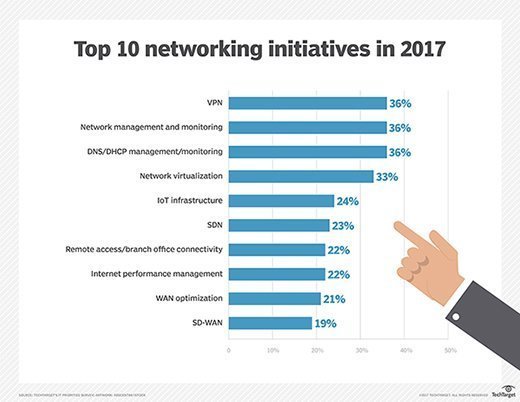 These legacy technologies in this year's networking plans were followed closely by network virtualization at 33%. In this survey, network virtualization refers to a broad category of technologies, rather than specific developments that include software-defined networking (SDN), network functions virtualization, virtual network functions and other nonlegacy acronyms. Networking engineers are paying more attention to these software-defined technologies, as they continue to gain maturity and stability.
Drawing interest from about 20% of respondents for each option was again a mix of old and new, encompassing such initiatives as internet-of-things infrastructure, general SDN projects, remote access and branch-office connectivity, the newer category of internet performance management and WAN optimization.
Almost a fifth said they were interested in both mobile network monitoring and optimization and
software-defined WAN. The number of respondents interested in SD-WAN is in line with other adoption projections and is high for such a new technology. Many organizations say they plan to combine SD-WAN with existing WAN optimization techniques.
Other networking plans from the IT Priorities Survey
IT budgets are growing. Almost half (49%) of respondents from companies of all sizes said their IT budgets are larger in 2017 than they were last year. Twenty-one percent of those expect IT budget increases of more than 10%, and 22% expect increases of 5% to 10%. The smallest percentage (7%) said their IT budgets decreased, while 32% reported their budgets will stay the same. The IT budget decreases are smaller overall than the expected increases, with 4% of respondents expecting cuts between 1% and 10%, while 3% of respondents expect decreases of more than 10%.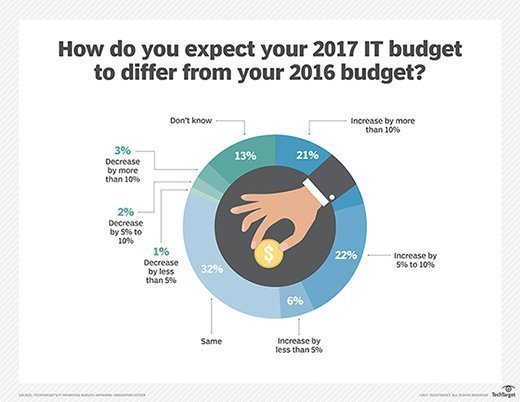 Where the money is going. A full 59% said their biggest IT spending will be geared to cloud services -- up from 40% last year -- reflecting the growing reliance on cloud computing. But everything isn't moving straight to the Opex budget. Fifty-three percent said they will invest in on-premises networking projects, while server and backup and disaster recovery investment tied at 36%. Only 15% of survey respondents said budget increases will go toward hiring staff in 2017 -- an area of concern for networking professionals wanting to switch jobs.
A full 59% said their biggest IT spending will be geared to cloud services -- up from 40% last year -- reflecting the growing reliance on cloud computing.
Where the money won't be going. The 36% of companies facing reduced IT budgets -- the same percentage as in 2016 -- said they'd cut staff and investments in on-premises servers. On-premises networking and managed services took an equal hit, with 18% of respondents saying there will be budget cuts. Managed services spending, however, will decrease less than it did in 2016, when 29% said there would be cuts. The types of managed services that will be reduced were not specified in the survey.
Security, as always, is a big deal. Because security initiatives are always among the top networking plans each year, few security-specific project options in the survey received low rankings. Investing in security systems and tools to help prevent attacks that could take down the network or compromise valuable enterprise data hasn't lessened in importance.
Because of the importance of network security, we broke it down into specific questions to get a better idea of enterprise needs. Overall network-based security was the highest concern of the networking segment of respondents, with 44% saying their organizations have initiatives on the drawing board and in the budget. More specifically, endpoint security followed at 39%. A group of other security initiatives that include next-generation firewalls, network access control, and threat detection and management ranked in the 35% range, while data loss prevention, encryption and cloud security ranked slightly lower in the 30% range.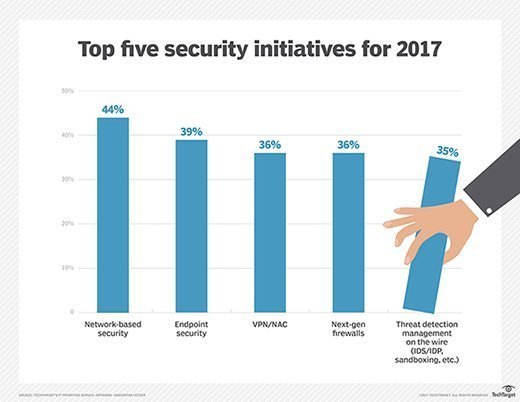 Hybrid cloud efforts continue. Almost half (45%) of survey respondents said server virtualization would be their top data center infrastructure priority in 2017, with systems management following at 39%. Deploying hybrid cloud management ranked fourth with 28%, compared to the 22% planning to create a private cloud. One out of four survey respondents said automating system provisioning and configuration would be a top initiative in the next 12 months.
WLANs and Wi-Fi continue to sizzle. Upgrading their wireless LANs is on the list of networking plans for 43% of networking respondents, up from 32% in 2016. Also increasing since 2016, 42% of organizations will expand their wireless LANs this year, compared to 31% last year, as more powerful 802.11ac systems become more cost-effective. Nineteen percent plan to integrate their cellular and Wi-Fi networks, while 22% said they do not plan to upgrade, expand or integrate -- a lower percentage than 2016's 31%.
Next Steps
How SD-WAN features ease branch-office security fears
Rethinking the role of hardware in a software-defined era
Finding the right path to cloud benefits
This was last published in
March 2017