semisatch - stock.adobe.com
5 top online courses in data storage
Keeping up with the latest data storage technologies, concepts, methods, products and platforms can be daunting. Boost your storage knowledge and career with these online courses.
Did you know that one of the earliest data storage devices was the humble punch card? Invented in 1890 and used to program mechanical devices like textile looms, a punch card could hold only 80 characters. That is not even enough to fit a fleshed-out tweet. Compare that to today's digital universe estimated to hold 2.7 zettabytes of data. That's 27 followed by 17 zeroes.
All that data storage requires IT professionals who know what they are doing. Fortunately, there are a number of online courses available to help keep even the busiest storage admin up on the latest in data storage technology and best practices.
The state of modern data storage
Today, when you think data storage, the options are virtually endless. Examples include:
Most support vast storage volumes, huge bandwidth and low latencies. Many also support remote accessibility and automated backups.
Data storage is one of the most important areas of IT infrastructure and networking. If you are looking to build a career in this sector, it is important you know your stuff. The industry is highly dynamic, though, with new technologies and products coming to the fore all the time. To keep up with these updates, and to create a strong competitive position for yourself as a competent data storage and IT professional, you should educate yourself on the latest data storage concepts, technologies, methods and platforms.
Online courses that specialize in data storage are a great way to do this. With so many courses at varying costs, it can be difficult to choose which one to take, however. This guide provides all the information you need about five leading data storage courses to help you make an informed choice.
Leading online data storage courses
Some of the data storage courses listed below are 100% online and self-paced, while others provide virtual instructor-led training and/or hands-on training.
1. Google Cloud Storage Online Training
Offered by: CBT Nuggets
Mode: Online, self-paced
Level: Intermediate
Prerequisites: None
Free/Paid: $59 monthly subscription fees, first week free
Duration: Two hours
This short course packs a lot of value in just 13 videos and two hours of training. It teaches attendees all about Google's binary data storage system. Upon completion, students will understand how Google Cloud Storage offers access to unstructured blob storage in the cloud, and nearly limitless storage facility for developers and end users. They also gain insights into how Google's fully managed back end provides security and disaster recovery features for data installations.
The course also teaches about:
Authorization options
Access control
Object change notification
Storage policy
GCP qualified developers
As an intermediate-level cloud storage skills course, Google Cloud Storage Online Training is ideal for cloud administrators with three to five years of experience with Google Cloud Storage services who are looking to step into roles with more responsibilities (e.g., cloud engineer). They learn the different aspects of cloud storage and Google-enabled cloud administration. New or aspiring cloud storage specialists or cloud administrators can also benefit from this course.
In addition to videos, the course includes several demonstrations and a Kaplan IT Google Cloud Storage practice test to further illustrate and reinforce the concepts covered.
2. Introduction to Storage
Offered by: IBM
Course code: SS01G
Mode: Classroom (instructor-led) and online (instructor-led)
Level: Beginner
Prerequisites: None
Free/Paid: Paid
Duration: 24 hours
This introductory course covers the basic elements of storage concepts and platforms, RAID technology and network connectivity. Students learn about the importance of high availability and business continuity planning for disaster recovery, and get insights into storage virtualization and its benefits.
They also explore how to:
differentiate between different types of hybrid and all-flash storage offerings;
compare various types of tape storage;
distinguish between storage connectivity options; and
clarify various cloud storage considerations.
IBM storage products like disks, flash systems, tape systems, SAN switches and IBM Spectrum storage software help businesses connect data across any architecture. They also enable organizations to access and manage data storage on premises and off premises (cloud storage). This course explains some of these offerings, how they work and benefits. It also shows how to differentiate between the features of IBM's Spectrum Storage Suite.
Those at organizations that have implemented or plan to implement IBM storage products will find this course especially useful.
See here for additional IBM data storage courses.
3. Data Storage and Processing
Offered by: EdX
Mode: Online, self-paced
Level: Beginner
Prerequisites: High school math, basic knowledge of statistics
Free/Paid: Free (without verified certificate)
Duration: Five weeks
Course link
Associated program: Professional Certificate in Data Processing and Analysis
This free course is an introduction to data processing and interpretation. Offered by ITMO University, it familiarizes students with data types and sources, data preparation methods, data smoothing and normalization, data visualization and descriptive statistics. It also shows how to analyze time series data and find trends. It covers the fundamentals of data storage and access, and acquaints attendees with databases types and indexes, transaction requirements and NoSQL databases as well.
In addition, students learn:
data measurements and scales;
data cleaning and filling in the missing values;
data storage and access with relational DBMS;
digital spreadsheets;
seasonal time series modeling;
SQL statements and queries; and
Data Storage and Processing is a great way to master the culture of data representation, interpretation and outcomes evaluation. Those interested in those areas, should consider taking the course.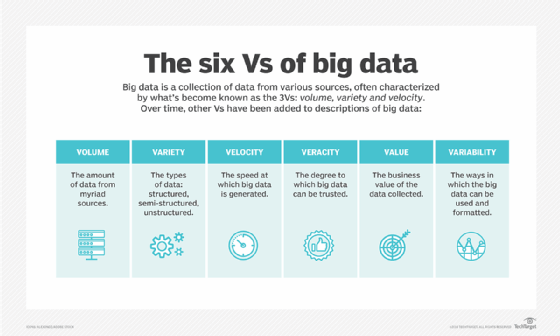 4. Information Storage and Management v3
Offered by: Global Knowledge
Mode: Classroom live and virtual live
Level: Beginner/intermediate/experienced
Prerequisites: Basic understanding of computer architecture, operating systems, networking and databases
Free/Paid: Paid
Cost: $2,700
Duration: Five days
This course is suited for experienced IT professionals currently managing storage infrastructure and services. Those who have not had exposure to all the segments of modern storage infrastructure will also benefit from this offering, however, as will individuals seeking the Dell EMC Proven Professional Information Storage Associate (EMCISA) certification. Students and professionals aiming for a career in the storage industry can also pursue this course, although it is best if they already understand the basics of IT architecture, networking and databases.
If your goal is to build a thriving career in this area, the courses and certifications presented in this article will provide solid preparation to get you started.
Students learn about storage infrastructure components, architectures, processes and technologies. The course also teaches them how to make informed decisions on storage-related technologies in complex IT environments.
Those who complete the course will also understand the types, features, benefits and deployment methods of intelligent storage systems, including block-based, file-based and object-based storage, as well as unified storage and software-defined storage. Instructors explain and reinforce most concepts and technologies using Dell EMC-related product examples.
In addition, students learn about:
technologies like cloud storage and big data;
types of storage networking technologies and deployment;
business continuity and archiving; and
security threats and controls in storage infrastructure.
Information Storage and Management v3 consists of 16 distinct modules taught in the form of lectures and demonstrations, in both the classroom live and virtual classroom live modes. It also includes labs designed to give learners hands-on training and practical experience.
5. AWS Storage and Data Management
Offered by: LinkedIn Learning
Mode: Online, self-paced
Level: Intermediate
Free/Paid: Paid, first week free (LinkedIn)
Duration: Four hours, 25 minutes
Includes completion certificate
This intermediate-level course teaches system administrators the skills they need to manage data successfully in the cloud through Amazon Web Services (AWS). System admins learn the basics of data management, how to configure object storage, enforce compliance requirements and manage DR processes.
Students explore all the lifecycle management facets of Amazon Simple Storage Service (Amazon S3), and learn how to migrate, back up and replicate relational data in Amazon RDS (Relational Database Service). Upon completion, they will also understand techniques on how to use flexible network storage with Amazon EFS (Elastic File System) and the new AWS Glue service to move and transform data. It introduces attendees to AWS Snowball, as well as enables organizations to transfer huge data volumes in and out of the cloud. (See here and here for more on AWS Snowball services.)
With four-plus hours of videos, seven chapter quizzes and a project file, students also learn about:
AWS and regulatory compliance;
AWS file systems, including Elastic Block Store and EFS;
database services;
how to get data to and move data from AWS;
AWS Database Migration Service (DMS); and
AWS backup and restore.
The course also provides preparatory training within the data management domain for those planning to take the AWS Certified SysOps Administrator exam.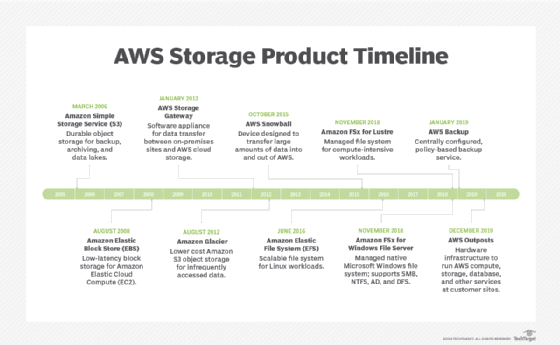 Top data storage certifications
In addition to completing these courses, you can pursue one or more data storage certifications to accelerate your career progress.
Some of the most popular data storage certifications include:
Data storage is a fast-evolving and growing area and skilled professionals are in great demand. If your goal is to build a thriving career in this area, the courses and certifications presented in this article will provide solid preparation to get you started.