James Thew - Fotolia
What kitting process functionalities does SAP EWM offer?
The kitting process can be triggered either from SAP ECC or SAP EWM in kit-to-stock and kit-to-order business scenarios, and reverse kitting is available in EWM. Here's a look.
Kitting is the process of assembling the components of a product. It consists of the assembled product -- the kit...
Continue Reading This Article
Enjoy this article as well as all of our content, including E-Guides, news, tips and more.
header -- and the kit components.
A kit can sell as a stand-alone product or be part of a final product. Kits can either be assembled as a stock item in a kit-to-stock business scenario or can be assembled when a customer order is received, which is a kit-to-order business scenario. Reverse kitting or disassembling an assembled kit to salvage reusable components is also available in SAP Extended Warehouse Management (EWM).
Companies using SAP ERP Central Component (ECC) for the majority of their business transactions and inventory needs while using EWM for logistics processes can choose to use either ECC or EWM as the primary ERP system to trigger the kitting process for kit-to-stock and kit-to-order business scenarios. Both ECC and EWM are components of Business Suite.
Here's a deeper look at the kitting process in SAP.
Kit-to-stock
In kit-to-stock, a production order of a semi-finished or finished product or assembly -- the kit -- triggers the kitting process in SAP ECC. This production order is created on a regular basis to assemble kits -- make-to-stock -- in anticipation of future demand. The assembled and stocked kits are sold against sales orders, or when required for use in a finished product.
Since ECC is the main trigger system for kitting, and due to the integration between ECC and EWM, EWM creates an outbound delivery request to issue the components required for kitting. The kits are received in EWM via an inbound delivery request, and the kit stock information is updated in both EWM and ECC.
When EWM is the primary system to initiate the make-to-stock kitting process, a value-added service (VAS) order for the goods is created in EWM. This VAS order creates an outbound delivery document to issue a kit's components, while the inbound delivery document's creation ensures that EWM will be able to receive the assembled kits.
Kit-to-order
A sales order in ECC triggers kit-to-order kitting and leads to the creation of an outbound delivery request in EWM to issue a kit's components from the warehouse. An inbound delivery document's creation ensures that EWM will be able to receive the assembled goods at the warehouse. All stock information of the issued kits' components and assembled kits is simultaneously updated in both ECC and EWM.
In the kit-to-order scenario using EWM as the primary ERP system, a VAS order with a work center is used when there's a business need to record the costs of assembling kits. However, if kit assembling costs are not a consideration, then the VAS order without a work center serves that purpose, since kits are assembled in the general packing area of the warehouse.
The third and simplest option for kit-to-order is to assemble kits in the picking area. This means that just when the final product is ready for shipment, the kits' components are simultaneously picked and dispatched with the main product.
Figure 1 is the main screen of EWM with the option for kitting, or kit-to-order.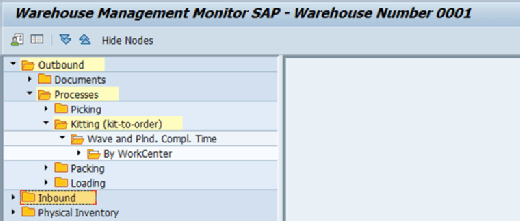 Reverse kitting
Reverse kitting is the process of disassembling kits when they are no longer required or when a kit's components are needed for another product or assembly.
A VAS order in EWM for reverse kitting triggers the disassembly of the kit. The VAS order can be created with reference to a kit's bill of materials (BOM) to enable the system to explode the kit's components along with its individual quantities. A VAS order without the kit's BOM explosion requires a warehouse person to manually enter the components of a kit that are put back in the stock or recovered in order to maintain accurate inventory numbers.
Companies planning to implement S/4HANA should know that EWM is native to S/4HANA, so it can manage the entire kitting or reverse kitting process with little disruption in these SAP products.
Dig Deeper on SAP ERP software and modules
Replenishment strategies, lot sizes, safety stock, reorder point planning and replenishment lead time are five factors in ERP that can ensure ... Continue Reading
S/4HANA public cloud provides a less disruptive route to digital transformation than some options -- including the on-premises S/4 -- and smoother ... Continue Reading
These nine key components of SAP MDG help ensure regulatory, legal, environmental and financial compliance of your master data and improve ... Continue Reading