Ivelin Radkov - Fotolia
How can you reduce the bullwhip effect with demand-driven MRP?
Reducing the bullwhip effect requires a fundamental and strategic shift from supply-focused materials planning to demand-focused materials replenishment.
Supply chain managers face endless challenges. For example, a customer's change to a sales order requires an adjustment to the production schedule, which, in turn, requires revisiting the inventory on hand to adjust the procurement plans. And supply chain complexity only increases exponentially as the number of distributors, retailers and other players grows.
In a complex and globalized supply chain, such demand changes from customers can lead to overstocking products that don't sell, poor service and fulfillment levels, and escalating costs to expedite materials. This demand distortion and supply variability is known as the bullwhip effect, and it only amplifies further down the supply chain.
Companies can help prevent the bullwhip effect in the supply chain by doing away with traditional materials tools, such as forecasting, sales and operations planning (S&OP) and material requirements planning (MRP), which align supply chain management with the anticipation of customers' demand. This supply-focused approach to materials planning isn't very effective in today's complex supply chain.
Instead, companies should implement demand-focused replenishment options, such as demand-driven MRP (also known as demand-driven material requirements planning [DDMRP]).
Demand-driven MRP enables quick reaction to demand variability and supply variability through inventory buffers that are positioned at strategic points in the supply chain, as well as alerts that enable materials planners to quickly adjust supplies as and when needed.
Let's now look at the traditional materials planning tools that companies have long relied on -- forecasting, S&OP and MRP -- and why they are no longer effective in today's complex and volatile world of supply chain, as well as why DDMRP can be an effective materials planning alternate.
Forecasting
Due to inherently changing customer demands that are difficult for a company to predict, using a forecasting tool as the basis of production or procurement planning can result in inventory of products that don't sell or having very little stock of products that customers need, which the company was never able to accurately predict.
In demand-driven MRP, forecasting isn't used at all.
Sales and operations planning
Using S&OP requires bringing the finance, sales and operations (production, procurement) teams together to mutually decide which products need to be produced and when. Such plans are more strategic in nature due to time horizons that are yearly, quarterly or monthly.
The output of S&OP is a weekly or daily master production schedule (MPS). But last-minute changes to an MPS due to changes in demand can create the bullwhip effect because the resources, such as raw materials required to produce a product, have likely already been procured, and machine capacities and human resources have likely already been planned.
Figure 1 is an S&OP screen for creating a sales or production plan in SAP ERP Central Component (ECC).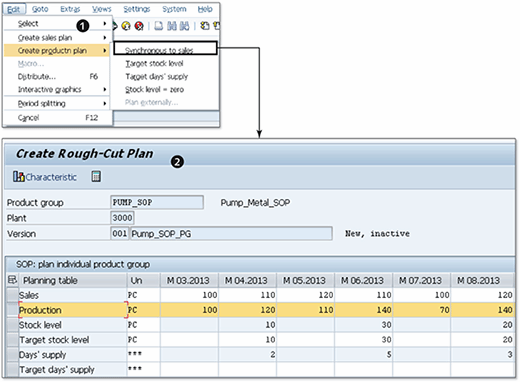 Material requirements planning
MRP has remained the preferred materials planning tool for materials planners because it provides two important functions: MRP automatically calculates how much is needed of all the associated semi-finished assemblies or the raw or packing materials required to produce a product, as well as when assemblies should be done or when raw materials are needed.
MRP's historic strengths -- linking a finished good's quantities to semi-finished assemblies to raw and packing materials through the bill of materials and scheduling which materials are needed at each point -- has now become its biggest limiting factor, since that process isn't an agile one.
Supply chains have grown more global, complex and volatile. Both demand and supply can and do change quickly, affecting quantities and schedules. A supplier's inability to deliver critical components can have negative ripple effects throughout the entire supply chain, effects that grow more pronounced at various supply chain links -- such as customer to dealer to distributor to production to procurement -- thereby leading to the bullwhip effect.
SAP SE is working on bringing demand-driven MRP to S/4HANA, but there's no firm release date. In the meantime, several third-party software vendors have stepped in to fill this gap by offering DDMRP as an SAP add-on. The Demand Driven Institute maintains a full list of compliant software.
Dig Deeper on SAP ERP software and modules
Replenishment strategies, lot sizes, safety stock, reorder point planning and replenishment lead time are five factors in ERP that can ensure ... Continue Reading
S/4HANA public cloud provides a less disruptive route to digital transformation than some options -- including the on-premises S/4 -- and smoother ... Continue Reading
These nine key components of SAP MDG help ensure regulatory, legal, environmental and financial compliance of your master data and improve ... Continue Reading