Ivelin Radkov - Fotolia
What are the benefits of using SAP capacity requirements planning?
An expert explains how companies can integrate SAP's capacity requirements planning functionality to optimize production when demand for products exceeds supply.
When demand for a company's products outstrips its supply capabilities, planners need to make difficult decisions...
Continue Reading This Article
Enjoy this article as well as all of our content, including E-Guides, news, tips and more.
about which products will be manufactured first, to avoid losing customers. Planners may be able to manage the raw materials required for excess production, but they also need to ensure that the right machines, production lines and manpower are available. Integrating capacity requirements planning (CRP) in SAP ERP into production and maintenance processes can help planners optimize use of available resources when demand for products is high.
CRP has two functions: Capacity evaluation and capacity leveling.
Capacity evaluation
Capacity evaluation provides 360-degree visibility of the resources or work centers (machines, production lines, manpower) that are expected to overload due to a surge in production requirements. Figure 1 shows the standard overview (load) of the work center BAF and plant 3000 com­bination. It shows the capacity requirements for each calendar week that result from the production orders. It also shows the avail­able capacity (AvailCap.) of the work center and the resulting percentage of load (CapLoad), as well as the remaining available capacity (RemAvailCap). For example, in calendar week 27/2013, a capacity requirement of 69.15 hours (H) leads to utilization (or an overload) of 197% based on an available capacity of 35.20 H. The system displays the periods with an overload in red.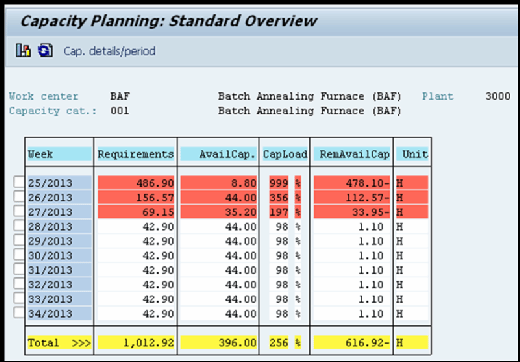 Capacity leveling
With capacity leveling, planners make the most of available capacities by deciding which product will get priority on the production lines. Capacity planners can save machine setup time by producing products that have common machine setup requirements. For example, it makes sense to produce tomato ketchup that has different flavors but the same packing, such as a sachet, before switching over to produce ketchup in bottles.
Similarly, capacity planners can add additional production shifts to increase the capacity available during a 24-hour period. Turning a holiday into a working day is another option available to capacity planners to level off the capacity overload.
Planners can also integrate CRP with the SAP Plant Maintenance component to take into account unavailable capacities due to preventive or shutdown maintenance.
Next Steps
How to use Active Ingredient Management in SAP QM
Using Statistical Process Control to prevent production disruptions
Dig Deeper on SAP ERP software and modules
Replenishment strategies, lot sizes, safety stock, reorder point planning and replenishment lead time are five factors in ERP that can ensure ... Continue Reading
S/4HANA public cloud provides a less disruptive route to digital transformation than some options -- including the on-premises S/4 -- and smoother ... Continue Reading
These nine key components of SAP MDG help ensure regulatory, legal, environmental and financial compliance of your master data and improve ... Continue Reading