lutya - Fotolia
How can project planners decide between SAP PPM and SAP PS?
Web-based Project and Portfolio Management gives teams a way to pitch ideas and manage projects, but on-premises Project System still fits into the project landscape. Here's how.
Both SAP Project System and SAP Project and Portfolio Management can have an important role in project management....
Continue Reading This Article
Enjoy this article as well as all of our content, including E-Guides, news, tips and more.
Essentially, SAP PPM is for lighter weight projects and SAP PS is for fully developed ones. You likely already have PS, but if you decide you need PPM as well, you will need to talk with your CIO or another appropriate stakeholder to procure it.
In many companies, SAP PS, an on-premises project management module in SAP ERP Central Component (ECC), is already implemented. But due to its rich (read: complex) features and extensive integration with other SAP components, project planners often avoid using PS for the lighter, simpler projects or underdeveloped ideas, especially those that don't require financial controls. They'd rather use third-party project management tools like Microsoft Project than use PS, because a lighter weight product saves them time, effort and the expense required to use PS.
Enter SAP PPM, a component of SAP Product Lifecycle Management in SAP ECC. It enables collaboration wherein teams can pitch ideas and elevate the best ideas to project status. Teams can then manage those projects according to business goals. Since SAP PPM is a web-based collaboration and project management tool, project planners must decide on the basis of their project needs whether they should implement SAP PPM or whether SAP PS adequately answers their needs. If PPM is warranted, project planners can reach out to the company's CIO to implement PPM to ensure that a single SAP platform is able to manage the entire idea-to-product lifecycle. This also ensures that the necessary analytics are available, such as how many ideas in PPM portfolio eventually transformed into PPM project or PS projects.
In terms of functionality differences between PPM and PS, let's look at how they overlap and integrate with each other.
PPM is a good choice for an idea or a project that does not require strong financial control. What a company gives up in this area, it gains in savings, as PPM licensing costs much less than what is charged to create named users in SAP PS.
How do you know the use of PS is warranted? You may want to turn to PS once projects need significant financial control and secure protection within the firewall. At that time, PPM projects can be integrated into PS, since PS offers much tighter security and financial controls than that offered by SAP PPM. Besides tighter financial controls, PS enables a company to restrict the access it gives to its ideas and associated assets, such as documents, drawings or partner information. Essentially, projects that are mature enough to be classified as technically and commercially viable can be moved to PS.
You can integrate SAP PPM projects into SAP PS through the data transfer via the Remote Function Call (RFC) or Application Link Enabling (ALE). For even better financial controls, a company can then also integrate SAP PS with SAP Investment Management. PPM projects first integrate with PS and transfer data via RFC or ALE. Once the PPM project in PS is created, further integration with Investment Management is possible as they are both on-premises components of SAP ECC. Here's an at-a-glance comparison of PPM and PS.
SAP PPM offers these benefits:
PPM is web-based and on the external side of the firewall, so vendors, suppliers and other external stakeholders can collaborate on ideas and projects safely outside of the SAP system.
PPM costs less than PS.
Since not every idea turns into a project, it makes sense to provide a separate tool (i.e., PPM) to capture team ideas in one component, which can then be elevated in another component to project status, as an example, for projects with real potential to create improved products or services.
Although PPM is "light" on financial planning and controls, not all collaborations warrant depth in this area.
SAP PS offers these benefits:
PS offers significant control and security for projects that need tight financial controls.
PS enables a company to restrict user access to documents, drawings, partner information and so on.
PS offers the ability to closely monitor human resources allocation and use in projects.
All internal production, as well as external procurement for the project, is completely managed in PS.
Machines or labor capacities can be monitored, and also leveled, when there are capacity bottlenecks.
Figure 1 explains the entire SAP PPM landscape to get a better sense of how PS and PPM work together.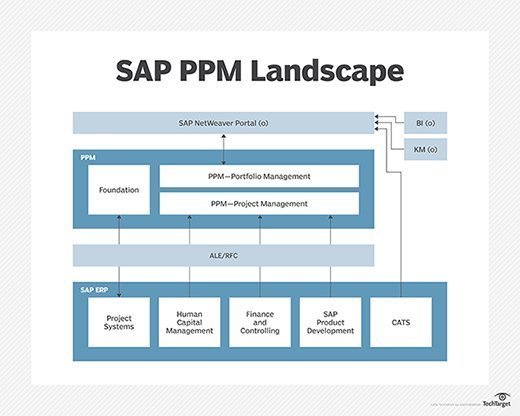 Figure 1 shows that SAP PS manages the operational area while the PPM Project Management looks after project-level activities. The PPM Portfolio Management remains at the top of the PPM landscape.
In the end, PPM and PS give companies the flexibility to evaluate each idea, project and maturity to decide where it makes best business sense to fit the idea or the project in SAP (either PPM or PS) and how deep a financial integration is required.
Image credit: © 2015 Rheinwerk Publishing, from the SAP Press book Project Management with SAP Project System. All rights reserved.
Next Steps
How to better manage licensing costs
Moving from APO to IBP
The ABCs of HANA big data strategy
Dig Deeper on SAP ERP software and modules
Replenishment strategies, lot sizes, safety stock, reorder point planning and replenishment lead time are five factors in ERP that can ensure ... Continue Reading
S/4HANA public cloud provides a less disruptive route to digital transformation than some options -- including the on-premises S/4 -- and smoother ... Continue Reading
These nine key components of SAP MDG help ensure regulatory, legal, environmental and financial compliance of your master data and improve ... Continue Reading