Jakub Jirsk - Fotolia
What are three ways SAP Material Ledger improves product costing?
Implementing SAP Material Ledger in a manufacturing environment expedites the month-end financial closing process through inventory valuation at actual costs. Here's how.
CFOs struggling to gain visibility into inventory valuation and the actual costs of producing a product can consider...
Continue Reading This Article
Enjoy this article as well as all of our content, including E-Guides, news, tips and more.
implementing SAP Material Ledger.
In contrast to standard price, which companies often use to estimate the approximate costs it will take to manufacture a product, SAP Material Ledger improves the product costing process by valuating products and inventory at an actual cost during the month-end financial closing activity. It does so by taking the price differences arising from purchases of raw materials and cost variances during the manufacturing process into account. At the end of each month, all such differences and variances are allocated back to the costs of products -- from raw materials to finished goods -- across the production processes by using a multilevel cost roll-up function for actual costing.
Here are three specific SAP Material Ledger functions manufacturers will likely find helpful.
Multiple currencies and valuations
The fact that SAP Material Ledger is also able to manage multiple currency valuations -- up to three currencies and two valuation views -- makes it an ideal reporting choice for companies operating in different countries and regions of the world. The two valuation views are the local currency for legal valuation in the country of operation, while the group valuation is for the corporate group valuation for reporting purposes. The third currency, profit center valuation, is often used as a transfer pricing functionality by multinational companies to represent transfer price for valuation of intercompany transactions across different regions and locations. The combination of a currency and a valuation is known as the valuation approach.
Actual cost component split
The actual cost component split functionality of SAP Material Ledger groups into buckets the actual manufacturing costs, such as raw material costs, processing costs, labor costs and freight costs, across multiple manufacturing levels. This vital information enables companies to decide if it's cost-effective to manufacture a product in-house or outsource it. In the same context, it is also possible to evaluate various sources of supply for procurement needs in order to find the most cost-effective options.
Controlling-Profitability Analysis (CO-PA)
The actual cost component split (from the previous step) that calculates the cost of goods manufactured can be transferred to CO-PA. Doing so enables companies to gain insights into gross margin reports to identify the most profitable products, as well as take steps for cost reduction.
The figure below shows the details of beginning inventory, as well as the closing inventory of a material and the associated price difference of $31.40.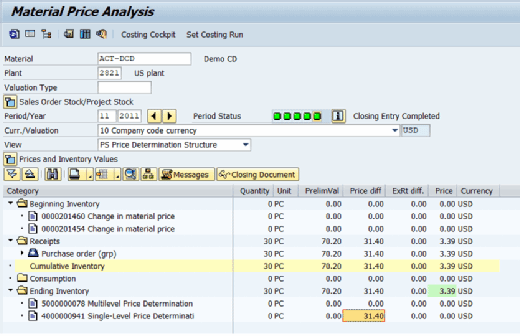 SAP Material Ledger is a subcomponent of SAP Product Cost Controlling, which itself is a component of Management Accounting in SAP ERP Central Component.
Companies to implement SAP S/4HANA will find that SAP Material Ledger is already a built-in feature and set as active by default. This default setting can be switched off if a company assesses it does not intend to use SAP Material Ledger for an improved product costing process.
Replenishment strategies, lot sizes, safety stock, reorder point planning and replenishment lead time are five factors in ERP that can ensure ... Continue Reading
S/4HANA public cloud provides a less disruptive route to digital transformation than some options -- including the on-premises S/4 -- and smoother ... Continue Reading
These nine key components of SAP MDG help ensure regulatory, legal, environmental and financial compliance of your master data and improve ... Continue Reading