Steps in the information security program life cycle
This article from our series on information security governance describes the essential steps to take when developing a security program life cycle.
This is the third article in the Information Security Governance Guide.
Continue Reading This Article
Enjoy this article as well as all of our content, including E-Guides, news, tips and more.
A information security program is the set of controls that an organization must govern. It is important to understand that a security program has a continuous life cycle that should be constantly evaluated and improved upon otherwise inconsistent efforts open the organization to increased risk.
There are different ways of describing a life cycle of any process. We will use the following steps:
Plan and organize
Implement
Operate and maintain
Monitor and evaluate
Many organizations do not follow a life cycle approach in developing, implementing and maintaining their information security management program. This is because they don't know how or feel as though this approach is cumbersome and a waste of time. The result of not following a life cycle structure usually results in:
Written policies and procedures that are not mapped to and supported by security activities
Severe disconnect and confusion between the different individuals throughout the organization attempting to protect company assets
No way of assessing progress and ROI of spending and resource allocation
No way of fully understanding the security program deficiencies and having a standardized way of improving upon the deficiencies
No assurance of compliance to regulations, laws or policies
Relying fully on technology as all security solutions
Patchwork of point solutions and no holistic enterprise solution
More on security governance
In this tip, Michael Cobb explains how to keep a network security strategy aligned with its business goals.
Visit our resource center for news, tips and expert advice on information security governance.
Without applying a life cycle approach to a information security program and the security management that maintains the program, an organization is doomed to treating security as a project. Anything that is treated as a project has a start and stop date, and at the stop date everyone disperses to other projects. Many organizations have good intentions in their security program kickoffs, but do not implement the proper structure to ensure that security management is an on-going and continually improving process. The result is a lot of starts and stops, and repetitive work that costs more than it should with diminishing results.
The main components of each phase are outlined below:
Plan and organize

Establish management commitment
Establish oversight committee
Assess business drivers
Carry out a threat profile on the organization
Carry out a risk assessment
Develop security architectures at an organizational, application, network and component level
Identify solutions per architecture level
Obtain management approval to move forward

Implement

Assign roles and responsibilities
Develop and implement security policies, procedures, standards, baselines and guidelines
Identify sensitive data at rest and in transit
Implement programs

Asset identification and management
Risk management
Vulnerability management
Compliance
Identity management and access control
Change control
Software development life cycle
Awareness and training
Physical security

Implement solutions per program
Develop auditing and monitoring solutions per program
Establish goals and metrics per program

Operate and Maintain

Follow procedures to ensure that all baselines are met in each implemented program
Carry out internal and external audits
Carry out tasks outlined per program
Manage service level agreements per program

Monitor and evaluate

Review logs, audit results, collected metric values and SLAs per program
Assess goal accomplishments per program
Carry out quarterly meetings with steering committee
Develop improvement steps and integrate into the plan and organize phase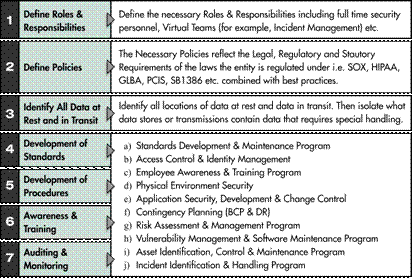 Information Security Governance Guide


What is information security governance?


Key elements when building an information security program


Steps in the information security program life cycle


Developing an information security program using SABSA, ISO 17799
About the author:
Shon Harris is a CISSP, MCSE and President of Logical Security, a firm specializing in security educational and training tools. Shon is a former engineer in the Air Force's Information Warfare unit, a security consultant and an author. She has authored two best selling CISSP books, including CISSP All-in-One Exam Guide, and was a contributing author to the book Hacker's Challenge. Shon is also the co-author of Gray Hat Hacking: The Ethical Hacker's Handbook.
This was last published in
October 2006
Dig Deeper on Security operations and management