Elon Musk businesses at a glance
Elon Musk is an entrepreneur with his hands and investments in several businesses. He has helped shape several industries including AI and space travel with his leadership.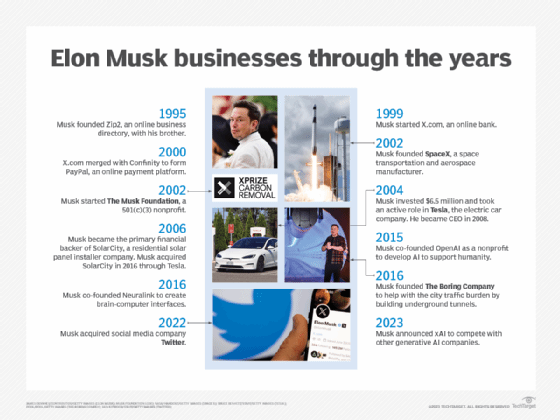 Elon Musk may be one of the most famous billionaire entrepreneurs, and his name appears in the news regularly, making him a household name.
He has co-founded a number of businesses, including SpaceX and PayPal. He is also the world's richest person, according to the Forbes Real-Time Billionaires List based on net worth.
Some of Musk's business notables include the following:
Started an online business directory before Google called Zip2.
Revolutionized online banking with X.com.
Created the first digital payment platform, merging X.com with Confinity to form PayPal.
Founded SpaceX, which also developed Starlink.
Started the Musk Foundation to promote the creation of safe AI, renewable energy and pediatric research.
Bought the majority of electric car company Tesla and became CEO.
Invested in solar energy, acquiring SolarCity through Tesla and incorporating it as Tesla Energy.
Co-founded OpenAI, resigning from board due to conflicts with Tesla and its AI products.
Co-founded Neuralink Corp., a neurotechnology company using brain implants to communicate with phones and computers.
Founded the Boring Company, an underground tunneling company to limit city traffic using a hyperloop system for transportation between cities.
Purchased the majority of Twitter stock, then paid $44 billion to acquire the company. Twitter has since been rebranded to X.
Joined the AI revolution with a new company called xAI. Musk plans to have this company compete with other generative AI chatbots such as Bard and ChatGPT.