Getty Images/iStockphoto
6 reasons a business impact analysis is important
BIA predicts the many consequences of business disruptions. It can minimize business risks and ensure business continuity in the face of critical emergencies and disruptions.
Most businesses face unforeseen roadblocks from time to time. Cyber attacks, market crashes, IT downtime, natural disasters, power outages and loss of key suppliers can all cause business disruptions. But an affected business must get back on track as quickly as possible.
A business impact analysis (BIA) lets a business recover from these roadblocks quickly by offering proactive strategies for recovery and risk management. The main function of a BIA is to ensure business continuity in the face of critical emergencies and disruptions.
A well-prepared BIA is an amalgamation of risk assessments, business continuity planning (BCP) and disaster recovery efforts performed by a business.
What is a business impact analysis?
A BIA predicts the consequences that a business can face due to disruptions in critical business processes. True emergencies are usually unannounced, leaving most businesses scrambling to find recovery options.
A business that regularly performs a BIA can quickly gain clarity on how to prioritize recovery efforts and minimize downtime. For example, an IT failure or a utility outage can be detrimental to mission-critical and time-sensitive applications. But if a business has a BIA in place, it will know how to instantly switch over to backup and disaster recovery plans to prevent further disruptions.
Why does your business need to conduct a business impact analysis?
A BIA not only gathers the required intelligence needed to maintain essential functions of a business in the face of disruptions, but it also identifies potential operational and financial effects.
The following six reasons highlight the importance of conducting a BIA.
1. Integral part of a business continuity program
The information included in a BIA supplements the business continuity efforts of an organization. It identifies the critical functions and processes for a business and how quickly it needs to recover in the event of an outage. The BIA is closely related to the BCP, as its main objective is to protect the assets and operations of a business, both during and after a disruptive event takes place.
2. Identifies legal, regulatory and contractual obligations
To avoid regulatory fines, businesses need to stay legally compliant and meet internal and external business compliance requirements. BIA is a part of ISO 22301 and outlines a company's legal, regulatory and contractual obligations and the potential effects of a failure to meet them. By conducting a BIA, businesses can enforce the necessary controls to close any legal gaps and ensure consistent compliance with legal regulations.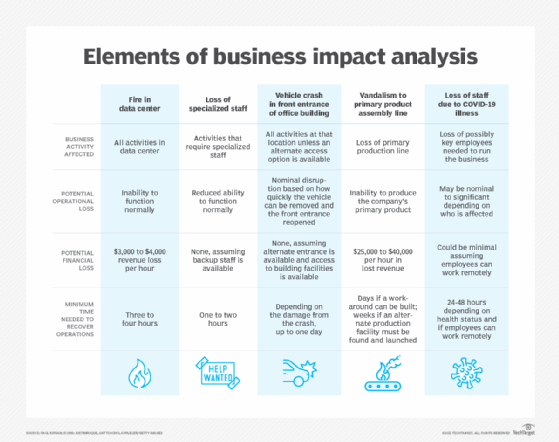 3. Uncovers application dependencies
Software as a service options can sometimes introduce potential risk factors and points of failure as they rely on certain external dependencies. For example, for interdependent apps, a failure of one supporting app may disrupt other apps or critical business functions. A BIA uncovers these interdependencies and helps with their evolution as newer applications and technologies are added or removed from business operations.
4. Prioritizes needs and allocation of resources
A comprehensive business impact analysis points out the highest prioritized tasks for a business along with the efficient allocation of resources. For example, a business may need to test critical assets yearly and high-priority assets every 18 months.
5. Identifies third-party risks
While it's important to have a BIA for a business's proprietary assets, it's also necessary to examine the third-party vendors that the business relies on, as they, too, can suffer from disruptive events. A comprehensive BIA plan considers the business plans of the third-party vendors and evaluates the level and severity of downtime a business can face if a vendor suffers an outage or is affected by an unforeseen event.
6. Calculates downtime costs
Downtimes can be expensive, and the longer it takes the business to recover from them, the higher the cost. Downtime for core and critical applications and assets -- such as data center servers or VPN servers -- can be more expensive for a business compared to non-critical applications that a business rarely uses. A BIA is important because it outlines a recovery strategy for downtime and tiers the applications based on their level of severity -- such as Tier 1, Tier 2 and Tier 3. It also evaluates the cost associated with each type of downtime, so businesses can create recovery strategies and understand the level of effect each outage brings.
Get a free BIA template with instructions here.

Challenges with BIA
If done right, a BIA can play an integral role in improving a company's business continuity plans. However, it does come with a few downsides, such as the following:
Time-consuming. Creating a BIA is a lengthy process and can sometimes take weeks -- or even months -- due to the amount of data that needs to be collected. This can interfere with other business priorities and may require a lot of time from employees responsible for creating the BIA.
Does not evolve with the business. According to a Forrester report on the state of disaster recovery preparedness, most businesses don't conduct

BIAs regularly

. Since a BIA doesn't automatically evolve with a business, it must be updated with every change made across the organization. For a business that changes rapidly, this can consume a lot of time for an in-house business analyst. On the flip side, hiring the services of third-party vendors to create BIAs regularly can be expensive.
Too much data to analyze. Sometimes, the scope of data needed to create a business impact analysis can be too broad, which can result in excessive amounts of data being analyzed. This generally happens when analysts conducting the BIA use incorrect project scoping methodologies.
Uninvolved executives. An effective BIA requires guidance from senior management and stakeholders as they oversee the details of the project and the final BIA report. An organization needs involved executives who see the value in spending time and resources for creating a BIA. This ensures that a BIA will be successful in gathering the right intelligence required for maintaining essential business functions.
Incorrect recovery time objectives. When creating a BIA, the recovery time objectives must be aligned with the BCP of an organization, with mission-critical apps and processes listed at the top of the recovery efforts. However, sometimes businesses might assign recovery objectives with a high or a low priority without proper justification, which can cause the BIA to lose efficacy.