Definition
ToFu, MoFu and BoFu
ToFu, MoFu and BoFu is a method used by sales and marketing professionals to pace and cater their approach to sales leads within a sales funnel, depending on the customer's current phase of the purchase decision. The stage names are abbreviations and refer to the sales funnel, which describes casting a wide net to attract leads, with a narrowing approach towards the bottom of the funnel, ending in sales. ToFu, MoFu and BoFu stand for top-of-funnel, middle-of-funnel and bottom-of-funnel, respectively.
Catering the sales approach to the potential customer and lead nurturing is central to ToFu, MoFu and BoFu. Recognizing what stage helps deliver the right type, volume and frequency of marketing to retain the interest of leads without being overly persistent as to be annoying and drive them away.
The stages of the ToFu, MoFu and BoFu approach are often compared to the ordered stages in which a meal may be presented: appetizer, entree and dessert.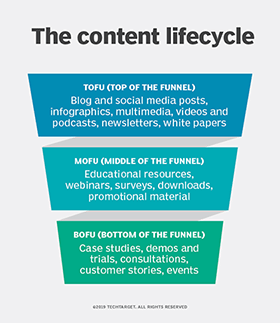 ToFu (top-of-funnel) focuses on a high volume of leads, with an emphasis on not pressuring potential customers by offering relevant information that addresses a need, question or problem they may have. Content for this stage may include blogs, white papers and eBooks.
MoFu (middle-of-funnel) is where the marketer positions their company as the best provider of a product to suit the customer's needs. This point may include targeted offers and content, such as podcasts, comparison charts and webinars.
BoFu (bottom-of-funnel) is the closing stage, where the marketer goes for the sale. While person-to-person contact is likely for the sake of building a relationship with the lead, content may include case studies, trials, live demos and consultations.
Many companies automate parts of the lead nurturing process through marketing automation as it can aid in making campaigns more efficient and less time consuming for marketers.
This was last updated in
November 2018
Continue Reading About ToFu, MoFu and BoFu