Mobile website vs. app: What's the difference?
As mobile usage continues to grow, apps and mobile websites can help you connect with customers. A mobile website has a broader reach, but an app allows more interaction.
Mobile use continues to grow globally, and the question of creating a mobile website vs. app is a consideration for businesses trying to reach these users.
Around 60% of internet connections come from mobile devices, according to a report from StatCounter. Some companies use both mobile websites and apps. Businesses need mobile apps for a variety of reasons. Mobile app spending increased to $133 billion in 2021 -- up nearly 20% from the previous year, according to a survey from Sensor Tower.
Mobile websites might offer limited interactions with customers because they depend on browsers to perform tasks such as "refresh" and "back," but they reach a broader audience. Mobile websites can also be slower than an app to run depending on the connection.
Keep reading to learn the differences between the two and how businesses can use them in their company's mobile strategy.
What is a mobile website?
A mobile website connects several pages through a web browser. Mobile websites adapt sizes to fit the smaller screen and the touch-enabled interface. Websites can serve a variety of purposes to deliver content, including contact information, product information, blogs and purchase options. Users need an internet connection to access a website.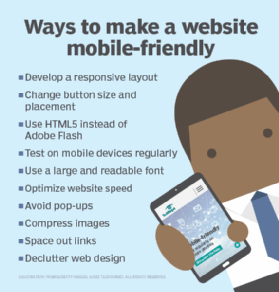 Benefits
A benefit of mobile websites is they can improve search engine optimization, meaning websites rank higher in search results because Google looks at the mobile version of a website when indexing. This optimization can bring more users to a business website when they enter keywords.
Mobile websites can also help people find businesses by enabling the location services, which links directly to a navigation app -- such as Google maps.
Moreover, websites are easier for users to share with others. Users copy and paste the web address and can share it on social media, through email or in a text message.
What is a mobile app?
Apps are downloaded on a device. Some apps need internet connection, while other apps do not. Many software companies create an app version of their product -- such as Microsoft Teams or Salesforce -- so people can use the software functionality on mobile devices.
Mobile application development involves writing software for hand-held devices, taking advantage of unique features of a mobile device such as the accelerometer, which tracks different motions such as rotating, tilting, shaking or swinging a device to change the app's orientation.
Users can download apps from device-specific stores such as Google Play or Apple's App Store.
Benefits
Apps let companies customize their product's interactions and functionalities -- such as ordering or reviewing accounts -- for the user. Think of tasks like online banking. Some apps can be accessed anywhere either with or without internet connection, while other apps require the internet.
Companies can send push notifications to users with the app on their devices if a user has given permission by selecting "on" in the get notifications from apps section in their device Settings. Push notifications are a platform to contact users directly for reminders, updates and communication on features and promotions.
What is the difference between a mobile website and an app?
Both apps and mobile websites are accessed on smartphones and tablets, and each has its own benefits for companies and users. Here are some of the most notable differences.
Function
The function is one of the biggest differences between a mobile website and an app. The website's main purpose is to inform, while apps serve to help or complete a task.
Apps tend to be more interactive, while website content is set for reading, viewing and listening. Web apps let users manipulate data, while websites are more straightforward -- such as filling out a form.
Access
Mobile websites are compatible across all devices and can be accessed by anyone through a web browser, while apps require downloading and special adaptations for each operating system -- such as Android and iOS. Apps are not immediately accessible like a website until they are installed.
Complexity
Apps are typically more complex than websites because sites are a collection of pages. Mobile apps typically have a more interactive and intuitive interface based on the device's operating platform for a more immersive experience.
Users can customize their apps once they are downloaded. Apps can also track user engagement and offer recommendations to customize. The app can be more useful to a user that needs its functionality on a regular basis.
Mobile apps can also access and use built-in features on the device -- such as the camera or GPS. These features provide more convenience to the end user.
Cost and upgrades
Mobile websites are less expensive to develop than an app. Apps take longer to develop because they are more complex and require additional programming.
Upgrades can be done easily by publishing once with a mobile website. The updates are immediately visible to users. With mobile apps, companies must push the updates to users to make updates available.
When you need a mobile site
Mobile websites are the first step in getting a mobile presence. Websites are best for businesses that don't have real-time interactions with customers or need regular updates. Mobile websites are also great for businesses that want to reach a wide audience.
Websites can also help with social presence by offering blogs and videos that people can share on a mobile device. Websites can also aid in branding efforts by sharing the URL in communications either online or in print material such as brochures, advertisements and business cards.
When you need a mobile app
If a business's product requires interaction, an app can provide more functionality for the customer journey. It can also help with customer needs, such as getting support or purchasing products. Moreover, apps are a great option for users if they need to access products or services multiple times daily.
Dig Deeper on Marketing and customer experience