Definition
Certified Associate in Project Management (CAPM)
What is a Certified Associate in Project Management?
The Certified Associate in Project Management (CAPM) is a vendor-neutral, entry-level certification to help individuals acquire project management (PM) skills. It is one of several certifications administered by the nonprofit Project Management Institute (PMI).
The CAPM was introduced in 2003. It provides fundamental knowledge and training in how to manage complex projects and a project team. It is a tool for career growth geared toward students, recent graduates and others seeking to add project management experience, gain more responsibility or manage larger projects.
Project managers are critical in planning, organizing and implementing large-scale business projects. Employers worldwide are expected to need nearly 88 million people with project management skills by 2027, according to the PMI's research report "Project management job growth and talent gap 2017-2027."
To earn the CAPM status, candidates must pass a three-hour exam with 150 multiple-choice questions. The exam is based on PMI's project management framework described in the Project Management Body of Knowledge (PMBOK) guide.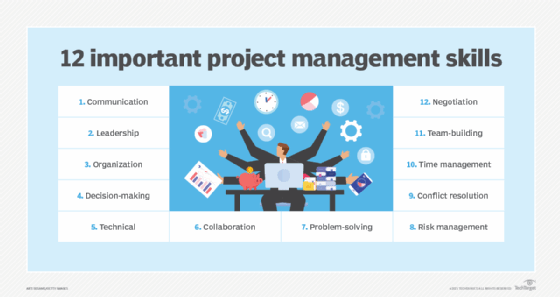 What does a Certified Associate in Project Management do?
PMI designed the CAPM certification exam for project practitioners who lack deep experience in project management. The exam requires candidates to show skill in the five functional processes of the PMBOK framework. Those processes make up PMI's best practices in project management. They include the following:
Start a project. The objectives of a work product are established, based on information from those who have a stake in the project. After setting expectations for individual contributors and project teams, the project manager ensures the scope of work is clearly defined.
Plan and budget. The project team meets to develop an action plan, set a budget and determine project deliverables. CAPM professionals help to estimate costs per process and the cost of the project. The team also plans for any contingencies that may arise.
Execute the project. Work teams tackle their individual process assignments. The project manager tracks progress against a series of interim milestones. During this phase, materials and financial resources allocated to the project are released for use.
Control and track. Flexibility and problem-solving skills are important traits for those pursuing a project manager career. Change requests and other unexpected contingencies may alter the project's course. The project manager ensures project teams adhere to budgets and deadlines.
Finish and close. CAPM-certified professionals collaborate under the leadership of the project manager to verify completion of expected tasks and assignments. Historical files associated with the project are archived upon its completion.
In a well-managed project, these five steps do not occur in isolation. Project management requires ongoing management, and the process steps often overlap one another.
What are the qualifications for the CAPM certification?
To take the CAPM exam, candidates need to satisfy these prerequisites:
have a secondary degree, which can be a high school diploma, associate degree or the global equivalent; and
complete at least 23 hours of project management education.
Individuals who don't meet the 23-hour project management education eligibility requirement can instead complete PMI's Project Management Basics course. That course's study material includes a series of 20-minute modules designed to help applicants prepare for the CAPM exam, along with sample exam questions.
The PMI prep course costs $350 for PMI members and $400 for nonmembers. CAPM exam prep courses and materials are also available from for-profit project management training providers.
Candidates for the exam must apply and be approved by PMI. Once approved, applicants have up to one year to take the exam.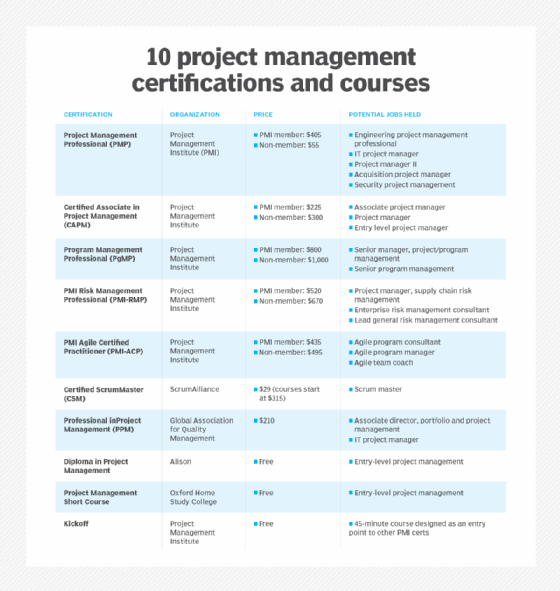 What skills are needed to pass CAPM?
The CAPM certification requires business professionals to understand key aspects of project management. As such, it is often a first step to advancing to the role of project manager. CAPM candidates learn to apply business analytics, business continuity and strategies to manage and track project tasks.
Specific skills included in the certification training include the following:
Cost and budgeting
Deadlines
Project milestones
Project lifecycles
Risks
Stakeholder expectations
Timelines
What is the CAPM exam format?
The CAPM certification is less rigorous than PMI's Project Management Professional (PMP) certification. Still, PMI recommends students use study aids to prepare for CAPM, including courses, self-study and practice testing in groups.
PMI provides a handbook to help with exam preparation. It provides information on exam-related topics, including how to apply, exam policies and procedures, and certification policies and procedures.
The exam format is as follows:
Administration. Candidates can take the exam at a registered testing center or as an online exam, monitored by an off-site proctor.
Questions. The CAPM examination consists of 150 multiple-choice questions. Project management professionals developed and validated the questions. All questions are derived from material in the PMBOK guide, which includes an examination blueprint emphasizing key areas.
Answers. Fifteen of the 150 questions are "pretest" questions that are used to test future exam questions. They are placed randomly throughout the test and do not factor in the final score.
Timing. Test-takers have three hours to complete the exam.
Scoring. A criticism of PMI's test is lack of transparency into individual test scores. PMI does not provide a numerical score. Instead, test-takers receive an email saying if they passed or not. They can get a breakdown of how they did on each performance rubric in the PMI portal.
How much does the CAPM exam cost?
The fee for taking the exam is $225 for PMI members and $300 for nonmembers. Students have the option to submit one PMI application form, which grants them student membership and a discounted member rate for the exam.
If unsuccessful on the first try, an applicant can retake the CAPM exam. Retaking the exam costs $150 for PMI members and $200 for nonmembers.
PMI membership is not a requirement to take the exam. Membership costs $129 per year, plus a one-time $10 application fee. It includes an individual copy of the PMBOK flagship publication, which outlines standards and generally acknowledged best practices in project management.
What is the CAPM recertification process?
PMI eliminated its retesting requirement as of October 2020. It now requires credentialed professionals to complete professional development units, or PDUs, every three years. A PDU is a one-hour block of time in which a CAPM certificate holder pursues career development activities.
To maintain their CAPM credential, project management professionals must complete 15 PDUs every three years. These include at least nine PDUs in continuing professional development education, broken down as follows:
two PDUs in technical areas;
two PDUs in leadership;
two PDUs in strategic and business management; and
three PDUs from other topic areas.
PM professionals may choose to augment the nine continuing education PDUs with up to six "Giving Back" PDUs. These involve activities such as creating or presenting project management-related content, mentoring and volunteering to serve on PMI boards and committees.
Recertification candidates must also pay a renewal fee of $60 for PMI members and $150 for nonmembers.
What is the difference between CAPM and PMP credentials?
The CAPM is one of a few entry-level programs in the PM field. It is typically suitable for employees who have project management as part of their responsibilities or want to grow into a project management role.
PMI's Project Management Professional certification is available for more experienced project managers. It requires demonstrated applied practice in launching, managing and completing complex projects.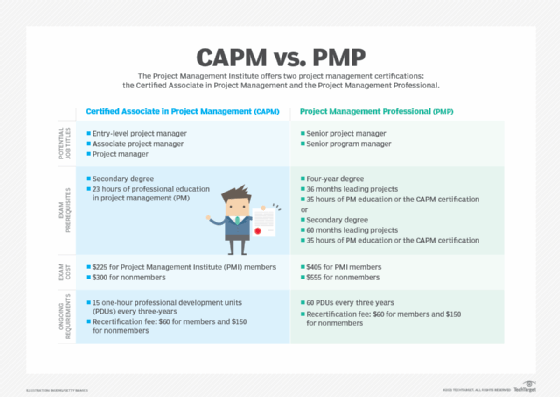 To take the PMP exam, applicants must have:
a four-year college degree;
at least 36 months of experience leading projects; and
35 hours of PM education or the CAPM certification.
Or they can have:
a secondary degree;
60 months of experience leading projects; and
35 hours of PM education or the CAPM certification.
PMI changed the PMP exam in January 2021. It consists of 180 questions. Candidates have 230 minutes to complete it. The PMP fee is $405 for PMI members and $555 for nonmembers.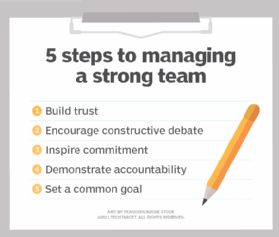 The PMP test measures project managers on three professional disciplines:
Team management. This area checks a project manager's soft skills and ability to effectively run a group project.
Process management. This area focuses on a project manager's technical skill to ensure varied aspects of a project are successfully implemented.
Business strategy. Project managers are accountable to make sure their teams understand the connections between a specific project and the organization's overarching business strategy.
Maintaining PMP certification entails a larger time commitment than CAPM. Those holding the certificate must earn 60 PDUs every three years.
Learn about other top IT certifications that can be useful in advancing a tech career.
This was last updated in
September 2021
Continue Reading About Certified Associate in Project Management (CAPM)