5 reasons software updates are important
When it's time to update your software programs, don't delay. Updates can prevent security issues and improve compatibility and program features.
Software updates are necessary to keep computers, mobile devices and tablets running smoothly -- and they may lower security vulnerabilities.
Data breaches, hacks, cyber attacks and identity theft have all been in the news. One of the biggest cybersecurity attacks targeted SolarWinds, a company that provides monitoring and management tools for networks and infrastructures. The 2019-2020 attack sent a wave of malicious software to organizations using Solar Winds' Orion network IT management system. Threat actors used the hack to gain access and monitor security from large government organizations -- such as Homeland Security -- and private organizations such as Microsoft, Intel, Deloitte and Cisco.
While threat actors continue to come up with new methods to steal information and gain access to systems, there are some simple, preventative measures to help stop them. Updating software is one such layer of protection.
Here are some reasons to consider software updates as soon as possible.
1. Patch security flaws
Security is the No. 1 reason to update software immediately. Software vulnerabilities enable cybercriminals to access a person's computer. Threat actors see these vulnerabilities as open doors, enabling them to plant malware on people's systems.
Malware enables threat actors to take control of computers and steal information. Malware can also encrypt files, documents and other programs so they are unusable. Security patches block these open doors in the software to protect a device from attacks.
People sharing a network with others need to be extra diligent. An infected device can unknowingly spread malware to others in a network, including colleagues, friends and family.
With each software update, consider updating passwords for another level of protection. For example, the Colonial Pipeline hack in 2021 was the result of a stolen VPN password.
Learn more about data password hygiene tips here.
2. Get new features
Installing updates may add new features and remove old ones that are no longer necessary. Technology is constantly changing, and updates offer the latest features and improvements.
For example, recent Zoom updates include features to create a central library for polls, hide or display chat notifications, view breakout room activities after main sessions, and integration with Box and SharePoint for Windows users.
3. Protect data
If a threat actor gets in through a software security flaw, they will search for personal data.
If a threat actor gets in through a software security flaw, they will search for personal data such as financial information, passwords, usernames or other documents with sensitive information.
Threat actors access personal accounts and sell sensitive information on the dark web. Updating software to improve security vulnerabilities enables data to be better protected.
4. Improve performance
Not all patches are security related. Software vendors may find bugs in a program or need to make necessary enhancements to a program. These patches help improve the performance of the software.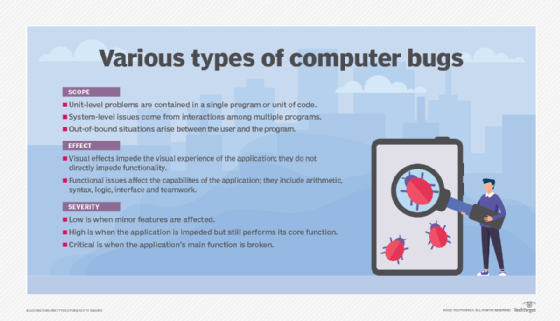 Electronic devices also need regular maintenance and routine updates to run their best. Having the latest patches can help prevent software from crashing.
5. Ensure compatibility
Software manufacturers send updates to ensure their software is compatible with the latest technology. Without updates, older software may not be able to work with newer technology.
For example, a recent Microsoft Windows update included additional ways to customize the computer display and increased capability to work across multiple devices -- such as syncing to an Android phone. Users of Microsoft products can also chat with other users even if they're using Mac, iOS or Android.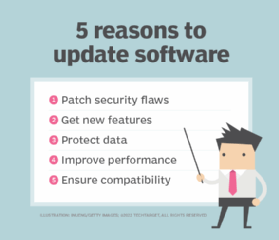 Beware of fake update messages
Don't fall victim to fake update messages. These messages are another way threat actors try to access computers and mobile devices.
Messages can appear to users in the following ways.
Pop-ups. They may look real but clicking on a pop-up may lead to a hack. If you see these pop-ups, close them and go directly to the vendor website to look for downloads. Updates should also appear on the software's website, app store or within the program.
Emails.The email may state that an update is long overdue. It may even have the company logo with all the correct spelling in the text. Don't click on links or respond to these types of emails. For information about updates, it's best to contact the software's support desk or check the vendor website.
One of the best ways to avoid malware downloads is to let the software automatically update. Many OSes and other software have an option to automatically run updates when available.
And don't forget updates to mobile devices and tablets. Check for software update notices in the settings.