Definition
Zulu (Zulu time)
What is Zulu (Zulu time)?
Zulu (Zulu time) is used in the military and navigation for timekeeping purposes to avert confusion when coordinating with countries using other time standards. Zulu time is generally used as a term for Universal Coordinated Time (UCT), sometimes called Universal Time Coordinated (UTC) or Coordinated Universal Time (but abbreviated UTC).
Zulu time was created to eliminate the confusion caused by different time zones. It is also sometimes referred to as GMT, or Greenwich Mean Time, although this usage is discouraged by the U.S. military because of its ambiguity.
How is Zulu time measured?
In military shorthand, the letter Z follows a time expressed in UTC, or the time at longitude 0 degrees 0 minutes -- the prime meridian or longitudinal line that separates east from west in the world geographical coordinate system.
This line of longitude is based on the location of the Royal Observatory in Greenwich, England, near London. Zulu is the radio transmission articulation for the letter Z.
Zulu time is measured in hours, minutes and seconds using the Gregorian calendar, military time divisions of hours and minutes, and a 24-hour format.
Zulu timekeeping starts at midnight instead of 12 noon or 12 midnight, which is the standard reference for most other time zones.
Why use Zulu time?
The U.S. military still uses Zulu time in its radio transmissions and documentation because of the confusion that can result when trying to coordinate activities with other countries that use different time standards.
Zulu time eliminates this confusion by providing a single standard that can be applied universally.
Interestingly, the use of Zulu time in aviation has led to the widespread practice among pilots of referring to local time by its offset from Zulu time.
For example, pilots flying from Los Angeles to New York might refer to their departure time as "two zero niner zulu" (0900 UTC/GMT) and their arrival time as "one five niner zulu" (1545 UTC/GMT).
It's also worth noting that the use of Zulu time has also gained popularity in the shipping industry for the same reason -- to avoid confusion with international shipping vessels.
Zulu vs. time zones
Time zones are measured as the number of hours offset from GMT. Thus, the Zulu time zone is expressed as UTC+0000, or Zulu time is zero hours ahead of GMT.
When comparing Zulu time to different time zones, the abbreviations and differences in time are typically expressed in a format like the following:
Eastern Standard Time (EST): UTC-0500 or 5 hours behind GMT.
Central Standard Time (CST): UTC-0600 or 6 hours behind GMT.
Mountain Standard Time (MST): UTC-0700 or 7 hours behind GMT.
Pacific Standard Time (PST): UTC-0800 or 8 hours behind GMT.
It's important to note that these will change in regions that observe daylight saving time in the summertime.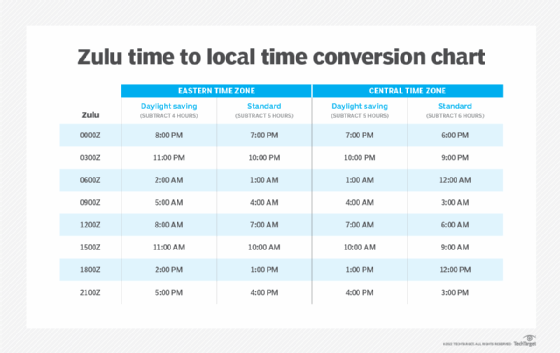 See also: wall time, atomic clock and 10,000-year clock.
This was last updated in
June 2022
Continue Reading About Zulu (Zulu time)