Definition
Direct-to-Consumer (D2C or DTC)
D2C (Direct-to-consumer, or Direct2Consumer) is a type of business-to-consumer (B2C) retail sales strategy where a business will build, market, sell and ship a product directly to the customer.
Selling D2C streamlines the distribution process by avoiding any middlemen (such as third-party retailers and distribution partners) -- allowing D2C companies to offer products at lower prices than brands using traditional retail business models -- as well as maintain end-to-end control over business operations. With the omission of traditional retail distributors, direct-to-consumer advertising, marketing and sales activities are used to differentiate brands.
Furthermore, by forgoing the traditional retail distribution models, D2C companies can experiment with multiple different distribution channels -- such as direct-selling ecommerce, pop-up shops and social media partnerships.
D2C brands continue to capture more of the American retail market by offering convenience, product quality and price-friendly shipping options for customers. Companies such as Casper mattresses, Dollar Shave Club and Warby Parker -- among other brands -- have established themselves and managed to disrupt their respective industries using D2C retail models.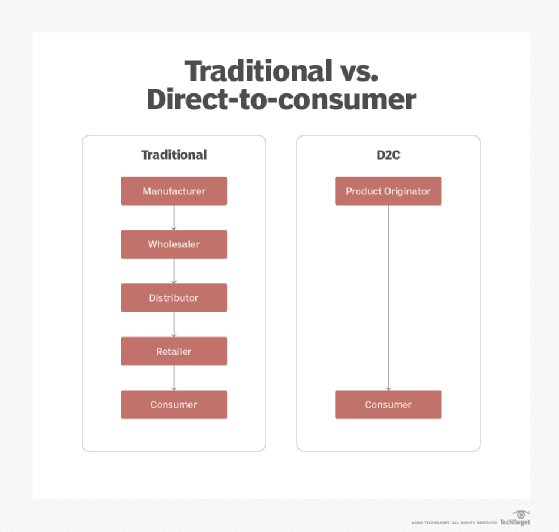 Pros and cons of implementing D2C strategy
Pros of using D2C include:
More bottom-line profit control, with no middlemen.
End-to-end control of the business -- particularly over customer experience, brand image and reputation. Retailers do not typically prioritize or focus on one brand over the others, unless it directly benefits them.
Direct sales create a channel of communication between the customer and brand. This helps build brand loyalty, learn customer preferences, generate repeat and recommended purchases.
Customer data collection from online stores -- with data such as demographics, buyer behavior, web traffic, paid advertisements and remarketing.
Cons of using D2C:
Competing against retail giants like Amazon and Walmart. Fulfillment particularly can be a challenge, when competing with Amazon's free two-day shipping.
Must effectively communicate brand values without the support of large resellers.
Increased marketing, sales and customer service responsibilities.
Examples of successful D2C businesses
Some examples of popular D2C businesses include:
Dollar Shave Club. A subscription-based service that delivers men's shaving and grooming supplies.
Keeps. A telemedicine service that provides customers with men's health solutions without having to schedule a doctor's appointment.
Casper. This mattress company simplifies the experience of mattress shopping by providing a small selection of price-friendly products that satisfy a broad range of customer needs.
Warby Parker. Sends sample frames for free to customers to try on before they order, aiming for a convenience of choosing eyeglasses on at home.
Blue Apron. A service that provides prepped and measured ingredients for healthy meals to be cooked at home. Takes out the process of shopping for fresh ingredients.
This was last updated in
March 2020
Continue Reading About Direct-to-Consumer (D2C or DTC)