Definition
inkjet printer
What is an inkjet printer?
An inkjet printer is a computer peripheral that produces hard copies of a text document or photo by spraying droplets of ink onto paper.
A typical inkjet printer can produce color printing copies with a resolution of 1200 x 1440 dpi. This is high enough for printing photos larger than 5 x 7 inches, however, for a project requiring high print quality on a larger scale, there are inkjet printers that provide up to 5760 x 1440 dpi.
Many models include other devices such as a scanner, photocopier and dedicated fax machine along with the printer in a single machine.
Recognizable inkjet printer brands and models include the Epson XP, Canon Pixma and HP DeskJet for home office printing, and the Canon ImageCLASS and HP OfficeJet all-in-one printers for business use.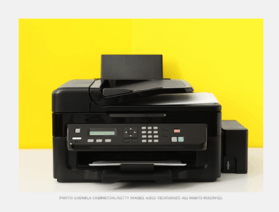 How do inkjet printers work?
In the inkjet printing mechanism, the print head has several tiny nozzles, also called jets. As the paper moves past the print head, the nozzles spray the ink onto it, forming the characters and images.
An inkjet printer can produce from 100 to several hundred pages, depending on the nature of the hard copy, before the ink cartridges must be replaced.
There is usually one black ink cartridge and one so-called color inkjet cartridge containing ink in primary pigments (cyan, magenta and yellow).
Some inkjet printers use a single cartridge with cyan, magenta, yellow and black ink. A few models require separate cartridges for each primary pigment, along with a black ink cartridge.
What are the pros of using inkjet printers?
The principal advantage of inkjet printers is the fact that most of them are inexpensive.
Inkjet printers are often given away at computer superstores along with the purchase of a personal computer or substantial peripheral. Even the cheapest inkjet printers are satisfactory for most of the needs of personal computer users.
High-end inkjet printers can render digital images on special paper, with quality that rivals professionally produced glossy or matte photographs.
Another advantage of inkjet printers is their lightweight and modest desktop footprint. Many models are easy to transport and are preferred by traveling salespeople for this reason alone.
What are the cons of using inkjet printers?
While there are numerous benefits, there are also some challenges that inkjet printer users can experience.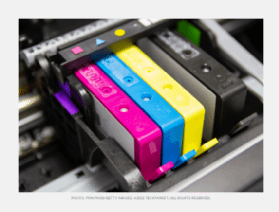 For one, the printer ink needs a little time to dry. Adequate drying time is especially important if the hard copy contains large regions of solid black or color ink.
Another limitation is the fact that most inkjet printers are slow and are not designed for high-volume print jobs.
While inkjet printers, at first glance, appear to be a lower-cost option for a home office or small business, this type of printer is expensive to operate over time compared with a laser printer.
When it is necessary to make hundreds of copies per day or thousands of copies per week, an office-quality laser printer is a better choice.
What type of paper should you use with inkjet printers?
Inkjet printers require non-porous paper. In bond paper containing cotton or other fibers, the ink may bleed along the fibers or smudge on the paper and create lower-quality images.
Inkjet photo prints also require photo paper specifically designed for inkjet photo printing.
Paper designed especially for inkjet printers is heavier than the paper used with laser printers or photocopiers (24 pounds vs. 20 pounds), has higher brilliance (it's "whiter"), and is somewhat more expensive.
What is the difference between inkjet vs. laser printers?
Both printers can print in color or in black and white. The major difference between inkjet and laser printers is the technology they use to print documents.
An inkjet printer sprays liquid ink onto paper, while a laser printer uses toner, which is a dry toner powder that is transferred to paper using heat and pressure. Laser toner cartridges for laser printers usually last longer and cost more than ink cartridges for inkjet printers.
Laser printers generally costs more than inkjet printers, but they also have a faster print speed and usually have a longer lifespan. Inkjet printers are better for printing photos and color documents, while laser printers are better suited for printing text-based documents.
Ultimately, the printer you choose will depend on both your budget, printing process and printing needs.
See how to evaluate printer management freeware for business, manage Windows Virtual Desktop printing problems and use PowerShell printer management for quicker setups.
This was last updated in
August 2022
Continue Reading About inkjet printer