IT4IT is a reference architecture for information technology (IT) management. IT organizations and tool vendors use IT4IT as a framework to improve and guide IT capabilities by focusing on value chains.
Created by The Open Group, IT4IT uses a value chain approach to construct a model of functions that IT organizations follow to create a product or service. The IT4IT standard is organized around multiple value streams that outline where value is added in each stage of the IT process.
The IT4IT standard has been updated over time, with the latest version being Version 3.0. IT4IT became popular as a response to IT organizations having more and more complex runtime environments -- and vendors such as Microsoft, IBM and Hewlett Packard Enterprise (HPE) have started using the framework. The IT4IT framework enables an organization to manage IT in a streamlined way, while avoiding longer delivery times and management costs.
IT asset management (ITAM) and IT operations management (ITOM) tools can integrate well with IT4IT, since IT4IT works with other frameworks.
How the IT4IT framework works: The 4 pillars of IT4IT
The IT4IT reference architecture is based around IT value chains. An IT value chain is the set of activities performed by an organization that adds value to either a business service or IT service. The Open Group identifies a value stream as a sequence of activities that create a positive result for customers, stakeholders and end users.
Each value stream in the IT4IT standard focuses on the streamlining and integration of a key area of the overall service model. Past versions of the framework had four main value streams:
Strategy to Portfolio (S2P) defines a strategy for balancing and brokering Activities such as service portfolio management and project management need consistency and transparency to keep a balance between the business strategy and the IT portfolio.
Requirement to Deploy (R2D) helps set up requirements to build services and deploy R2D is designed to ensure high-quality, predictable and cost-effective results to the business, while promoting reusability, flexibility, speed and collaboration across IT.
Request to Fulfill (R2F) streamlines the process to fulfill requests. R2F aids IT in optimizing service consumption and fulfillment experiences for users. It does this by defining functions for offer catalogs and catalog compositions.
Detect to Correct (D2C) can help detect issues before they hurt the user. Specifically, D2C provides a framework for IT operations that integrate event, incident, problem, change control and configuration management, as well as service-level monitoring, remediation and functions. D2C also provides an overview of business IT operations and the services delivered by IT operations.
Each value stream is built around an essential part of the service model, such as the components and key data. Implemented together, the four value streams integrate into an IT management framework that focuses on the lifecycle of services.
Value streams consist of data objects and their relationships. A data object is a collection of one or more data points that create meaning when viewed together. There are also special data objects that can represent abstractions for specific services. For example, there are service lifecycle data objects that represent authoritative source data used to manage IT.

S2P and R2D work in conjunction with the conceptual service model. R2D and R2F work around the logical service model. R2F and D2C work with the realized service model.
Other model types that appear in IT4IT are the following:
Integration Model. This model includes system of records, system of engagement and system of insight integrations.
Service Model. This model includes conceptual service models, logical service models and realized service models, all of which can help make a functional model.
Functional Model. This model includes functional components and data objects.
Information Model. This model includes key data objects, auxiliary data objects and data relationships, all of which help form an integration model.
IT4IT Version 3.0
Version 3.0 of the IT4IT reference architecture incorporates a "digital backbone" as a core concept to an update of the previous 2.1 standard. Before this, the IT4IT standard was a reference architecture for the different phases of running IT, taking a value stream and value chain approach. The focus in Version 3.0 is changed to digital product management. The new version sees IT components as a digital product and what needs to be in place to deliver a digital product.
Version 3.0 also has new value streams featured:
Evaluate Digital Product Portfolio focuses on continuous assessment and evaluation of the digital product portfolio. This should help determine how well enabled business capabilities are, as well as the business model, value streams and customer journeys.
Explore Digital Product explores new features and directions of digital products with direction and business needs in mind.
Integrate Product Release designs and builds new product releases. This will aid in the development, configuration and integration of a new or updated version of a digital product.
Release Service Offer publishes new and modified service offers to consumers. It should define the lifecycle interactions a service has with its users.
Deploy Product Release helps in enabling the instantiation of a product release into operating environments. It also helps to ensure all changes are tracked to a product release.
Fulfill Service Offer focuses on the orchestration of activities needed to fulfill a service offer. This is done by defining everything needed to properly use the offered service.
Operate Actual Product Instance helps ensure the continued operation of a deployed product. Levels of availability and performance should be within an agreed-upon service contract, as well as within key performance indicators (KPIs).
ITIL and IT4IT
IT Infrastructure Library (ITIL) is a framework designed to standardize the selection, planning, delivery, maintenance and overall lifecycle of IT services in a business. Its goal is to improve efficiency and achieve predictable service delivery.
ITIL and IT4IT standards are considered complementary to one another. ITIL is a more descriptive set of best practices that are focused on process, while IT4IT provides a more holistic view -- integrating multiple practices and value streams needed to manage IT. IT4IT also offers more description on how to design, procure and implement needed functions to run IT. While ITIL does a good job describing service management processes and the links between them, IT4IT builds on this.
Components of IT4IT can be added incrementally to existing ITIL practices. Likewise, an environment that already uses IT4IT can still use ITIL to define other specifications. In addition, other frameworks, such as Control Objectives for Information and Related Technologies (COBIT), can be used with IT4T.
IT4IT benefits
Potential benefits to implementing the IT4IT framework can include the following:
provides the structure needed for organizations to organize their IT management;
supports digital enterprises;
can help reduce cost in IT management;
enables IT management to work across the whole value chain;
can help reduce the risk of errors;
integrates well with other frameworks, such as ITIL; and
can lead to faster deployment of software.
IT4IT limitations
IT4IT does have its downsides, however. For example, the R2F value stream has some limitations:
requires multiple catalogs for consumers to navigate and request available services;
has no service subscription, usage and chargeback traceability;
requires the creation of fulfillment incidents, projects or manpower, which will cause delays, when there are too many customer service requests; and
provides a service consumption experience, which exposes IT capabilities and resources, as opposed to valued services.
IT4IT certification
The Open Group offers two types of certifications. There is the popular The Open Group Architecture Framework (TOGAF) and knowledge-based certifications, such as IT4IT. These certifications require an exam to demonstrate knowledge of the material. Exams will include terminology, structure and basic concepts behind the IT4IT reference architecture. The exam also focuses on the IT value chain. The IT4IT Part 1 examination, called IT4IT Foundation, can be taken in person at a Pearson VUE test center or remotely.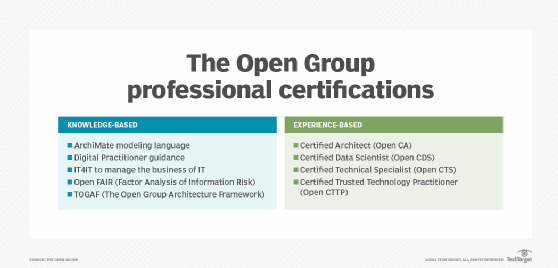 This was last updated in
March 2021
Continue Reading About IT4IT